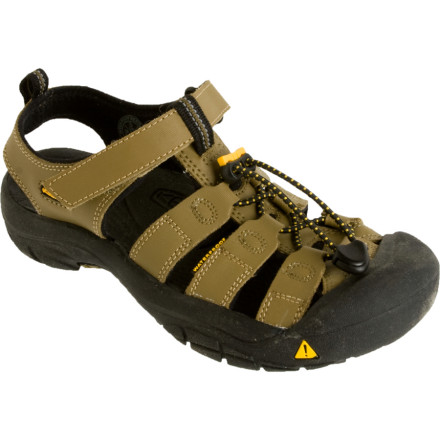 Detail Images
Flimsy flip-flops and open-toe sandals are a great way for your kid to get bruised and bloodied toes. Try the KEEN Youth Newport Sandal instead. KEEN gave this sandal rubber toe protection and a washable, water-resistant leather upper. The bungee lace system is easy to use and locks down tight for a snug fit.
Not what expected
Gender:

Female

Familiarity:

I returned this product before using it
Our family loves wearing keen sandals. We have always had the canvas/leather exterior. This one describes it as being leather exterior but it was definitely thick vinyl. Sent it back and got the canvas kind instead.
great sandal
Gender:

Female

Familiarity:

I've used it several times
Women's size 6.5 is a youth 5. My daughter and I share shoes. These sandals are comfortable and seem to be of great quality. Interesting texture on the leather (a coating for added wash - ability and waterproofness, I guess). I hope it doesn't start to peel over time. I like the VELCRO at the top, feels the same as the toggle version (comfortable and many adult / youth sandals have velcro - a wonderful invention and addition to the keens). Over all great sandal at a terrific price (bought on sale - navy :) Color navy is not as bright as seen on website, it is a dark navy, which I prefer.
Each summer I buy a pair for my son. Each summer he wears NOTHING else. At the end of each summer they look good as new and are suitable to hand down to his little brother. More expensive than other shoes but WELL WORTH THE INVESTMENT!
I'm now going to buy 2 pairs in the next 2 sizes up!
I ordered a youth size in this sandal (...
I ordered a youth size in this sandal ( cheaper than adult sizing ) .. I have one foot bigger than the other and my second toe on that foot touches the rubber toe on the sandal... will they 'stretch" out a little or should I "size up" ??
I have the adult sizing of the newport. They're a size small and I hoped that they would stretch. They have, but only minimally. They still feel quite tight when I wear them.
they will not stretch and the youth sandal does not have as much support as the adult.

Jerry
These sandals seem great.. I ordered a youth size to save money... just have one toe that is longer than the others on one foot so may have to "size up" for that but other than that.. they are super comfy right from the get - go !!
What is the difference between Keen Newport...
What is the difference between Keen Newport Sandals and Keen Newport Sandals H2's?

Which ones wear better for kids?
Hey Jennifer,

The Kids Newport was the original kids sandal, the webbing is made out of leather covered with a vinyl laminate very durable, but not as comfortable as the Newport H2, which the webbing is made out of polyester or polypropylene.
The Newport H2 also has a heel back for more protection and comfort. Both are very durable and will be hand me down sandals.

Jerry
The heel protection can be important because some camps/schools require it.
All 3 of my kids wear keen sandals. They are great sandals/water shoes and wear really well. Plus my kids' feet don't stink of rubber after wearing them.
This is the 3rd pair of Keen's that we have purchased for our son! We bought the first pair because he needed a closed toe shoe for daycare and they have been so durable, easy to put on and an all around great shoe so when he grows out of one pair, we purchase a new pair! You can't go wrong purchasing this shoe!
I love these sandals. I have some. All of my kids now have them. This is the second pair for one of my daughters. They are a perfect, all-around sandal for school, play, day hikes, etc. As far as the Newport vs the Newport 2, these are still the original Newport sandals, just with a velcro strap on top. The Newport H2 sandals have an enclosed heel also. I wish they made them without the velcro strap, but you have to have older, bigger kids for that style anymore. With that being said, the velcro strap is still better than any alternative sandal in my opinion. They are extremely durable. The previous sandals are in use by the second and third daughters, and still looking good. I would definitely recommend these sandals over and over again to anyone.
The BLACK color is not the Newport , it's the NEWPORT II with velcro
Only the Army Green color is available in Newport. Even the KEEN website only has Army Green in this style. I ordered the Black through BackCountry and was shipped the Newport II - the version with the Velcro Piece at the ankle (which the Newport does not have).
I don't know if the correct name is listed (see previous reviews), but the sandal pictured is the sandal I received. My 11-year-old wore it on our Spring Break, every day for 8 days, without socks. He was very comfortable and had no problems. He didn't complain about his legs or feet hurting and didn't develop any blisters. The army color pictured is what we received. My son has a narrow foot, so he likes that he can tighten the width with the "bungee" cord. It is very easy to adjust this shoe to different foot widths. It was great for walking long distances and by the pool. I recommend this sandal.
This iS NOT the NEWPORT - It's the NEWPORT II with Velcro - Wrong description and photo
Backcountry has this wrong. The photo and description clearly indicates NEWPORT. But like the customer who commented here before me, the sandal is actully the NEWPORT II, which is KEEN's NEWPORT with both bungee pull AND VELCRO. I did not want the sandal with VELCRO as my 11 year old is too old for VELCRO and it's not comfortable. Because of the previous customer's comment about receiving the wrong shoe,I checked via the CHAT option with a Backcounty CSR about this product and was told that someone in their warehouse checked the shoe and it is the NEWPORT. I asked if it had the VELCRO and was told, nope, the sandal was the NEWPORT, NOT th NEWPORT II.

Well my son's sandals arrived today, and it is the wrong shoe - the NEWPORT II.

Backcountry PLEASE update your website and I expect to be credited for the shipping to me and the return since you have falsely advertised this product.
Is this sandal available in Size 7 (Youth)...
Is this sandal available in Size 7 (Youth) in the Army color? I just got the Size 6 for my son, but it's too small. :(
Best Answer
Hi,

Keen doesn't appear to make a Youth sandal in a size 7 (http://www.keenfootwear.com/product/ss10/shoes/kids/youth/newport). The largest youth size is 6, and to go up to a size 7 you're into a men's shoe.
Comfortable, versatile and durable. Bought these for the three kids to travel to the Caribbean in February. They wore them to the airport with socks and took of the socks when we landed. They wore them to the beach during the day, and out at night. And then home again. With any luck, they will fit them all summer.
Lets try again. What about the Keen Newport...
Lets try again. What about the Keen Newport Sandal in youth size 6 - mesh upper. What color do you have?
Best Answer
None of these has a mesh top, and only the Navy is still in stock in size 6. If you're actually looking for mesh and not just the gaps in the leather, there are none. Not a single one. That is not a feature of this shoe, regardless of size or color.
Unanswered Question
Lets try again. What about the Keen Newport...
Lets try again. What about the Keen Newport Sandal in youth size 6 - mesh upper. What color do you have?
My son loves his Newports. He can't wear the Newport H1 because his foot is narrow and the velcro on the H1 is too long. Shoe arrived and is not the Newport, but the Newport H1! Aargh! My son is not going to like this.
Unanswered Question
I can't tell if the size 6 is for youth...
I can't tell if the size 6 is for youth or for toddlers. please help