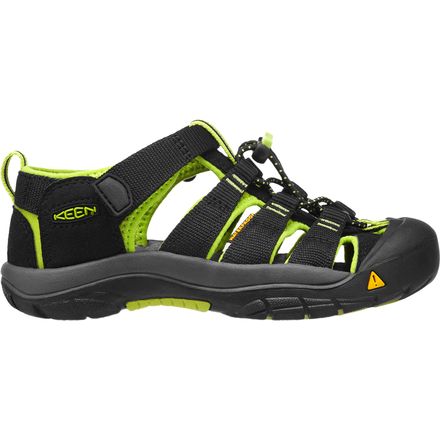 Detail Images

Videos

Community Images
Description
Get your child geared up for summer.
The KEEN Newport H2 Sandal used a closed-toe design to protect your little kid's nubbins while playing on the slides and swings and in the fountain on a hot day. Non-marking soles won't leave streaks across the kitchen floor when your excited tot gets home and races around. KEEN also added its single-pull lace system to help you get your grom equipped in seconds. Open sides shed water and let skin breathe, so your child's feet stay comfortable in the water or on terra firma.
Defective velcro closure
Familiarity:

I've used it several times

Fit:

True to size
We are a committed Keens-for-little-boys family. Our twin sons live in them 9 months out of the year. We bought a pair of the Keen Newport H2s in green in mid-June for our 4yo. It's now August and the velcro closure at the ankle has completely worn away and no longer keeps closed. Every other pair of Keens we've purchased have never had this problem. My son didn't even wear them all that frequently--and every other pair has been put through the wringer and are still useable. These Keen H2's are no longer wearable, and are a bit dangerous at this point because the ankle straps dangle on the ground when my son runs and plays. If I pay $50 for a pair of kids' shoes, I want them to be wearable for more than 6 weeks. These are crappy shoes. And I wish they weren't.
Stinky feet alert!
Gender:

Female

Familiarity:

I've put it through the wringer

Fit:

True to size
My first pair of Keens were Newprot H2 Kids' because I have midget-y size 6 feet and the Kids' model (kids' size 3) was significantly cheaper. I went on to own a couple of pair of Adult size 5.5 and size 6 Keen Venice sandals that I enjoyed.

The Kids' keens, however, do not have quality footbed material and the result is no-good, very bad, super-smelly feet. My good friend and fellow short person made the same mistake and we both ended up tossing the shoes before they were worn out because the stench required frequent washing and even then, it lingered. To be fair, my shoes saw a lot of use and still looked great, they were very tough.



If you're an adult, spring for the adult model!
My son calls these his killer keens. Makes him feel pretty cool wearing these and the fact I can wash the dirt off, easily, is another plus. I've only had these a few weeks but we have got them dirty doing all kinds of cool stuff and I can't wait for him to camp and hike in these! It's nice to be able to see your kid slip his shoes on and off without a struggle. He thinks that's pretty cool to. Doesn't complain about the fit or straps, discomfort in anyway, seems comfy. Sometimes those pesky wood chips are a bummer but they are sandals and expected.



He is 4, wears a 11.5 street shoe and has these in 11. The 12 was huge. The 11 gas a great fit and will let him grow into them perfectly.
Keen sandal
Familiarity:

I've put it through the wringer

Fit:

True to size
My daughter wears these all spring and summer. Yes they do get a bit stinky after a season of wear but that's to be expected. Great in water and on hikes. We couldn't do summer without these.
I think not!! Kids love these and I can't get them to stop wearing them. Traction is superb... no slipping here on hikes.
KEEN Newport H2 Sandal - Kids'
Bought these for my nephew, since the shoes are whole sizes only & his shoe size is 10/10.5, I went with size 11 & they fit him quite well. Even with a little room to grow, his foot doesn't slide around at all. This will be a nice shoe for him now (spring) thru autumn. He loves them.
Very stylish and sturdy, perfect for summer weather. My daughter finds it very comfortable.
I think these are great shoes for toddlers and I will definitely buy them again!
Backcountry lame bait and switch
In the e-mail they send


50% Off
KEEN
Newport H2 Sandal
Kids'
$49.95
$25.00
Keen


When you click to by you get the $49.95 price


KEEN Newport H2 Sandal - Kids'
Available Colors / Styles
More Images No More Images

*
Black/Stone Gray
*
Bronze Green Print
*
Crocus
$49.95
If i were a killer whale and these shoes were a nice juicy seal. I would just swim by, and let the seal continue frolicking about in the cool coastal waters.

That's how much I respect and admire these shoes.
No better shoes for toddlers!
My husband and I each have KEEN sandals for ourselves and absolutely love them. At the beginning of the summer, I had purchased several other pairs of sandals for our 2yo son from Stride Rite. Stride Rite is generally known to be a well-made shoe and they aren't cheap, but my active toddler had just about destroyed them in less than 2 months. I tried some knock-off KEEN-like shoes from a department store that rubbed blisters on his feet within a week and the rubber on the toe shredded. Finally in June, we decided to just spend the $50 and buy the Newports. I have never been so absolutely pleased with a shoe in my life. My son loves to jump in puddles, run through the hose, and drag his feet on the concrete while riding his bike, and these shoes have stood-up to it all. They are so easy to just hose off when dirty, and they look as good as new. I've had other friends who go through shoe after shoe because their toddler drags his toes on the concrete while riding his bike. You can't even tell that these have seen the concrete. I'm definitely going to be buying a pair of KEENs for fall.winter as well.
My nephew is the coolest in these Keens
I'm a bargin shopper, I went surfing online one evening to find the best Keens at the best price! Well I found both right here. I even made a booboo on the size and the chat person was the nicest most helpful person. Great store great prices.
Turns your kid into a trail runner!
These shoes work really well for my five-year-old daughter. Great traction and great fit. Took her out for a hike yesterday, but she wanted to run the whole way. She had no slips or falls on a fairly technical trail (Lake Blanche in Big Cottonwood Canyon near Salt Lake). She loves the color too, and as parents, we like the fact that they're washable.
What is the difference between the Newport...
What is the difference between the Newport and the Newport H2? Does one wear better than the other for kids/boys?
Sorry to say but the main diffrence is the way thay look
Sorry to say but the main diffrence is the way thay look
Sorry to say but the main diffrence is the way thay look
Sorry to say but the main diffrence is the way thay look
Sorry to say but the main diffrence is the way thay look
The H2 has a closed heel. Some camps require that.
The H2 have nylon uppers and closed heel and are more water friendly. Newports are artificial leather uppers and open heel.
GREAT shoes for kids, we'be bought them 2 years in a row!
These are awesome shoes. My kids wear them in the water (sprinklers, splash pads) and they provide great support and stability all summer long. They can lace up tight for my one son's narrow feet, and expand a bit for my other son's wider feet. A great feature. We LOVE these.
Love, Love, Love these shoes!
Love these shoes and my daughter does too. We took them up to the lake and they still look good. I got my son a pair too. When they get dirty, just rinse them off with the hose - no shrinking.
These shoes are a little pricey for quick growing kids, but the quality is outstanding and they allow for a lot of room to grow with the adjustable tie/cord and velcro closure. My daughter's feet get hot and sweaty and these shoes stay dry and allow them breathe. They are stylish enough to wear with a dress and functional enough for running, playing and hiking.