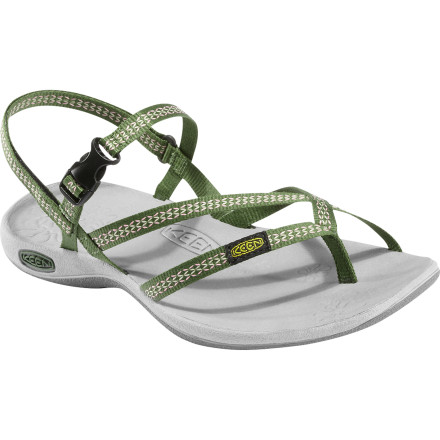 When the late-afternoon beach sand is oh-so hot, the Keen La Paz Sandal provides a cool, comfortable place for you to rest your weary toes. Keen designed the La Paz with a comfortable EVA footbed and midsole to cradle your foot and provide cushioning as you explore the waterfront. The adjustable straps allow you to dial in the perfect fit, and the non-marking rubber outsole provides traction over slippery rocks.
I got these for my mom and she really loves them. They look really good on her. I did read about the velcro not sticking so well, but so far her's have been just fine. We'll see how they wear over time
I bought these sandals for a world backpacking trip. I usually wear a size 8, but the 7.5 fit me well. They were very comfortable to walk in, but in less than 30 days the velcro stopped sticking and the cinch buckles loosened as soon as I started walking. They quickly became the most obnoxious pair of sandals I've ever owned! Unfortunately I didn't buy them through BC, and Keen won't let you return worn products, even if they are defective! Not the stellar service I expected from Keen at all.
I purchased these because I have always loved my Keen Catalinas and these were available in purple. They are horrible..no support whatsoever...like wearing a cheap flipflop from Walmart, but worse. bring back the Catalina!
I absolutely love these shoes and wear them almost every day BUT they're not well made. After only a month of wearing them, the velcro stopped sticking to itself so the straps would come undone as I walked. I would re-stick them but it would just happen again 2 minutes later. Now I just tie the straps in a knot and wear them anyway because I love them but you shouldn't have to do that with a relatively new pair of shoes!
Overall good with some drawbacks.
I really like Keen shoes and so does my wife. She said that they were smaller than usual (normally wears a 6 but 6.5 would have been better. The buckle doesn't hold tight and she has to readjust more often then wanted. Other than that she loves them.
I have serious knee problems and these sandals give me the support I meed
Do these fit true to size?
Do these fit true to size?
Nevermind...size chart says to order 1/2 size up :o)
I think you can even go up a whole size. The straps will be loose, but still comfortable.


I got a pair for my mom as a gift, I got her normal size and they did seem a little small but still worked.
I am going to a third world country for 3...
I am going to a third world country for 3 months a need a good durable sandal that could look good with skirts and dresses. Would you recommend these for that?
These might not hold up very well with the thin straps... Maybe consider a pair of Chacos which will surly last forever.
Got these for the girlfriend as a birthday gift and she absolutely loves them. She's on her feet for 10 - 12 hours a day sometimes at work and wears these with no problem. They're cute, comfortable (according to her) and have held up.
Great... very comfy. Better than flip flops because they don't slip off! The soles wear extremely well, very durable. Love 'em.
Sometimes I work as a caterer in a relatively casual setting, and we dress in our own clothes. The idea is "look like a guest, but with food." As a big fan of Keens, I bought these sandals thinking they would be dressy enough to wear with a casual-yet-nice dress, yet still give me the support and cushioning I need to be on my feet. Not so much.
First of all, I immediately noticed how kinda flimsy and cheap they seemed. The straps were just glued in, with visible gobs of glue. The heel strap is adjustable, with a faux velcro closure: It's not a hook-and-fuzzy duo as per regular velcro, it's more like both sides are hook-y, plastic-y stuff. I don't see them lasting long, and my skinny feet needed them a bit tighter than the strap would allow. The buckle worked fine for me, but the real killer was the spot where the toe strap joins with the heel strap, on the inside. That chafed at my instep right away. I wore them inside, on carpeting and bare wood floors, for about an hour. I decided these are not the shoes for me, and returned them.
Sandals I loved them great for summer.
is it good for multi-sports use?
is it good for multi-sports use?
The La Paz is good for multi-sport use because it has a heel strap and an adjustable strap over the top of the foot. You'll find that the sandal is limited by its outsole, which is thinner that other Keen multi-sport sandals. The La Paz was designed with more of a fashion focus so you can wear these with a dress too!