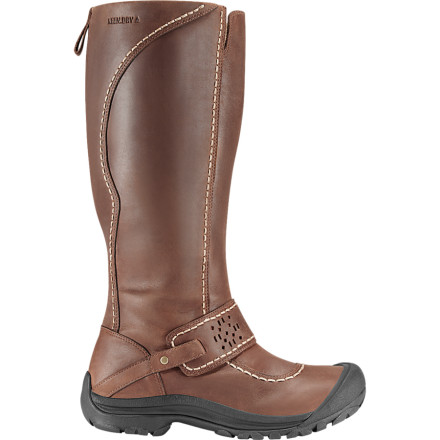 You're as big a fan of high boots during the winter as the other ladies in the office, but, unlike the uncomfortable, toe-scrunching, calf-destroying high-heel boots they wear, you prefer boots that are actually comfortable. The folks at KEEN know how you feel and want your feet to be comfortable this winter as you walk the city streets. The Kaci High Boots' waterproof protection and grippy rubber soles allow you to saunter through winter weather with confidence and ease, while the boots' leather uppers show off your classy side.
KeenDry waterproof breathable membrane and waterproof leather uppers protect your feet from water, snow, and whatever other liquids winter decides to dish out this year
Compression-molded EVA midsole for superior comfort
Waterproof medial zipper means you can fire your boot butler and take these on and off yourself
Non-marking rubber soles provide traction in wet weather without (you guessed it) marking up your floors
I'm looking for a pair of these in black,...
I'm looking for a pair of these in black, size 8. Does anyone know where I can find some? Thanks!
This boot has not been made for over a year. Not sure where you will find it, It sold very well.
Are these boots waterproof? I'm not planing...
Are these boots waterproof? I'm not planing on going through the snow a ton, but I would wear them walking on snowy sidewalks.
Hey Jillian,

Yes, the Kaci Boot has a waterproof breathable membrane called KEEN DRY. The waterproofness goes up to the bottom of the zipper, about 2 to 3 inches off the ground. The Kaci has a Waterproof zipper too.

KEEN also uses waterproof leathers that will help keep the boot highly water repellant and also keeps the leather soft and won't shrink or crack. From time to time you may want to put some conditioner on the leather. KEEN recommends NIKWAX, on the Kaci, use the NIKWAX Nubuck.

Jerry
Yes the calves are big, but who cares, they are no different then the pair of Frye boots I own that are super stylish and and on the must have list for every chick out there. These are super comfy-true to Keen style-right out of the box. Fit true to size and even without socks the insides are not annoying and don't stick to my skin like other boots I own. SUPER STOKED and can't wait to pop on a pair of tights and a dress when the weather turns cooler and look super cute with my new boots.
Fit true to size. Best boots I have ever had the privilege of wearing! I receive multiple compliments each time these boots adorn my feet. My sister promptly bought these same boots in the color black after she saw how cute mine were. Keens are great and they truly live up to their reputation.
Beautiful boots, but they run quite large. I wear a 9 in the Keen sandals. I ordered a 9.5 in the Kaci, which is what I wear in most shoes, and they were huge. My foot swam round in the foot bed even with smart wool medium cushion socks on. I think a 9 would be too big as well. I will still pursue these boots as I really like them. I have big calves and they fit with some room to spare.
This is a very comfortable boot and extremely durable. The Keen name has certainly impressed me. The sizing is to size plus the boot is warm.
Cute Boots, Wish they fit better!
These boots are very cute! Keen is such a great brand. However, the ankle and the calf area is big. I got a size 8 which I wear in other Keen shoes. The boots were easy to zip up over jeans and still had an inch or so amount of space in the top areas. I wish they were a little tighter throughout the calf. They are very cute though and shipped fast! I can't wear them under pants because they are too wide in the top.
Are these boots warm winter boots for...
Are these boots warm winter boots for outside in Minnesota cold?

thanks,
I live in the northern part of Michigan and these boots are not only made for walking but they are one of the warmest boots I own. There is a cushioned membrane of some sort in the foot area of these boots that adds to the comfort and warmth. I see you wrote this in November...... Hope this helps.
These boots took me all around Europe in great comfort. I wore them everyday and my feet never hurt. I walking 10 miles a day up, down and around city streets. They are high quality, completely waterproof and lightweight. They are a bit clunky, but your feet are fully protected. They run true to size. I will be wearing them all winter. Great boot!
Awesome KEEN Kaci High Boot
These boots are super soft and comfortable, very light and I really love the fact that are waterproof so you can wear them in heavy rain or if it is snowing. They are warm, but not that kind of warm that makes your feet sweat. They are awesome, I totally recommend them like all Keen shoes.
These boots were true to size, I wear an 8 in Keens and the shoe portion of these boots in a size 8 fit fine. However, they are designed for someone with much larger ankles and calves. They do not have a fitted shape as the photo leads you to believe.