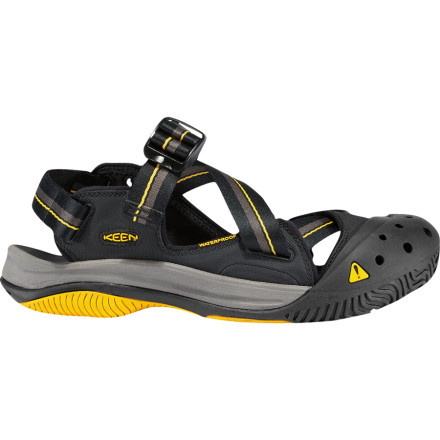 Videos
The Keen Men's Hydro Guide Water Shoe gives you the protection and grip you need while running the river. Adjust the ladderlock buckle to tighten the front strap, and use the hook-and-loop system in back to tighten the Hydro around your heel so it'll stay on through rough water. The sticky rubber sole means you won't be slipping all over the place when you try to stand up on the river rocks. The hydrophobic mesh lining dries quickly and features an antimicrobial shield to help prevent odors.
Keen stepped it up on the redesign of the Zerraport and included drain ports and a grippier non marking sole. These do run big so if you're in between sizes then go down. I use them mainly for launching boats, kayaking and swimming in areas where there's broken glass. They provide excellent toe protection, have easy adjustability and the rear velcro strap entry is a really nice feature as well.
KEEN Hydro Guide Water Shoe - Men's
Unanswered Question
I am looking for a classic Teva strap stlye...
I am looking for a classic Teva strap stlye sandle for simple everyday use. I have never owned a Keen shoe but like the idea of the toe protection (as I plan to use this for summer bike riding upposed to a flip flop per se). Does this water shoe wear well for everyday use/hiking?
I think I really would have absolutely loved these, but I have curly toes. That means they sit up a little higher than some and would rub all day long on the rubber toe guard. Not Keen's fault. It is my parent's fault. Don't buy these if you have curled toes. As for width, I'm a 12EE and these would have been perfect had I been able to figure out how to straighten my little piggies.
I have the Keen Newport H2. They are great but they do not drain very well. I thought the hydro was going to be the solution to this problem. The sizing is VERY big, I take a 9.5 in the Newports. I ordered a 10 in the Hydro which was a mistake. Should have gone with the 9. I didn't like the part of the sandal by your outside ankle. I felt it was digging in. Unfortunately, they had to go back.
Are there replacement straps for this water...
Are there replacement straps for this water shoe?
I am afraid there is not a replacement strap for the Hydro guide. Depending on what is wrong with your sandal strap you could take it to your local cobbler, they maybe able to fix the strap.

Thanks, Jerry
How wide are these? Do they go to 2E?
How wide are these? Do they go to 2E?
Unfortunately not, these are a medium width and aren't available in a 2E(through us).
contender for my favorite water shoe
this is my favorite Keen water shoe by a pretty wide margin. it represents a fairly significant departure from existing Keen water shoes in a number of ways that make it better-suited for...the water.

Like all Keen water shoes I have worn or seen, this one retains the toe cover/bumper that provides such good protection from unexpected impacts. the toe bumper on this keen is perforated with a number of holes that allow water in and out more freely than the solid toe bumper. in addition, the front and rear sole have a series of small openings to allow water to drain from under your feet. each hole has a metal screen to prevent small stones or debris from coming up into the footbed. If you actually use these for water sports, you may appreciate the extra drainage.

This shoe also has a much more "open" design than most other Keens, yet your foot is still very secure. most Keens are slip-ons with an elastic that cinches tight, with a one-piece, non-adjustable heel strap. this shoe has a single strap that tightens through a plastic slider - not unlike Chaco water shoes, though with a different configuration. like other keens, this one has "sides" (on this one, made of some kind of rubbery material backed with neoprene padding) that protect the sides of your feet, but the top of the foot is "open" like chacos or tevas - a much-appreciated improvement in drainage, and it also translates into a shoe that dries out more quickly than most Keens. One potential issue arising from this strap may come up for people with narrow feet - the strap tightens along a relatively narrow range. i have wide feet, and these fit fine; i could see someone with narrow feet having a harder time getting a secure fit. One other issue with the strap, that went away after a few weeks of wear, is that the strap has some strong stitching right over the top of your ankle. Until the strapping softened up a little with some use, it was a blister point.

also unlike most keens, this one has an adjustable velcro heel strap. that's also a big plus that helps this shoe feel very secure in the water. on the downside, the velcro strap is not cushioned at all, and it feels hard - it might bother someone's heel, depending on how it fits. this has not been a problem for me, and I really like being able to tighten the shoe at the heel. like any water shoe, velcro is prone to getting clogged with debris. because i rarely adjust the heel strap after i get a good fit, i don't see this as a problem, whereas using velcro for the main front strap, which constantly gets loosened, has been an issue for me on other shoes (eg Tevas).

the footbed and sole are classic Keen - contoured footbed, siped rubber outsole. if anything, i think the sole of this shoe is a little better at gripping wet rocks in the water than previous Keens. It's a non-marking sole.

if you are conscious of appearance, some might knock this shoe as quite functional, but also fairly ugly compared to most other Keens. the straps seem to come in only one color, black with a grey and bright yellow stripe, and large parts of the sticky outer sole are a very bright yellow rubber.

the bottom line? this is a highly functional water shoe that is much more comfortable to walk in and use in and around the water than Keens that have a more "closed" design. Still, it retains Keen's DNA with the toe bumper and interior neoprene so your foot feels good but doesn't get mangled. a serious contender for my favorite water shoe.
I wear 11.5. Do they make this size? ...
I wear 11.5. Do they make this size? Can't find them anywhere. should I just try 12?
Yes they do. I wear an 11.5. In addition my foot is 2E and the KEEN shoes all fit fine. I have several pair.
I came to this web site by searching for...
I came to this web site by searching for men's wide water shoes. Does anyone know if these are truly wide? My husband wears a triple, or 4 E width in shoes.
No, these aren't a specific wide... they're technically a D (standard/medium width). But in my experience Keen handles wider feet well... I have EE's myself and Keen has always been kind to my feet. Give them a try - they're good shoes and if by chance they don't fit wide enough - our unlimited return policy has your back.
Weight on these is 13 oz's.