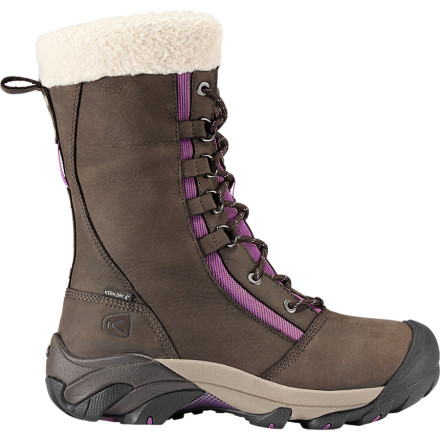 When high style and mountain function come together you have the KEEN Women's Hoodoo High Lace Boot. This winter trudge through snow banks and make your way to the restaurant with the waterproof breathable Hoodoo.
Waterproof full-grain leather upper lets you step your way through slushy puddles and ankle-deep powder
KEEN.DRY waterproof breathable membrane lets vapor out without letting moisture in
200g KEEN.WARM insulation with antimicrobial properties keep your feet toasty, warm, and happy
Faux sherling lining for comfort and style
4mm Multi-directional lugs and non-marking outsole give you traction and support on uneven, slippery terrain and drifted-in sidewalks
Metatomical footbed cradles the foot and provides arch support
S3 Heel support supports the foot on impact, dissipates shock, and reduces your odds of twisting an ankle when you run to catch the bus.
Wife loves them
Gender:

Male

Familiarity:

I gave it as a gift but have feedback to share
Warm, traction, heck its a Keen! Like the title says wife loves them.
Finally a boot with arch support
Gender:

Female

Familiarity:

I've used it several times
I have had my Keen Hoodoo High Lace boots for over a month now. I bought them to wear while walking my dogs on slushy & snowy sidewalks. They keep my feet completely dry even if I walk directly through a large puddle. Even more impressive, they have a decent arch support. I have had waterproof boots before, but they were not ones that I would want to walk 1 - 2 miles in. With these boots that is no problem. They are a bit of a chore to lace up to put them on, but that is minor.
Great boot, didn't run small for me
These boots are awesome! Zero break-in period, very comfy, cute too. The slate black is def NOT slate or black - dark brownish, but I love the color. Many reviews around the web said these run small - I wear 7.5 w/ high insteps & arches & wide balls (lol), so I got an 8. They're nearly too big for me in the toe and heel but work OK with thick socks. Very wide/square toe box.



Only complaint is the laces SUCK! Round & slippery-coated, so they won't stay tight and knot moves side to side. Replacing those babies with flat heavy duty laces and I'm good to go!
Chunky-Look
Gender:

Female

Familiarity:

I've used it several times
I just received them. I am a size 9 and they seem to fit perfectly. They are a nice style & color. My only negative remark is they seem kind of big and blocky (chunky) right over the top of my foot. It's just a style thing though. I look forward to testing them out once the snow arrives. They feel warm and comfy!
Are these boots good for snowshoeing? ...
Are these boots good for snowshoeing? Warm and really waterproof?? Thanks for the help!
Hey Sarah,

Yes, they will work for snowshoeing and they are warm and waterproof. They have a waterproof membrane that is guaranteed to keep you dry. If you are snowshoeing everyday check out the Delta too. It has a d-ring to attach a snow gaiter on the boot.

Jerry
These boots are NOT WATERPROOF by any stretch of the imagination. I had no problem with them in the snow, but I just wore them in the tall wet grass and my feet were swimming in water within 5 minutes. I poured water out of the boots and had to wring out my socks. No exaggeration! It was super wet conditions more suited to irrigation boots than winter boots, but there was not standing water, just very wet foot high grass. The top edge where the faux fur trim is was still dry so the water did not come in from the top. It came through the boot. It seemed like they started to leak at the seam where the leather meets the colored fabric on top of the foot and literally just continued to fill up with water. BIG DISAPPOINTMENT. My other review for snow and fit still stands. I wore my waterproof Vasque Breeze boots with gaiters in the same conditions earlier this week and had no leaks. I don't think my gaiters would fit around the Keen's but they might have helped keep water off that seem. To me the whole point of buying taller boots is so you don't have to wear gaiters!
I tried 4 Keen winter boots. The Alaska's were too stiff and clumsy to walk much in, although they had the most insulation of the 4. The Hoodoo High boot was the tallest. It was comfortable and had insulation but I didn't care for the style. I also tried an insulated mid hiking boot. It cut at the ankles, definitely not comfortable. The Hoodoo High Lace was a winner. I ordered a half size up from my usual Keen low top hiking boots, so I could wear really thick socks or even 2 pair of winter hiking socks. It worked fine. These boots are modestly insulated, definitely not as warm as my foam lined moon boots from 20 years ago. They have lots of toe room and don't slip in the heel. Great arch support and rugged soles. If you have super flat feet, the arch may be too much for you. These boots are light weight but sturdy and really comfortable. The lace up is easy and they fit my skinny calves fine. Lots of room for bigger legs too. I like these for hiking in snow and snow shoeing. My feet get cold easily, no problems with these boots. If you have to stand still in 0 degrees I think you better get something else, but for 20 degree walks in the snow, I think you are good. If you don't own any Keens, my only experience is that I wear 1/2 size smaller in Keens than I do in Vasque.
I bought these for my mother and she LOVES them! She wears them just about every day too. Here is a direct quote from her, "These are the most comfortable boots I have ever worn!" My mother is a very picky shopper and I was very surprised (and relieved) that she approved of them. If you wanna make your momma happy then buy these for her!
The boots are very comfortable to wear as it has perfect arch suppport and are pretty stylish too. I like the desgin and the quality leather. All in all, a great buy for winter hikers. I strongly recommend them.
I had been searching for the perfect warm and stylish boot for my fiance, and these were the end all say all. She loves them. Very comfortable!!! And since she has had problems before with cold feet, no more.... Thanks Keen, great products!
Great alternative to bulky winter boots
I've had these boots for over 3 months now and they have proven to be everything I could have wanted in a winter hiking boot. They are warm, as well as very comfortable. I've used them tobagganing, as well as hiking for hours in snow throughout the kootenays and they have yet to fail me. I'd highly recomend these boots!

Also I have never noticed a seam across the mid-foot, and the width of the boots is consistant to any other Keen product. If you like Keens, you'll LOVE these boots.
How well do these boots work with snow...
How well do these boots work with snow shoes?
, ☃bcs_badge_alumni_label☃
Best Answer
The Keen Hoodoo High Lace Boot is well-constructed, waterproof, and lightly insulated, and it does boast good looks too. In the spectrum of Keen winter boots, though, this one falls slightly more on the "in-town" end. By all means, walk around on a snowy, wet day, or take this boot on a short winter hike or snowshoe jaunt. It'll work very well for those things.

But in our opinion, if you're thinking about a boot made specifically for serious snowshoeing or long winter hikes, it may be wise to go with something more insulated and burly. If you like the style and fit of Keen, check out the Alaska boot. The Alaska boot has a super-sturdy full-leather upper, waterproof KeenDry membrane, a heat-reflective footbed, and 400g synthetic insulation to fend off the chills. Women tend to appreciate extra warmth in winter boots—ice-cold toes just aren't fun.

So ultimately, it comes down to what you need from your boot: something you'll usually wear with jeans but could also take a short hike in, or something that's mostly for winter hiking but also looks okay with jeans?
Great for snowshoeing, winter hiking or walking Main St. during Sundance!
After I had a blowout with my other snowboots, I needed some winter boots and FAST! These arrived quickly (although it helps to live in the state were they were shipped from!) I hike and snow shoe daily in the winter so I was looking for something lightweight, sturdy, something that I can sinch down without worrying about heal lift or blisters. These have done the job. After looking at other reviews which said they run small, I choose to stick with my normal size 8.5 and exchange them if I needed to. I found them to run just a little big, but thick socks and tightening the laces has helped with the situation so far. Great for snowshoeing, winter hiking, or walking Main Street during Sundance.
Ouch...but they are cute...
First off, these are cute boots but the seam across the mid-foot hurts! I couldn't even keep them on for 5mins before I had to get them off. In addition they run short but also are very wide across the toes. This was my first pair of keen shoes...they are going back and I ordered Merrell boots instead. I love merrell shoes so I am going to stick with them! Sorry, Keen shoes you are just too wide for me!!!
These boots are absolutely warm and comfortable. They are not too stiff and do not need too much breaking in. I would recommend these boots to others.
ok ladies. these are it! if u r looking to be warm and dry on your next outdoor adventure then i suggest u try these awesome boots. they are super comfortable and sturdy for climbing on rocks or rough surfaces. these rugged boots are actually kind of cute with my jeans tucked in. i like the fur around the top to spice up the look. i can't believe how cute i am in these boots! i am smiling ear to ear. i've been looking for a pair of boots like this for a long time. thanks for making it happen for me!
Great boots, but run small
I ordered these boots and got them within three days - great job Backcountry.com! Unfortunately, they were too small. I usually wear a 9.5 or 10, so I ordered a 10, and these boots definitely run small. My toes were brushing the front of the boots, which isn't a good idea for the kind of outdoor activities I need them for. The quality is great (very comfy lining, sturdy laces, cute design), but I wish they'd stock above a size 10!!!
Just wondering how the sizes run in this...
Just wondering how the sizes run in this particular boot...do they run big or small? Additionally, how does it fit under a pair of jeans? Are they boots bulky?
I just got a pair for my fiance, and she had to go one half size larger. So they do run a little small.