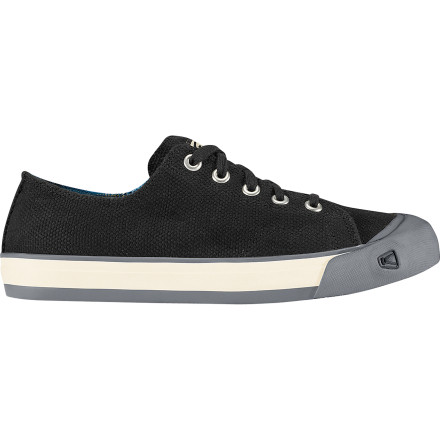 Detail Images

Videos

Community Images
Slip on the KEEN Men's Coronado Shoe for your lazy days around the house or your strolls in town. KEEN gave the Coronado Shoe a canvas upper that keeps your feet cool in the summer heat. The recycled polyurethane and cork footbed cushion your dogs on long walks while supporting your Earth-friendly outlook. Recycled aluminum eyelets go one step further in helping to sustain our planet while adding a little style to your laid back look.
KEEN Coronado Shoe - Men's
Would this shoe be good for tennis? will...
Would this shoe be good for tennis?
will they fit a wide foot?
Hey Ben,

No, this is not an athletic shoe by any means. They fit a standard width foot, not wide nor narrow.
Nearly everything I've come to expect from KEEN
Accurate fit with the slightly wider toe box. Usual KEEN fit. Not quite as comfortable as other KEENs but they are simply constructed like Chucks, so I didn't expect a walking shoe. Just a nice looking casual shoe.
Photo of Keen Rejects? Knock offs?
I have a pair of these and there are perfectly aligned, unlike the photo above. So I wonder if the ones in the pic are knock off's, fakes. Because I see those and think, some has been hoodwinked, bamboozeled.

They are extremely comfortable and GREAT for longboarding, walking, and everything else I have done so far in them. As of yet, NOOO regrets.
Comfortable, true to size, look great and with very good pricing. Thanks to the particulary helpful staff member.
After buying a pair of keen shoes for work, and realizing i loved them...i bought these. great price, great fit, great style. Supposedly the heel wears down quickly in these, but i do not plan to do long distance walking in them...so i'm sure they will last a very long time, as most keen stuff is super high quality. Feel good about buying these instead of a pair of Converse all stars... because they are better for the environment, and you wont be wearing the same shoes as your girlfriend, your little brother, and your strange uncle that still thinks he's hip...
be unique....buy keen!
I was only able to enjoy them for a couple of months before the heel wore through the back. If you want a comfortable, casual, yet ironically disposable shoe, go for it.
Any feedback on how the Coronado's run? ...
Any feedback on how the Coronado's run? Or another brand that these are similar to in size? I wear a 13....sometimes a 12...depending on the brand.
I think this shoe runs a little short, but wide. I'm normally a 10.5 EEEE, and a size 11 fits me, it's a little snug at first but the canvas loosens up quickly.
Thin lining wears far too quickly
These are very trendy canvas shoes that go great with jeans, khakis, or shorts. Heres the problem - after walking in them (~3mi/day) for less than a month, my heel rubbed through the very thin liner and started to rub & blister against the canvas material. After less than thirty days, I couldnt wear them without getting a very painful blister on each heel. Ive decided to return them and will try to get the KEEN Oslo shoe...am hoping for a better turnout from a shoe designed for walking in. The bottom line for me is that the liner of a shoe should never rub straight through after less than a month. That's simply poor construction.

On a brighter note, kudos to backcountry.com for the excellent customer service throughout the buying (and returning) process! I will certainly buy from them again.
Nice casual shoe from Keen
As always, another great product from Keen. Having been very impressed by the comfort and quality of my Keen boots, sandals, and office shoes, I decided to try out their casual shoes. This is a very comfortable and good looking shoe. It doesn't offer the same arch support as most of their other footwear but still feels great. Definitely a step up from the old converse all stars!