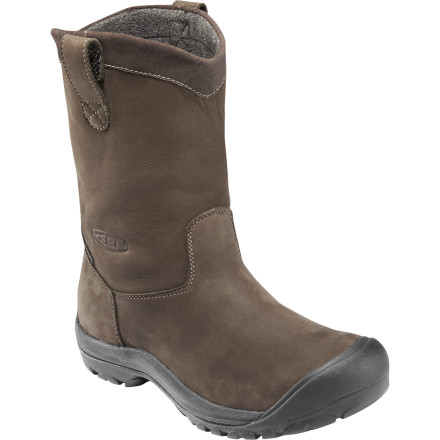 Inside every man, there is a secret cowboy, and the Keen Cody Boots let that cowboy out. Western style mixes with hardcore winter protection to keep your feet warm and dry in true buckaroo form.
KEEN.WARM insulation holds in the heat so your feet won't feel the chill
Breathable KEEN.DRY membrane keeps moisture out so you can plow right through the snow and slush
Aggressive rubber soles help you keep your footing on slippery surfaces
Felt lining is soft and durable
Just got my cody's today. They are true to size and fit well. The is space in the upper portion of the boot, but that is how many boots are designed. They have a really good tread, fit snug, aren't overly bulky. These are REAALLY nice boots for $67.98. I do live in Utah, so not worried about wet snow. I bet with a good coat of nikwax, they would be pretty water resistant.



These seem to be the best $67 I've spent on shoes for a long time. Ready for snow, mud, whatever now!
I really like them!
Gender:

Male

Familiarity:

I've used it several times
These work well for me. I didn't get them to go snowshoeing or other activities where I'd be wading through fresh snow. I just wanted a warm boot for casual wear in cold weather that can pull on easily without struggling with laces. They look nice--not too industrial, and can pair with most casual clothing. They are loose enough where I can put my jeans inside, but also can have them go down over the boot instead. I almost exclusively wear Keens, as they are the most comfortable brand I've ever owned. And boy are they warm!

The only time I don't wear Keens is when I need a dress shoe (then it's Rockports).
I admit - i had really high hopes for this boot, especially with the price tag. I bought it to replace a similiar albeit shorter boot I use to drive to and from the mountain, apres ski drinking sessions, etc. First off - what showed up didn't really look like the picture. what i got was a very mono tone brown. I think what Keen is using for marketing was a prototype but not the actual production boot. Anyway my first day in the boot was up to Stevens Pass in WA on an epic powder day w/about 14" overnight. perfect test. Function: What i realized within what felt like minutes is that the porous nubuck finish is that is just a magnet for snow/water and these boots get wet fast. unless you live in utah and only see 3% snow i would not recommend them at all. Secondly, on fit: its nice to have a little taller boot but because there is no zipper, or elasticity, etc. in the upper what happens is your socks slip down and the front and back of the boot are constantly banging your leg. its annoying. if its apres ski at whistler or something, just drink a lot and you will not be as bothered. Re: the finish - these boots are marketed on most sites as a snow boot with 200g of insulation, water proof, etc. but if you go to Keen they actually bucket them in urban section. So if its an urban boot - it looks like its a snow boot and is fairly clunky and oversized. If its a snow boot, it functions like an urban boot and gets wet, marginal traction, weird upper fit. So my conclusion is that its really not good for anything. if people have something that you can drive in (unlike sorels) that are decent in snow and suitable for apres please pass along. these boots are none of those things
Unanswered Question
What country is this boot made in?
What country is this boot made in?
Is there a preservative recommended to be...
Is there a preservative recommended to be used on Keen Cody Boots, both prior to use and as routine maintenance?
Best Answer
Hey Jim,
The best treatment to use on your Cody's is made by a company called Nikwax and the treatment is called Nubuk & suede spray on. Backcounrty.com sells it for $10.15. This will last you for years. The reason why KEEN recommends this treatment is it is water based, so there is no way to break down the leather like you will with oils and liquid silicones or aerosol sprays that will dry out the leather.
The leather that KEEN uses is water proof, but this product will make you Cody's look good for a long time.

http://www.backcountry.com/nikwax-nubuck-suede-spray-on-footwear-treatment

Thanks, Jerry