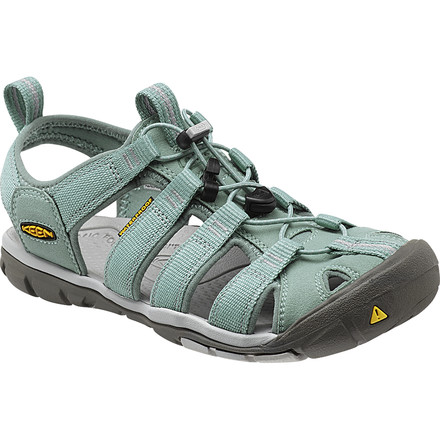 Detail Images

Videos

Community Images
Description
Low and lean, light and fast.
The light and low-profile KEEN Women's Clearwater CNX Sandal lets your foot move naturally and properly, for all-day comfort while you're walking or hiking up a storm. An arch support and stability shank keep the efficient energy going, and multi-directional grooves on its flexible, durable sole gives plenty of traction and sensitivity on slick or uneven terrain.

Super-strong polyester webbing upper keeps your foot secure and is washable
Secure fit lace-capture system with 2mm bungee lace delivers precision fit and quick, easy adjustment
Metatarsal ridge provides natural underfoot support
Midsole drop of 4mm gives foot a natural low profile
Proprietary lightweight PU compound midsole provides durable support and comfort
Contoured arch support and durable TPU stability shank give all-day efficiency and comfort
Featherweight 7.6oz keeps you light on your toes
Multi-directional flex grooves allow for flexibility and improved ground contact
Non-marking rubber outsole delivers high-performance sure-footedness
Razor siping adds traction on slick or uneven terrain
Share your thoughts
What do you think of the
KEEN
Clearwater CNX Sandal - Women's
? Share a...
Love 'em, love 'EM, LOVE 'EM!!!
Familiarity:

I've put it through the wringer

Fit:

True to size
My first pair of Keen Clearwater CNX Women's Sandal and I'm in heaven. Comfortable, true to size, and dry quickly. I average kayaking 3 times a week. Pleasure to have these on wading in the water to get in my kayak and after a nature walk, can't wait to get the sandals on for some relaxation. The arch support is fabulous! Thank you for a great sandal! (So true - the tan lines on the feet are really different - ha!)
The best Keen sandal yet! Hard to fit.
Familiarity:

I've put it through the wringer

Fit:

True to size
I wear these sandals daily year round. I have several foot problems: neuropathy, feet pronate, prone to have heel spurs, weak arches and ankles and the CNS sandals have solved most of my walking problem. I had been wearing for at least 6 plus years the Newport H2 which are great but the CNS are so much lighter. I could use a little more impact thickness but I would not want to lose the light weight. I only wish they came in more colors and combinations of colors to make them more stylish. Tie dye would really make me happy. website for tie dyes below https://www.google.com/search?q=tie+dye&biw=1920&bih=911&tbm=isch&imgil=ZZ87Js8OSb3ZCM%253A%253BwjsP205gmBoamM%253Bhttp%25253A%25252F%25252Fwallpaper-kid.com%25252Ftie-dye-background.htm&source=iu&pf=m&fir=ZZ87Js8OSb3ZCM%253A%252CwjsP205gmBoamM%252C_&usg=__mdNQL6fE43xdMyvGa67pvR-N7hI%3D&ved=0CDcQyjc&ei=oyYMVeuKJ8yrgwSN5oPwDw#imgrc=ZZ87Js8OSb3ZCM%253A%3BwjsP205gmBoamM%3Bhttp%253A%252F%252Fcdn.playbuzz.com%252Fcdn%252Fc72b91d7-963d-4492-890c-4057c6a65f08%252F7e04451c-d222-46d3-9665-09999c87c43d.jpg%3Bhttp%253A%252F%252Fwallpaper-kid.com%252Ftie-dye-background.htm%3B3648%3B2736
Light
Familiarity:

I've put it through the wringer

Fit:

True to size
I bring these keens everywhere. Usually backpacking so I can rip off my hot heavy boots and relax while prepping the tent. I can stuff them anywhere cause they are light and compact. Sometimes I even clip them to the outside of my pack...and it doesn't bother me at all. They keep my feet fresh. Comfortable as heck with or without socks. Terrible tan lines though.....
I've even hiked in them. Loose rocks here and there but nothing major. The hard toe is a huge benefit cause I'm heavy footed and tens to stub my toes.
Must buy. Quick dry. True to size. Comfy. Light!
Love these shoes and customer service!
Familiarity:

I've used it several times

Fit:

True to size
I love these shoes! They are light and comfy but also durable for running around outside! I wear them constantly. The customer service is also incredible at backcountry! A dog chewed through my shoes the second day I had them and the customer service rep was so kind and easy to work with! They helped me get new shoes no charge to me! I will definitely be purchasing from here again! THEY ARE INCREDIBLE!
Best closed toe sandal!!!
Familiarity:

I've used it several times

Fit:

True to size
Recently bought these from EMS, and I've been in love with them since! I would recommend trying a 1/2 size up if you have a wide fore foot. They are extremely comfortable and I love how little they weigh. Wore them for an entire day around DC and never once had an issue with foot fatigue! Used to have the Newport H2, but this is way better! Less bulky, better overall fit, better toebox area. I would like it if the fabric was waterproof though like the H2.
Still using these for the second summer season.
Used them to bike/hikeabike on a 4 mile dirt/rock track to get to some hotsprings yesterday. Once there, they helped provide great traction on the slippery rocks!
Definitely feeling this was a good investment.
I had a hard time with blisters at first - but I think I just needed to break them in. I don't experience any problems now.
Love this little guy!!
Familiarity:

I've put it through the wringer

Fit:

True to size
This is a killer!! I dislike many KEEN shoes because of the awkward big toe box but this shoe is different its actually cute! I take these all over the Wasatch. They make a great day hiking shoe, awesome for running in and out of the rivers and lakes. I have had to run off the mountain a few times to beat the storm and they do just fine. I love these, you can hike in them, take them on the rive, or just wear them around town. Very versatile. True to size. I would recommend these to anyone!
So Far - So Great
Familiarity:

I've used it several times

Fit:

True to size
I received these as a random surprise. I've always coveted Keens, but my Backcountry budget never really permitted me to splurge. I was first off struck by how incredibly lightweight this pair is. They are feather-weight, I was quite surprised! Construction seems tough and durable.
I used these for a quick trail run and started to get some red hot spots, but I think that is because it was insanely hot out and my feet got to sweating. I'll try again on a cooler day.
I've found they are absolutely perfect for paddleboarding down rivers, I assume the same holds true for rafting or boating. They have nicely grippy soles, and enough protection to safeguard your toes and soles from rocks.
These are very comfy and relatively easy to slip on.
I myself, am somewhat of a PINK fanatic, but even I was rather shocked at how TRULY PINK these shoes were. It would undoubtedly be a unicorn's favorite shade and intensity of pink. Just make sure you're ready for that...
I have a size 6.0 (I'm normally between a 6.0-6.5) and they fit great.

My only complaint is that they take a pretty substantial amount of time to dry. I've gotten cold feed when paddleboarding because they material doesn't dry quickly. They leave my feet feeling pruny and cold if the sun isn't shining!
Used these to do march through streams and marshy areas, and they were great! Much less bulbous than a traditional Keen, they seemed lighter on the foot while in the water as well. Sole is less cushioned and I could feel some sharp rocks and roots, but over all very comfortable. These run very true to size if not a little big. The red is as it appears online!