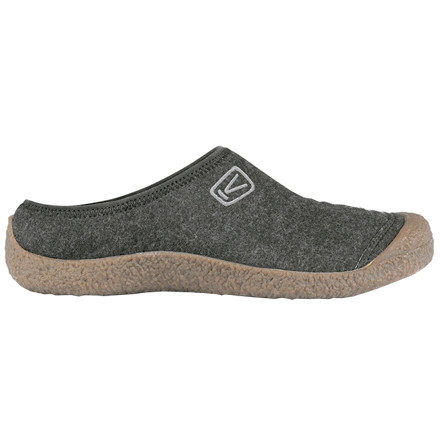 Detail Images
Walking the dog during the cold months feels like warming your toes in front of the fire when you wear the Keen Women's Cheyenne Clogs. Soft, moisture-wicking microfleece linings keep your feet toasty when you tread on cold, cold ground, and dual density EVA midsoles cushion as you walk. Keen gave these clogs natural rubber outsoles for reliable grip, and the outsoles wrap over the toes for protection. Durable wool uppers give the Cheyenne Clogs a long life.
Does anyone know where I can get these...
Does anyone know where I can get these clogs? It appears Keen stopped making them.
KEEN has not made the Cheyenne Slipper since last season. They now make the Howser, which is the same slipper, but with a back.

Backcountry.com carries them.

Jerry
I gave these to my wife for Mother's Day to replace some old moccasins that she had worn to death. She LOVES them. They are super comfortable and very cute.
Awesome shoe for running around campus, teaching, or just treading inside. Don't slip off, don't slip on smooth surfaces. They do great in a little snow, and keep toes toasty. Hopefully the wool won't wear off as others have said but mine are doing well so far! Definitely order a half size up, and prepare for some seriously comfortable footwear.
I love the fit of this shoe and very...
I love the fit of this shoe and very comfortable, however the wool started coming off after 3 months of inside wear. Has anyone else had this happen?
Yes, the same thing happened with mine. I've been meaning to take a pic and send to Keen... Otherwise they are great!
how are these in rain or snow that is less...
how are these in rain or snow that is less thn 2 inches?
I live in the foothills outside of Denver CO and I wear my Keen Cheyennes fall thru spring as long as the snow is not higher than the back of the clog.AWESOME traction in these clogs. I have two pair and after two years of wear, one pair is losing wool on the outside by the keen logo. Trying to replace them and can't find them anywhere in an 8 so hoping they haven't been discontinued.
Slippers for running errands!
I loves these shoes and wished that I had purchased them sooner. Keen has always provided a consistent fit and I appreciate knowing that when they arrive - they are the right size.
The arch support is exceptional - at 8 1/2 months pregnant they allow me to be on my feet teaching middle school and my feet are still happy at the end of the day.
Very warm and snuggly!
A warm slipper like shoe is what I wanted and this fits like a kid glove. I love them. The shoe is warm, great arch support, and attractive. I may order the same in another color to have ready for 2010 cold season, but I wear these clogs 85% of the day currently with our temps in 30s every day. I see there is a boot with a footbed like these. Ummm, the ideas are forming....
i just got these clogs and have a question...
i just got these clogs and have a question about the fit. should the heel be a bit loose or should it be tight? when i put my foot in, there is a bit of space (less than a finger width) when i push my foot forward toward the toe. as a result, my foot raises up a bit when i walk. i realize these are clogs and are not supposed to be super tight, but i am wondering if this is normal. i wear a size 8 in keen boots and ordered the same size in the clog. strangely, they almost feel a bit large. thanks for any help.
hmm, that is odd. a friend of mine had a similar problem in that she is often inbetween needing and not needing to order a half size larger. my cheyennes are tight in the heel and i assume that is how they are supposed to fit so if i were you i'd go ahead and order a half size smaller than you got. good luck!
I love these shoes. I have other Keens and I love the way they fit.
this is my second pair of Keens, I love them, they are warm and comfortable, I wear them all the time, they are worth every penny.
I usually wear a 7.5 to an 8, I bought an 8 and they are perfect
does anyone have experience with the sizing...
does anyone have experience with the sizing of these clogs? the sizing chart just compares sizes with other countries. I remember the keen timberline clog - last year - and they ran small. Same thing this year?
Hey MRC-I got these shoes last year and LOVE them! However, you might want to order a half size up-my heels were right on the back lip of the shoe and ordering a 9.5 instead of a 9 made all the difference. If you have wide feet they might be a little snug too-they are a little on the narrow side at the opening. Hope this helps!!
The warmest, most comfortable clogs ever. Perfect for our Wisconsin winter. Highly recommend.