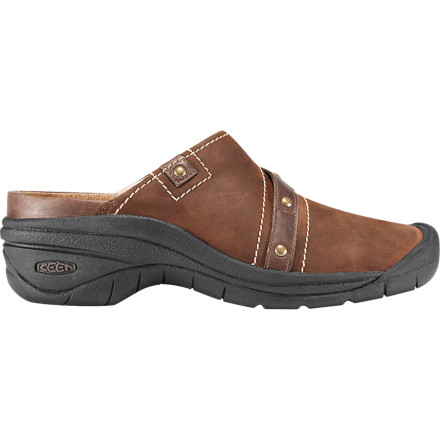 Some people will take one look at KEEN's Chester Clog and grumble that the heel is missing. But you've seen a clog before and know that, when it comes to quickly slipping in and out of footwear, nothing beats the wide opening offered by a clog. Keen made the Chester clog with a super-comfortable and stylish leather upper, a compression-molded EVA midsole, and a grippy rubber sole to help you navigate winter weather. And those funky-pattern socks that you only wear to sushi bars and other places where you know you'll have to take off your shoes?—well, now you have a license to sport them any day of the week.
What do you think about this product?
Have questions about this product?
First of all, the color is much darker than the picture. It's almost black. The fit is also strange. I usually wear a size 8.5, but after reading the reviews I ordered a size 9. I still couldn't get my foot to fit comfortably in the shoe-- it was tight around the ankle.
Did I say I love this shoe? Yeah… I see I did. Let me say it again… I LOVE THIS SHOE!

I am REALLY difficult to fit. Practically nothing fits, and I have Morton's Neuroma as well as very high arch, very high instep and very wide across the toe… but normal heel width for my foot's size. Before now, I've only had 2 pair of shoes that I could remotely call comfortable, my Dansko pro clogs and my Crocs. But the Danskos are only comfortable for an hour or 2… hard footbed without adequate arch for me… but wide enough. The Crocs are a godsend for me, but they aren't suitable for every occasion. And actually, the main reason I was even looking at Keen is that the footbeds are removable… so I can use my own orthotic. Danskos aren't removable (at least to my knowledge… my previous pair was not.

I've had the Dansko pro clogs and another pair of Dansko sandals for the past 10 years. And other than gym shoes and the Crocs and winter boots and the occasional dress shoe, they are almost literally the only shoes I've worn that entire time. And the main reason is because everything else is too painful to wear for more than an hour… sometimes THAT much time is excruciating (except in the Crocs… they are like clouds :-).

But after 10 years, the Danskos were in very sorry condition. I was going to buy more, but then I remembered that I'd bought a pair of Keen hiking boots last year. They are quite nice. Not perfect, but better than most other hiking boots I've tried. So I went to see if Keen make casual shoes.

I love clogs for many reasons, and when I saw the Chester, I thought it was really cool. Then it arrived… and though the brown color is MUCH darker than the photo. I'd have LOVED the color of the photo… that sort of cognac or chestnut color. These are more dark saddle brown… extremely dark… verging on black. That is ok.

But once they went on my feet, they felt like bedroom slippers… with support. I swear, my feet haven't been so happy in years (except for the Crocs… and I won't stop wearing Crocs… they do have their place :-).

I have also bought 2 other Keen shoes in the past week. I have had to exchange them both because the Rose City Slide Sandal just seemed too long on my foot. I went a half size down and it is great. And just this evening I chatted with wonderful Ryan O to set up an exchange of the Kaci Slip-on Shoe. It felt good, but was tight to get into with bare feet… and I need to be able to wear them with sox. So I will get 1/2 size larger than normal… that is what I did with the Keen Targhee II hikers… 1/2 size larger.

I'm wondering if my very high instep comes to play there. Seemed like most everything was ok in fit with both of these non-clog shoes/boots except that instep area. I think if you have normal instep, you won't need a half size larger.

So, Keen rocks!
Backcountry.com rocks!

Happy, happy. :-)