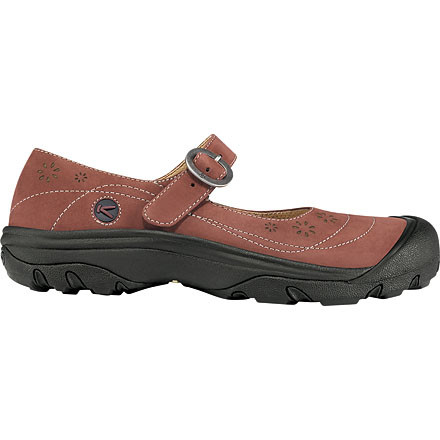 Detail Images
i've been wearing these keens for the last three weeks for work. they've had coke, water and other beverages spilled on them but clean up with the wipe of a damp cloth...amazing. i forgot that keen makes shoes to hold up to the great outdoors. my workdays sometimes exceed 12 hours but my feet never feel confined or rubbed the wrong way, however, the inner soles could used a softer cushioning. furthermore, the toe box is wider than i expected from the photos online, detracting a bit from its feminine looks, but small price to pay for the comfort.
Keen Calistoga - "Port Royale" Color
I had heard alot of good things about the comfort of Keens, so I was expecting much more from these shoes. First thing I noticed about the shoe is that the port royale color is more of a light and faded purple than the red it seems to be in the picture, and the shoes have a matte finish rather than the shiny finish shown. Second thing I noticed is that they run about a half size too big. Third thing is that when I put them on, the top of the shoe quickly rubbed my feet raw without socks. I was extremely dissapointed and am now exchanging them for a pair of tevas.
Nice looking shoe but the M was too wide; much wider that my other pairs of Keens. Had to return.
Unanswered Question
I have 2 pair of these shoes and have had...
I have 2 pair of these shoes and have had them for over 2 years. I was wondering is there anything out there that can be used to clean these shoes as mine have gotten spots on them for wearing them everyday. I have a pair of seal brown and a pair of rum raisin. They are so comfortable that I want to keep them for a long time. Any ideas?
I have had these shoes for over a year and a half and they are still in great shape. They are very versatile - great for travel, dress up, and dress down. I am going to buy another pair.
A comfortable pair for a singular unique customer.
My mother got these after I had read the reviews here and since she has been wearing them these past five weks, they have been very comfortable and very well received. I keep asking her about them and she adds to them positively, like "they go well with most of my things" or "very nice, thank you" True to size is true. A happy mother is bliss.
Write your question here... are those shoes...
Write your question here... are those shoes $21.95? When I put my order in they come up at $84.95
When it says "$21.24 - $84.95" what it means is that some are $21.24, and others are $84.95. When you pull down the "Select Options" menu it will list the color, size, and price. Currently, it appears that the only ones that are $21.24 are the Size 6.0 Sandy shoes. So, really, the price at the top only tells you the price ranges, and you have to check the actual price based upon the color and size. (I, also, found this confusing at first)
I see a lot of variation in what people...
I see a lot of variation in what people commenting about the shoe say is a 'perfect' fit. Some swear they are exactly true to US women's sizes (sneaker/running shoe sizes?). Others say they had to go up or down a 1/2 size from their regular size. If I wear a women's 9 running shoe, would normally wear the Calistoga with socks, but occasionally go without socks, and have an average-width foot with a slightly narrow heel, what size should I order?
Best Answer
A size 9 would be good these shoes are pretty accurate in their sizes I think
I am also a size 9 running shoe and I bought these in a 9. Wearing them barefoot, I probably would have gone with an 8.5. But with socks, I think a 9 would be good. I put a set of insoles in them (just the basic Dr. Scholl's kind) and wearing them barefoot now gives a nice snug fit.
Unanswered Question
Write your question here...I have a narrow...
Write your question here...I have a narrow foot (AAA fitting in Australia). Would these be suitable for my feet?
Cute shoes but were very wide and I don't think my foot is that narrow. Also the Port Royale color wasn't the shiny leather that the picture shows, it was more of a mauve-ish tone and a sueded finish.
Great Shoes, But my foot is narrow and they were too wide
Very nice look, but i have a narrow foot and they were at little wide at the top.
I got this shoe after some Danskos didn't work for my narrow foot. They fit my foot perfectly, although began to give me blister the first day as I wear them barefoot. After taking my husband's advice and wearing them around the house with some socks I've had no problems. I wouldn't wear these on dirty and wet adventures, but they're nice for a little hike and especially comfy everyday wear.
Trendy, comfortable, great colour; just what I wanted for trip with lots of walking
I got these in black. They're great. Very comfortable. Decorative stitching adds nice detail and dresses them up. Keens are my favorite.
love keens. no problem with this shoe i.e. size, color. i have been wearing them with socks and haven't had any problems. however, yesterday, i wore them without socks and got a small blister on the back of my heel. other keens have been the same - takes a while to break them in, but they are super once that happens.
I love Keens, but I found that these fit about 1 full size too big. I returned my first pair for ones 1/2 size smaller, but they still fit a bit too big. I live in Canada and don't want to pay $30 for return shipping again so I am just keeping them and wearing cushy socks with them. Next time I will just wait to go to a shoestore instead.
I got the shoe in moss green and love it. It is comfy and a staple for my around campus. The shoe truly has many uses, I wear them with jeans, khakis, and skirts. I may have to get them in another color ;)
Perfect Again--and Eye-catching!
I was thrilled that my Calistogas were true to the color that appeared on-line! (the moss green) This is my second pair of Calistogas; my fifth pair of KEENs. They are always true to size. Continuously getting complimented on the shoe, I continuously compliment Backcountry.com for their accurate ads, colors, and extremely fast service! I could order these from my State, but Backcountry.com is faster, well-priced, and has a great selection of my favorite manufacturer---KEEN. Live on size 9!
I love my Keen Calistoga sandals so I was looking forward to the expected comfort of this shoe. Apparently, Keens in Mary Jane styles are not suited to my foot. The opening presses, uncomfortably, into my foot above the toes. I had ordered a pair of Keen Sienna Mary Janes, that did the same thing. In the future I will stick to the Keens where the top leather comes further up my foot like the Winthrop clog. I just know that when I am wearing my Keens, my feet and legs never get tired. They are amazing.