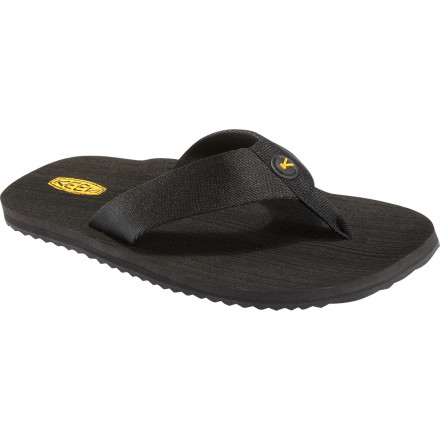 The KEEN Men's Cabo Flip uses a bit of arch support to steer away from the slab-under-my-foot feeling. The nonslip footbed flexes as you stroll out on the pier, and the webbing upper keeps things comfortable as you watch the tide roll out.
Bought these looking for a low profile sandal for lounging and unfortunately these will find their way back to backcountry.com.

The footbed is extremely comfortable and were that the only thing keeping them was based on then they would have been a success. The problem lies in the straps.

The straps are snug or almost taut in the center of the flip flop and loose on the outside or the part of the strap closer to your toes giving the sandals a blousy or cobra (the snake) like appearance when on. Very disappointing. I have had enough Keen's to feel comfortable in saying that these did not live up to the standard that I know and love them for. Maybe next time, until then the search for a simple low profile flip flop continues...