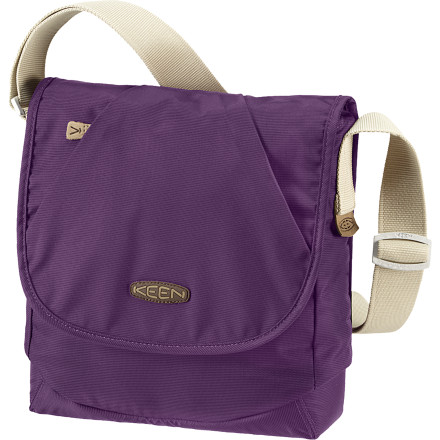 Bike messengers need to hump huge messenger bags, but thankfully you only need the compact Keen Brooklyn Bag for your papers and daily essentials. Of course you could be traveling, in which case the Brooklyn II easily hols a water bottle and helps to organize your travel documents inside. Convert the main strap from shoulder-bag-style to cross-body-style quickly when you need to change things up to navigate a tight airplane. Recycled aluminum components can help you feel good that you're doing a little something to help the planet too.
Love this bag! Perfect for everyday!!
I bought this bag because I wanted a cross-body that wasn't too big, but could still fit my wallet, phone, keys AND a diaper, small thing of wipes and some snacks. This is it! I have ordered 3 others, but this is the first one that gave me what I was looking for!
Got this for the mother as she was preparing for a trip to London.

Her review:

Excellent travel purse. Just the right size for all the essentials plus a rolled up raincoat, a Kindle, and a magazine. Lots of pockets, including one for your phone, that make it easy to find things. Adjustable strap allows an easy switch from over the shoulder to cross body. The rain seems to roll right off the canvas material which was an advantage in London!
I have been looking for a practical and organized cross body bag for about one year. I am extremely picky on the bags I have because I like them to be durable and have many pockets for the many things I seem to carry around with me! This bag absolutely fit the bill. It is has so many perfect pockets even if one for your cellphone on the back. There also is a key holder for your keys. It is about a medium sized bag and i ordered the purple which actually is not as bright as shown. It is more of a brownish purple but it is still beautiful! Another reviewer said she thought there was a defect in the bag but there was not one in mine! I would recommend this bag to anyone who needs organization and wants both their hands free when shopping!
One defect, but I love this bag
I read a lot of reviews, and did a lot of research before ordering this bag. I've had it a few days, and I love it. It is the perfect size, and I can stay organized. It is really simple and a clean design. Also very comfortable to wear cross-body. The hemp material is really nice and durable, too. I have a feeling I will use this bag for a LONG time.

There is a defect in this bag that wasn't mentioned on this site. There is a mesh pocket inside that is supposed to have a zipper so it can be opened. However, there is no zipper. The mesh is there lining the bag, but it is just completely sewn shut. I showed it to my boyfriend to make sure I wasn't missing something obvious, but he thought the same thing.

That may be why the price of the hemp version of this bag is $20 less on backcountry.com compared with other sites. That's fine by me! There are enough pockets in this bag that the missing mesh one isn't important. And there is still another little open mesh pocket inside that allows for a small umbrella or small nalgene to fit in it.

I highly recommend this bag.