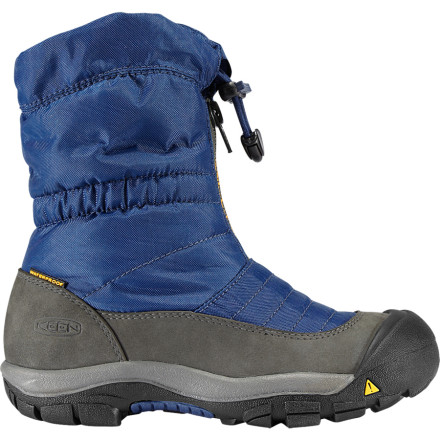 Keen's Bridger WP Boots are made to handle serious snow and winter conditions. So whether your girl is spending her time fending off snowball attacks from her younger brother or just helping dad bring in some fire wood from the shed before the next storm hits, the Bridger Boots will keep her feet warm, dry, and ready to take on winter weather.
Ripstop nylon shafts and nubuck mudguards protect her feet, ankles, and calves from the elements
Keen.DRY waterproof breathable membranes help keep water from seeping in and allow water vapor to escape
200 grams of Keen WARM insulation locks in her body heat and keeps her feet toasty warm
Waterproof front zippers and integrated elastic cinch cords make these boots easy to put on and take off
What do you think about this product?
Have questions about this product?
Keen might want to rethink the design
My 12 yr old daughter would wear her keen sandals all year round, but since we live in Chicago, it's not a realistic plan. She was thrilled to find these boots, pronounced them as comfortable as her sandals, comfy, and warm. But, after just over a month of wear, the nylon shaft is completely worn out and now the bungee that keeps the top of the shaft closed is completely frayed. Backcountry has been extraordinarily helpful in getting these boots replaced, but I have no doubt that the next pair will rip too. Note to Keen--when kids (and adults for that matter) put on boots, we generally pull them on. The top of a boot shaft needs to be able to handle that sort of action on a daily basis!
These are a great waterproof boot. I'll admit to my daughter only having worm them in wet weather rather than true snow yet (it's a bit early for that here where we are in D.C.), but they were great for rain and I can tell they will be great for snow. So easy to get on -- the zipper in front means she can easily tug them on and then the elastic cord cinches them at her mid calf to make sure nothing gets in over the top. The boots are also really lightweight which is especially good for kids like her who don't love to wear winter boots. She said it feels like just wearing a shoe. Thumbs up to Keen for these and to Backcountry for stocking them!