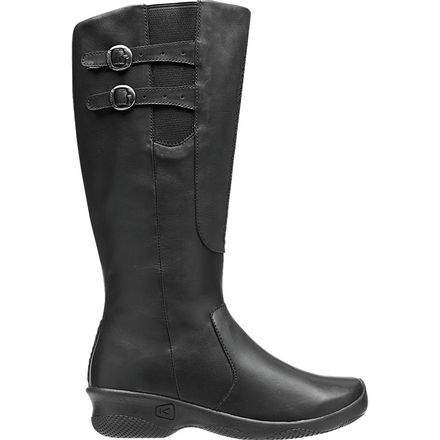 Detail Images

Videos
Description
Globetrotting boots brought home.
Burn rubber and jet-set around the world in the Keen Bern Baby Bern Boot. Full leather and a high-shaft design make the Bern Baby Bern desirable for international or downtown adventures. Decorative buckles add class but maintain simplicity, while a full side zip and wedge heel round out this Paris-worthy piece.
Zipper Breaks
Familiarity:

I've put it through the wringer

Fit:

True to size
I loved these boots, however, I've had two pairs break in two years, each with a season of use or less. Both times it was the zipper that broke. Both times I had to tape the boot to make it home, resulting in ruined leather. If you think these are cute to wear around town in California or something, great. If you live in the PNW and plan to wear them in the rain all the time, you can find something more durable, and with better waterproofing. And hopefully, higher quality zippers.
Nice Boots
Familiarity:

I've used it once or twice and have initial impressions

Fit:

True to size
Got these in the mail. Tried them on, took them off, packed them back up to return...but ultimately changed my mind. The color is great (Oak). The height of the boot is fabulous if you are short. I'm 5'2" and find that most tall boots are too tall and end just under my knee which is uncomfortable. These are a little lower and look great. The downside would be that they are a little snug in the calf circumference for someone with average-wide calves. They felt great for a day at work right out of the box. Ordered my usual 6.5 and they fit fine with a pair of thicker socks.
Super cute
Familiarity:

I gave it as a gift but have feedback to share

Fit:

Runs small
These boots are SUPER cute. They were a gift for my sister in law and she loves them. I love the way the leather wears the more your wear them. Give more of a lived in look. She loves them, and thinks they are so comfortable. They do run a little small, she had to exchange for the next 1/2 size up and then they fit perfectly!
Too Small in Calves
Gender:

Female

Familiarity:

I've used it once or twice and have initial impressions

Fit:

True to size
I'm really sad to have to return these. I have muscular calves (I'm 5'6", wear a size 4/6, and calf circumference = 15.5"), but read other reviews that make it seem like these boots would accommodate my size. Unfortunately, even when I loosened the buckles out all the way, the elastic didn't compensate and I could barely zip them up. There's no way I could even fit a sock, let alone jeans, in these things. Aside from feeling like a sausage up top, the rest of the boot fit true to size.
Keen on Bern Baby Bern boots - LOVE em!
Familiarity:

I've put it through the wringer

Fit:

True to size
I trust these boots. That's saying a lot right there. Whether its raining, snowing or icy, I'm never on the fence about what to wear. The Bern Baby Bern boots by Keen have amazing soles that I never find myself slipping in or letting moisture in. They're so comfortable, keep me warm and totally dry in rain, sleet and snow. The opening is the perfect size - I can rock the sock toppers without feeling constricted while on the other hand, when I'm going with the boot on denim look, they lay flush. But for all those ladies out there who are calf-conscious, the belt-like strap is there to accommodate your calves, no matter how big or small they are :) The shaft of this boot was definitely built with a ladies figure in mind - like I said the opening is the perfect size and then it tapers down to the ankle (with enough room to roll or smush your not-so-skinny jeans) and then it tapers out a touch to connect with the sole, leaving a good sized space for your thin or thick socks. The sizing is totally a true fit - if you measure out to an 8, buy an 8. That's what I wear and bought in these boots and again, regardless if I wear thick or thin socks, this boot still fits great.

Waterproof, slip proof, and fashion friendly - well-rounded and stylish...highly recommend these!
AMAZING BOOTS! LOVE THEM!
Familiarity:

I've used it several times

Fit:

Runs large
These boots are amazing! I had been browsing around trying to find a good boot that is not only comfortable but will do well in rainy weather since I live in the great PNW. These are all that and more. Sooo comfortable and stand up pretty well in rain and mud. Found that out when I so happened to get these pretty muddy on accident. I thought for sure they were goners when I washed the mud off. There was some staining and dried out areas. I happened to buy some mink oil for leather boots, rubbed that on them and they seriously look brand new! So happy with this purchase. I recommend this boot to everyone.
Fashion Meets Function
Familiarity:

I've put it through the wringer

Fit:

Runs large
After trying on numerous pairs of boots, I finally came across the Keen Bern Baby Bern Boots and feel in love. They fit my little legs well and provide ample arch support. I am often on my feet all day and never think twice about it while wearing these boots. I actually like these boots so much that I ordered a second pair in a different color.



I have put my first pair of boots through various conditions: sun, rain, sleet and snow and they have held up great. The can be a little slippery in the winter time, but I find they perform better than other dress boots.



I have found these boots can be dressed up or down and work well with tights and a skirt or a pair of skinny jeans.



I did personally size down 1/2 size because I found they ran a tiny bit large. Keen has had this same model for a few years now, which bodes well for the product they are making.




These boots are made for walking...
Familiarity:

I've put it through the wringer

Fit:

True to size
Fall is slowly making it's way into the mountains and I am so excited for the temperatures to drop down for "boot season". These boots quickly became my favorites after only a few wears. They are so comfortable and seriously look great with anything--jeans, leggings, dresses--you name it.



I wore them last winter for 5 months--seriously almost every day and had no problems with them coming apart like some of the other reviews mentioned. I wore them in snow and rain and the leather still looks beautiful (I have the brown). I wouldn't wear them as a "snow boot", but as far as walking down icy streets and new snow fall--the rubber sole keeps me on my feet. I've found that often with more "stylish" boots--you suffer with no traction at all. These are the perfect combination of cute AND functional.



Oh--and just worth mentioning--when I was buying these I was curious if the buckle on the side served a purpose, or was just for looks...it's just for looks. I cinched it up a notch (I have chicken legs) and it looks pretty goofy. So all you scrawny legged girls--you just have to deal ;)

Great boots!


Great everyday Boots
Familiarity:

I've put it through the wringer

Fit:

True to size
I absolutely love these boots. I've shopped everywhere for the perfect fall boots that could fit over my big calfs. These were a little snug at first, but they stretched out a little and now they fit like a glove (over my jeans). The detail on the sides make them very fashionable and I get compliments all the time. They fit true to size (I ordered a 9). Also, the leather is very durable (I spilled a glass of red wine on them and was able to get it out)
Wonderful boots!
Familiarity:

I've used it several times

Fit:

True to size
I originally bought these boots full price at a department store and they were so comfortable that I had to have another pair and another color. I have brown and I wanted black. When I searched I found this website and found that they have the best prices.

These boots are so comfy I can wear them all day without my feet bothering me. I stand 10-12 hours a day because I am a hairdresser. There aren't many shoes I can wear and believe me I have tried many. Keen has been a brand I can usually wear right out of the box. The leather on these boots is superb and the style timeless. If you buy these boots, you will not be disappointed in the quality. The leather is waterproof and sturdy and the best thing is they fit my athletic calves. I'm sure with this quality they will last me for many years to come.
LOVE THIS BOOT
Familiarity:

I've put it through the wringer

Fit:

True to size
I love this boot more than any other shoe purchase I've made in the last 5 years. Comfortable, fashionable, and made for walking. Let me count the ways:

1) I have athletic calves and they fit perfectly-comfortably snug but I don't have to fight to zip 'em up.

2) They are stylish--no, adorable--and yet very well made. .I can wear them on a museum jaunt to San Francisco or on a midday mini-hike in the redwood forest behind my office at UC Santa Cruz.

3) They are warm and waterproof, but not hot indoors.

4) They don't come quite up to my knees, which is good, b/c I am short, so they stop at a flattering height.

5) My boyfriend calls them my superhero boots. He's right! I can do anything in these boots, all day.



I now own two pair, one in the lighter "Oak" and one in "Purplie" (a color from 2011). I even bought a pair for my sister in Portland. She loves them, too.

These boots are great. I hope Keen never stops making them.
what is the best weather proofing to use?...
what is the best weather proofing to use? I have Nikwax which I use on my Blundstones - will that be fine?
Best Answer
You could definitely use nixwax, but the weatherproofing agents that nixwax has built into their product is on the understanding that a membrane is already associated with the product. This would be the best to use that we provide: NIK0073, but know that you will have to occasionally reapply it when you notice the leather not repelling the water any more (All depends on how often you use the boots, and the amount of moisture the boots become exposed to).
Great Boots
Familiarity:

I've used it several times

Fit:

True to size
These boots are cute and comfortable. I put them on the day I received them and haven't wanted to take them off. The fit seemed true and it didn't take any time for them to "break in". They were comfy from the start.
Timeless!
Familiarity:

I've put it through the wringer

Fit:

Runs large
I LOVE these boots, they are sturdy, really comfortable and beautiful!! You can wear them to dress up or down. Worth every penny, they are timeless, you will have them forever!!
KEEN Bern Baby Bern Boot - Women's
I've had the Keen Bern Baby Bern boots in Oak, sz 9, for 4 months now. Granted, I've worn them a lot, but I've also tried to take good care of them (leather conditioner, water proofer, keeping them as dry as possible, etc). I chose them out of several other styles I tried on because they fit my chunky calf better than others and still had a classic design that wasn't too bulky. They were comfortable from the beginning (though ended up adding another insole because they aren't as comfortable for extending standing or walking), have been warm, and for me the slick-ish sole hasn't been a problem. Lately I've been noticing they look REALLY worn--not like when you get to the comfort point and they are just worn right, but starting to look really creased and worn out (surprising for only having had them for 4 months). But now--the zipper has broken. The zipper teeth on one side started to separate a couple weeks ago, so I tried to be really gentle with the zipper. But it's come off the track now and I can't seem to get it back on (And even if I success there are two places where the zipper teeth have some apart). So overall--I'm disappointed. I feel like a solid pair of leather boots should last at least a few seasons.
Great Boot..Great Price but...
Bern Baby Bern is a great boot, at a great price, even if you didn't get it on sale ....but the burn about the bern boot is it has no traction! Too bad !!
Were great and then broke
Gender:

Female

Familiarity:

I've put it through the wringer
I had these boots for a little over a year, any they were great. The sole is pretty smooth so they were slippery on ice, but warm and waterproof enough for snow or running errands on a rainy day. Comfortable and I was able to wear them to work or out with a dress. To be fair I wore them a ton.



And then the sole split in half. Right under the balls of my feet, on both shoes. Very disapointed. I honestly expected them to last a lot longer for the price.


I <3 Keen
Familiarity:

I've used it once or twice and have initial impressions
These boots are very nice... But I definitely have other Keen shoes I like more. They fit well, even over my extra large calves - the leather should stretch even more too. I was able to wear them at a trade show and they dressed up well. I would have appreciated a little more cushion for standing all day,however.
Great all around boot
Gender:

Female

Familiarity:

I've used it once or twice and have initial impressions
I've been looking at these for a while and finally decided to purchase. I've owned other Keen style shoes and loved them, so thought the boot would be good too. I ready several reviews about the calf being tight. I have larger than normal athletic legs and these fit just fine - even with a pant leg tucked in! Looks (and feels great) with skirts or pants. Both my sister and mom tried mine on and want to order a pair too! Best of all, they are comfortable to wear for long periods of time.