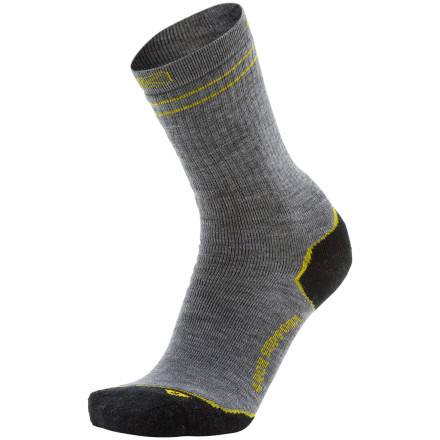 Detail Images
A blend of merino wool, nylon, and lycra gives the KEEN Men's Bellingham Crew Midweight Socks a soft feel that you'll really appreciate when you're nearing the end of a marathon hike. Ideal for anything from short day trips to multi-day backpack adventures, these KEEN socks withstand all the punishment the trail throws your way.
Warm, lightweight, wicking and fit is perfect.
I don't like talking socks
... But these Keen socks are great. This is my go to pair of socks for cold days hiking, on snow shoes, sledding or for just trying to keep the feet warm after a cold day of skiing. I didn't want to like them so much.
Amazing sock! I now own 3 pairs. Found the first pair at an outlet mall, but i'm more than happy to pay full price for these socks. Perfect height for wearing with military boots and fitted very well so they don't bunch or slide when you have to use them with wet boots. Recently did a 9 mile hike with 80 pound pack in the rain wearing these and my feet came through much better than many of my fellow Marines!
Awesome sock. The fit was fantastic, they look great, and are just the right height for a solid hiking boot (not too high, not too low). Highly reccomended.
The left and right sock is no gimmick,they fit prefectly to your foot, no extra material by the little toe and the arch is in the right place. I have three pair that i bought in 2007 and still no holes!!
right and left socks really make a difference. Also very comfortable!!
Unanswered Question
Will these socks dry in 6 or 8 hours or...
Will these socks dry in 6 or 8 hours or so?