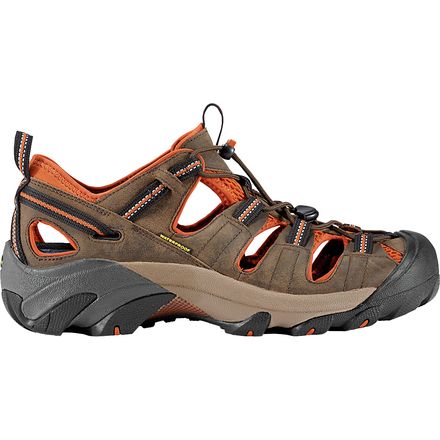 Detail Images

Videos
Description
Find cooling airflow and support in the Keen Arroyo Hiking Shoes.
If your foot just cannot seem to get enough air when you hike, try on the Keen Men's Arroyo Hiking Shoes. Their unique open design guarantees to keep you sweat free. Take on the burliest trails while the patented toe protection keeps those tootsies in one piece. Loose rock, slick mud, or wet surfaces are no match for the 4mm multi directional lugs. Keen gave the Arroyo Hiking Shoes a removable metatomical footbed so your feet stay comfy and cushioned while you hike the day away.
Great Hiking Sandal for Travel
Familiarity:

I've put it through the wringer

Fit:

True to size
I bought these sandals for support and comfort for travel. I wish I had these last summer when I was walking on all those cobblestones in Europe! It would have saved me from having trouble with a very sore left knee. rt
Great shoe
Familiarity:

I've used it several times

Fit:

Runs large
I am not a regular hiker, so I was unsure how I would like this kind of sandal. The Keen Arroyo II fit a little larger... needed a 9 instead of my usual 9.5. I have a very wide foot and the 9 was comfortable.

Wore them to hike through rain forests and cloud forests in Costa Rica for 10 days. I never unpacked my
Great for day hikes
Familiarity:

I've put it through the wringer

Fit:

True to size
I've had a pair of these for a while now and I love them. I do a decent bit of hiking around the island of Oahu, and these are perfect for muddy trails and crossing streams or eventually ending up at a waterfall. They're super comfortable, not too heavy, and I haven't gotten any blisters from them. As nice as they are though, I would never use them for anything other than casual hikes. I wear a size 12 and these fit very true to size.
For a much longer hike (20-30 days, i.e,...
For a much longer hike (20-30 days, i.e, the Camino de Santiago), does anyone recommend hiking in a sandal like these or should I go the boot route?
Best Answer
Hey Boston2DC1986,



Thanks for your question.



For a longer backpacking hike in the 20-30 day range I would not use these as your primary footwear. With a backpacking boot you will get better foot and ankle support to prevent ankle roll and fatigue. There are many excellent boots you can check out here: http://www.backcountry.com/mens-hiking-boots. If you have any specific questions about a pair you can always chat in or call us at 1-800-409-4502.
Ref this Arroyo II Hiking shoe, any...
Ref this Arroyo II Hiking shoe, any experiences with the durability if they get wet often. Hiking with stream crossings, kayaking etc.
While the KEEN Arroyo II Hiking Shoe can take some pretty serious abuse (even moisture abuse), it is designed more as a hiking shoe. I would recommend the Arroyo II if you are looking for a hiking shoe that can take a little water. But if you are looking for a water shoe that can do a little hiking, I would steer you toward something like the Keen Newport H2 Sandal.
Keen Arroyo II Hiking Sandals
Gender:

Male

Familiarity:

I've put it through the wringer

Fit:

True to size
These finally arrived from backcountry.com. I bought my first pair of Keen( voyageur mid) in a discount warehouse and wonder why I had never stumbled onto this brand. They were so comfortable that my 19 year old daughter had to have them. She tried them at REI but got them somewhere else. She wore them to hiking in the mountains of Costa Rica and had nothing but praise and recomendations for them.I sold my Teva sandals and Merrell hiking both on Ebay. Anyway, I am writing because all the sellers on the internet recommend buying half size bigger on these, the Arroyo II. I beg to differ. I received mine in August, 2013 and they fit fine. They have the identical sole as the Voyageur. I am a size 8 and the sandals feels loose as compared to the mid Voyageur. With socks they are perfect. I tried the Newport sandals in the store and they are tight. I would order the Newport at size 8 and a half. The Newport are wonderful and very comfy and beautifully crafted too. But I like some heel protections in the woods.The arroyos were made for Archilles and arrived late. I heard some bad news about the soles coming off. If they did, I will let you know. Meanwhile, I am wearing mine every day, and I am an old guy with bad feet and toes.
Still Stinky? Has KEEN addressed the...
Still Stinky?

Has KEEN addressed the stink issue on the these shoes? I've read a lot of complaints about the shoe/feet odor this model causes. Any comment from recent purchasers would be appreciated!
Well, I'm gona answer my own question: I broke down and bought a pair. Love them! They are my new favorite. As far as the stinkiness, I waited for a full six weeks of nearly daily use to respond and I can say...... No stink!
How would these treat my feet on 4+/- day...
How would these treat my feet on 4+/- day backpacking trip with 20 pound pack? I'm looking to do some backpacking fishing trips this summer and would like a sandal, but need enough cushion so the soles of my feet aren't throbbing at the end.
I'm personally not too big on hiking in sandals, but Keens are tough and comfortable. 20 lbs isn't too bad, but it all depends on the terrain, the distance, and the need for ankle support. For fishing though, these would fit the bill perfectly. Throbbing soles at the end of the day aren't a product of lack of padding, it's a lack of arch support, so if you plan on doing more than a few miles or so a day, maybe best to use some other form of footwear and/or add some new aftermarket foot beds to these like Superfeet. Hope this helps.
KEEN Arroyo II Hiking Shoe - Men's
Great shoes for hiking and goin through water. Wish i got a half size smaller. They suck when walking over wet bOulders though, no traction whatsoever.
i've used these on 4 multi day backpacking trips in the GSMNP.
i did replace the elastic drawstrings with real laces for a more snug fit when hiking on rocky trails.
good trail traction. but they don't seem to have as grippy a feel, as other keen boots, when crossing wet rocks.
as far as any smell is concerned, as noted by a previous reviewer. these aren't sandals.
i wear a thin wool sock with them, and have no issues with odor whatsoever.

a good hiking shoe for hot weather. i'll buy another pair when these are worn out.
Does this shoe have a hard sole like Keen's...
Does this shoe have a hard sole like Keen's hiking boots? Reason I ask is 'cos I ride my bike with Keen's hiking boots and pedals with toe clips. Looking for something similar in a sandal format for warm weather riding.
Best Answer
Hey Longhaulblue,

The Arroyo has the same hard sole as the Targhee and Voyageur series, so if you have that hiking boot your golden.

Jerry
This shoe feels great, looks great, and performs well; whether you're hiking, portaging canoes or just bumming around town. Unfortunately, they leave your feet smelling like you've been rubbing the backside of a skunk (and that's putting it lightly). After a few uses the odor became so pungent that i no longer keep them in the house. It's the kind of stink that you can't wash out and you can't hide.
I think Keen is the best shoe, sandel,etc for walking and hiking comfort. But the slip lock on the lace on these shoes suck. Keen must have dropped quality control on this sandel. I have fixed it by removing the lace joiner at the end so I can tighten the lace and then tie a bow knot to keep the slid lock in place. I have had these shoes a week and the comfort is great so I will keep them, but Keen better respond to this complaint as other may not be as loyal. This problem could be fixed by putting a slid lock on as good as the Newport sandels. If they care about their customers they will fix this and send a new lock to the owners of these sandels. This problem is unnecessary and simple to fix. But maybe they don't care anymore.
After 5 years, sole is coming off...
I've had these shoes for 5 years.

Pros:
- Great summer, river trecking shoes!
- Easy to put on...just pull sinch devise...whatever.
- Great support. I can wear without socks and the
lacing system, along with the elasticity of the shoe
top, allows you to tighten the shoe from toe to
ankle...great if you have narrow feet. No blisters.
- Stylish

Con:
- For the price, the sole should last more than 5 years.
You see that black part of the sole....the part that wraps up like little fingers around the edges and also extends up over the toe....THAT is the part that comes off. There is really nothing that I can see underneth that holds the two together....very smooth surface for both....I'm sure it was just some sort of glue. I had to take a razor knife and rough up the surface on both the part that came off and the under part of the shoe so I could use Gorilla Glue to reattach. Seems ok now.....but that was a couple weeks ago.

Maybe they've gotten better???
, ☃bcs_badge_alumni_label☃
I like the shoes. It seems the comment that they run 1/2 size smaller is wrong, at least in my case. I feel that they are 1/2 larger than indicated. I normally wear US8, with Arroyos I think 71/2 would be perfect. Laces slip very little if at all. I figure if it becomes a problem, I'll use regular laces and tie them like I would regular shoes. OK, that will add 5 seconds to putting them on, so what? The grate thing is that it is possible to string normal laces through the loops where the original lace is strung. Another negative is sandal's weight. But I guess to be rugged terrain-worthy they must be hefty. Compared to hiking shoes they are still lighter, plus ventilation makes them much more comfortable than even low-top sneakers.
Only one disappointment, but a big one
I've read the other reviews and generally agree. I bought these shoes after seeing them at Backwood, but they did not have my size. Backcountry is great to work with and had the size I needed. I wanted these shoes for my trip to Italy this summer. I thought they would be Keen, eh?

But, my big disappointment is that they stink. Literally, I couldn't believe it. I wore them only one time. On the first wear, my feet stunk terribly. My feet are never stinking that bad, even after 11 days hiking at Philmont in my Vasque boots last summer. I will not be taking the Keens to Italy. I've got to find something else. I just can't have my feet stinking up the place like these shoes do.

Sorry to be a naysayer, but they stink. I am wholly disappointed.

Jim
Suggestion for Arroyo Lace Issues
So i have 2 pair. One about six years old with the non-elastic laces, the other about 3 years old with the elastic laces. I understand the "loosening" concerns. My solution? Works.

Tug the laces to the fit you want, set the clamp, then wind them back through the lace strap on top, again through the laces connected to the middle straps, and if you still have laces left, go either all the way underneath the last lace crossing; if not not, park under the next lace available. Trust me, they will stay put.

I wear these shoes almost every day, and yes, sometimes to work. Bought them for after-backpack-hike camp shoes and will keep wearing them until or unless they stop making them.
I can't say enough about these shoes. I travel about 2 weeks out of the month and they go with me everywhere. I use them in the hotel workout rooms, and then when I head out to town. They are light, yet sturdy and pack very well. I have custom orthopedic soles that fit perfectly. I do quite a bit of light hiking and mountain biking as well and very pleased with my Keens. I guess you could say it's love at first fit. Hope this helps.