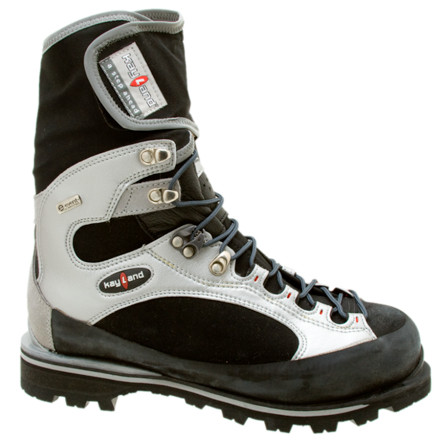 Detail Images
Share your thoughts
What do you think of the
Kayland
M11+ Mountaineering Boot - Men's
? Share a...
Favorite winter mountaineering boot
I tried the Kayland Hyper Traction, as well as the La Sportiva Trango Extreme and Nepal before finding this gem. I believe that Kayland's craftsmanship is second to none. While comparing the M11+ to the Trango Extreme I almost felt like I was comparing a Ferrari to a Festiva. Hyperbole aside though, the M11+ felt much more solid and durable. This does result in a bit more weight but not enough to turn me off and still lighter than the Hyper Traction or Nepal.

I have found that Kayland fits my foot very well. My feet are very flat with a wider fore foot and narrow heel. I went back and forth on sizes and ended up going with a size 13. I typically wear a size 11 street shoe and have the Kayland Contact Rev in a size 12. I use green Superfeet in both of my Kaylands and find it to be a good setup.

I wore this boot straight out of the box on an ascent of Mt Hood in June. I was worried about wearing a new boot, but realized by the end of the climb that I had not thought about my feet the whole time. They never felt heavy or uncomfortable not to mention I didn't have so much as a hot spot. During the climb I found that they trekked well on the lower grade snow, they were very solid when kicking steps and plenty stiff for front pointing on a steep chute.

I absolutely love this boot and highly recommend it.
I am contemplating the M11+ boots for...
I am contemplating the M11+ boots for winter mountain hiking in the Adirondack High Peaks. Basically I'm looking for a boot that is insulated, crampon step-in compatible, has an eVent membrane and can be used with snowshoes. I like the reviews of the M11+ from the people who wear them in the White Mountains mainly because the Adirondack High Peaks share some of the same brutal weather and topography. My only question is obviously fit. The closest Kayland dealer is about 4 hours from me, so it's hard to try them on. Do the M11+'s fit tight in the toe box? I have a slightly wider forefoot and have had issues in the past with boots being too constrictive in that area. Also, can the M11+'s be used on snow-covered trails / scramble when snowshoes or crampons aren't warranted? Thanks a lot!
Best Answer
I tried these on but went with the Nepals for the simple fact that my foot is a little wider and the Nepals had a better fit. The toe box on these boots seemed to be roomier than others I tried on. You can always alter the fit if you like these boots with a replacement foot bed and size the boot up a little.

These can be used on approach hikes - they are a stiff boot but if my memory serves me right, they have a rocker sole which helps out quite a bit.
M11+ more than I could ask for
This is an awesome winter moutaineering boot. I have used it to climb the ice around here in NH as well as for a hut trip in the whites. Super secure footing, easy break in, warm, and I still had feel for the terrain I was covering. I could not be happier with my purchase!
Does this boot have a removable inner boot,...
Does this boot have a removable inner boot, or is it one single unit?
These boots do not have a removable liner.
Unanswered Question
Would these be suitable for 5000-6000+ in...
Would these be suitable for 5000-6000+ in South America? & water ice climbing in Quebec?
This is a great boot. I just finished an August ascent of Rainier and after 4 days of climbing I only had a 1.0 cm blister on the top of my left 4th toe. Everything else was great. I also use these for hiking in the White Mtns in all 4 seasons. I did hike 15-20 miles in them before the climb to break them in, but it was quite easy.

I typically wear a liner with a smartwool or thor-lo hiking weight sock over it. The built in gaiters are really nice for when you don't want to have to wear full gaiters. The eVent stayed completely dry and I really didn't have any issues with the ventilation.

I have been using the BD sabretooth pro's with this and I got a great fit. I attached them really tight and did not have to adjust them a single time throughout my climb.

All in all, if you are looking for a great mountaineering boot that can do double duty as a very supportive hiking boot, then I would absolutely look into these.

Size wise- I am a 10.5 to 11 with a thin foot and high arches. I swapped the insoles for orange superfeet to get more arch support. The 11 fits great with a liner and a hiking sock as well as the added volume of the insole. I would recommend these for thinner feet, but there is plenty of room in the toebox. Order approximately 1/2 size larger than you normal shoe.
What is the performance difference between...
What is the performance difference between this boot and the Kayland Apex XT? A side by side comparison on Kayland's website makes the two look pretty similar with the exception of the M11+ having the built in gaiter.

I am looking for a boot to use on Hood and Rainier. Is the Apex sufficient, or would the M11+ be a better choice?
Best Answer
I own them both and I would say it depends on the temps you expect. The M11 is a bit warmer and personally the boot I prefer in general in the winter or snow. I find both boots to have similar grip and rocker and would say MAYBE the M11 is slightly stiffer. They fit a tad differently too. The M11 seems a bit snugger to me. If you can, I'd try them both on with the sock combo you prefer and see how each feels. I don't think you can go wrong either way but if your headed towards Hood or Ranier I'd choose the M11. Have fun!..
I would use the M11+ I just climber Rainier with it and was thankful for the support as well as the built in gaiter
I bought this boot a little while ago but haven't really had the chance to use it until this past weekend. I was a little worried about my feet overheating as it was supposed to be near 60 all day.

I took the boots fresh out of the box and we had a 3-4 mile rocky approach to the glacier. I did use some moleskin as I tend to get blisters but with that I did not experience any blisters. It obviously worked well with crampons and kept my feet dry as advertised. Surprisingly enough they did not overheat at all. They breath extremely well and throughout the very warm day my feet actually sweated less than they do in my regular hiking boot.

I spent about 9 hours the first day in these boots and for coming straight out of the box they were very comfortable.

Day 2 with the same approach and just as many hours I did experience some shin bang. They were a little tight up top and we were kicking steps most the morning.

The boot itself is pretty true to fit. I wear a 13 and these boots in a 13 fit great. I tried them on with a few layers of socks at the store and they worked fine with the layers. They are definitely a narrow fit though. If you have a wide foot I would look for something else.

They lock the heel in place quite well and I experienced little to no heel movement. I also asked the guy if he thought this or the Nepal Evo GTX was a warmer boot. He said he thought this boot was slightly warmer but they were both pretty similar in that sense. I have a feeling this is much more breathable though.
Is the sole of the Kayland rigid (no flex)...
Is the sole of the Kayland rigid (no flex) from heal to toe?
Yes, these are an extremely rigid boot. Kayland rates them 10 of 10 on their rigidity scale.
Yep, really stiff but not uncomfortable as they have a very good rocker. I often wear them on alpine trail hikes in the winter both with and without crampons and they are by far my favorite boot.
Yes, they are completely stiff but are pretty easy to walk in because of the rocker sole
Yes, one of the stiffest technical boots out there. Not the boot I would ever suggest for Rainier as others have.
Which boot is warmer - this one or the...
Which boot is warmer - this one or the LaSportiva Nepal Evos?
I think the Nepal Evos are a bit warmer, but not too much
Hi Evan, I take a 45.5 EVO but looking to get the M11+. what size would u reccomend? cheers
Would these be warm enough for Mt. Washington...
Would these be warm enough for Mt. Washington in the Winter? $ day Mountaineering trip?
I wouldn't recommend it. Odds are you'll be fine, but if Mt Washington's notorious stormy weather rolld in, you will lose toes, guaranteed. For a multi-day trip on Washington, you really want a double boot.
Do the lasts on Kayland boots typically...
Do the lasts on Kayland boots typically run to the narrow or wide? I'm not interested in this boot in particular - more either the 6001 or the 8001, but I'm wondering width-wise how these compare to Scarpas. I have the Inverno and it has been a good fit for me.
Best Answer
I've been reading a lot of Kayland reviews lately, and the majority of them note that Kayland's seem to run narrow--that sizing up 1/2 size is a good idea. I'm not sure if that applies to all Kayland products, but it looked like a trend.
I have some old kayland apex light boots that are wide.
Could you possibly wear these boots in the...
Could you possibly wear these boots in the summer or maybeearly spring late fall?
This is a cold weather boot for sure. It has a lower profile than most mountaineering boots out there. It has Event line for water proofing as well as 200 grams of Primaloft insulation. So I would not personally wear these spring/fall boot
I have used them for snow climbs in Colorado and fall hikes -they were fine for this
Winter, spring Fall should be fine. Not the warmest boot in the class...stiff sucker though!
is this boot suitable for climbing 7000m...
is this boot suitable for climbing 7000m peak in kazakhstan? on khan tengri or lenin peaks? is the liner warm enough for -30c conditions and lots of wind like 60 mph plus
No. Kayland's are great. Look at the Kayland 6001, I love it and it should be good for that altitude as long as you aren't trying a winter approach or your feet run really cold. In that case, look at 8000 meter boots.
You'll want something warmer for those temps.
I climb in the the White Mnts. every winter. Conditions can be rough. Plastic boots are warm but eat your feet up. Other leather Mountaineering boots just have not made the mark until the Kayland M11+ came around. They are light, feel like your wearing a hiking boot and not a clunky mountaineering boot. They keep the elements out and the event really works - better than Goretex. They are stiff enough for vertical ice and yet are very comfortable for long approaches. These boots are warm, but if going to wear in the winter I would recommend buying a 1/2 to a wholel size bigger to acccomodate a mountaineering sock.
Overall, one of if not the nicest boot on the mountain.