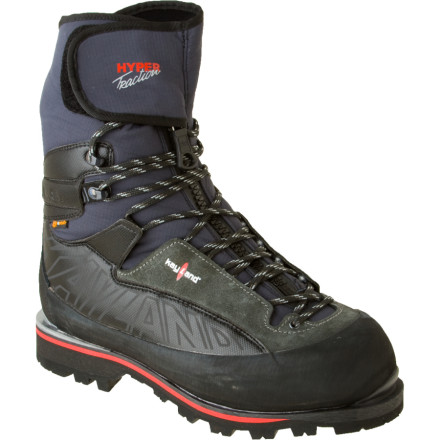 Detail Images
Whether you're traveling on snow, ice, or talus, Kayland made its Hyper Traction Mountaineering Boot to escort your flesh and bones across treacherous mountain landscapes.
Heavy-duty upper and burly Vibram outsole are meant to devour mountain terrain
eVent waterproof breathable membrane prevents external wetness from entering and allows internal sweat to evaporate
Toe box contains PrimaLoft insulation for warmer toes
Schoeller neoprene gaiter rises to just below the base of your calf and locks out wetness
IADS Dual midsole technology offers a rigid mountaineering platform with an integrated stabilizing shank and a shock-absorbing heel piece
Precise Fit means the boot comes with a slightly narrower last and an upper that wraps around your foot; the end result is a form-fitting, supportive feel
This is one really awesome boot! I bought Hypertraction with for the purpose of winter mountaineering & ice climbing. For these purposes correct fit is essential as cold feet is the result otherwise. I have a slightly wide foot and my left foot is slightly bigger than my right. When it comes to American shoes, the difference is not noticeable and no additional consideration is necessary. But when it comes to mountaineering boots many Italian welts do not accommodate my width without creating detrimental length. I tried on many boots to find the correct fit and found 2 that suited my purpose and comfortably accommodated my feet. The Kayland Hpertraction and the La Sportiva Nepal EVO GTX are both really excellent boots. Even within the same manufacturer, like La Sportiva or Kayland, some boots fit my feet and others do not. For instance I can wear the La Sportiva Nepal EVO GTX but the La Sportiva Trango S EVO GTX is too narrow. I can wear the Kayland Hpertraction but the Kayland M-11+ is too narrow.

The Hypertraction is pricy but Kayland has spared no expense when it comes to the material used. Dryver®, eVent®, Primaloft®, Schoeller®, Vibram®, this boot has all of the best materials. The water-tight RIRI Aquazip fastening and Velcro top side seal off the boot interior and make a more comfortable fit at the ankles than any boot I have worn. The E.C.T. Traction multi-layered composite insole makes a great crampon shelf for front pointing.

I have used the Kayland Hypertraction for 2 winters on Colorado 14er's and ice climbing in Ouray and never had cold feet.
Unanswered Question
Will these work with step in Campons? ...
Will these work with step in Campons? Crampon recommendations?
Great PNW Mountaineering / Ice Climbing Boot
This season I bought these with a pair of BD cyborg pro crampons. Compared to my old Lowe boots and clip style crampons this set up is significantly more rigid. I am able to precisely place steps. When you are setting foot after foot the reduction in effort REALLY adds up. Most of all they feel precise. Everything from edging on rock to setting feet in ice. The boot hugs the foot well and provides the right stiffness. I have had problems in the past with sweating up my boots on the approach and having damp toes when I hit the cold snow and ice at alititude. This is the main reason I bought new boots to be honest. These breath very well. By unzipping the tongue during the approach I have been able to keep my feet reasonably dry during 80 deg approaches. Thats..excellent. Breaking them in was not all that bad. I have heal spurs and those did not play well with the 'heel lock' system. I never got blisters though and its getting better. I have a size 12 narrow foot and these fit well. If I wanted a custom fit I would want them a tad more narrow, but thats it. My feet and toes run fairly cold and would call the warmth a perfect fit for PNW climbing. They have been 100% waterproof. I have been able to leave my gaiters at home during summer climbs which is nice, every ounce counts. My one complaint is that I have not been able to comfortably fit orthotics like superfeet. My foot does not fit with anything but the original liner which offers almost no arch support. Actually two complaints, the rubber over toe and side of foot has a few cracks at the end of one season. Not sure if this really effects anything though.
Tried almost every other mountaineering boot that exists and these finally solved heel blister problems. The ankle retention system works great. As for overall fit, they have a narrow heel and wide toe-box with a very natural rocker motion sole. I always have cold toes, but have never thought twice about my feet when wearing these. Very toasty, but also breathe well when it is warmer on the approach. No wet feet in wet snow either. These are much warmer than the M11s and seem to have more cushion. I usually wear a W's 10 and the M's 9.5 fit great.
I had to return these to BC and order them from another company because the ones I got were too small, and BC was out of stock then. I normally wear a 91/2 to 10 EE, and found the 10 in these to be very, very small. They didn't even fit my feet barefoot! I had to go up to an 11 1/2 to fit with a liner and winter sock!
But, other than that, they seem to be amazing boots. I haven't had a chance to climb in them yet, but got them for cold weather, high altitude climbs of the Pac NW volcanoes (Hood, Rainier, Adams, Baker, Shasta, ect..). I was fed up with uncomfortable plastic boots, or cold, tired feet in light weight "hybrid" bbots. These seem to bridge the gap between. The only thing that could be improved is to make the liner boot removable. Very good construction, very stiff sole.
Interesting lace system..
Very warm boot. Stiff sole like all the Kaylands, bit of a funky tongue system. Fit is exceptional though. This one you'll want to try on and look at, as the lacing is "different" than any other boot I have tried.
I'm going back and forth between the Hyper...
I'm going back and forth between the Hyper Tractions and the M11+'s. I called and talked to a Kayland rep and she advised me that the Hyper Tractions are warmer than the M11+'s, but they have the same rigidity. I guess my question is - How are the Hyper Tractions to walk / hike in? Are they capable of being a winter mountain hiking boot that can handle miles of approach with snowshoes? Are they built with the "rocker" effect like the M11+'s are?

I'm basically looking for a step-in capable, eVent lined and PrimaLoft insulated mountaineering boot that will be reasonably comfortable to handle miles of approach. Then once it gets nasty, have a solid boot that handles crampons and is warm enough for the dead of winter summits (Adirondacks). Also, how is the fit? I have an average foot, but a bit wider toe area. Anyone who has the Hyper Tractions...any issues with the toe box? Thanks a lot!
Best Answer
Chris, it is my understanding that the Hyper Traction is actually more rigid than the M11+, although they appear to have the same level of rigidity per the Kayland website (and your talk w/ the rep). I have the M11+ and use them for summer mountaineering as well as early winter climbs and snowshoeing. This boot works very well for cold+wet snowshoe adventures. The M11+ will also handle your miles of approach. As far as fit, you really need to try walking in both boots - I can say that there is absolute minimal heel slippage. For reference, the Trangos and the Mamooks didn't fit my feet, but the Kaylands fit great. I use DFP insoles instead of the provided ones... hope some of this helps in your decision..
That's funny that you answered my question today. I was fortunate to be able to try on the M11+'s today and walk around the store. I told the clerk that I was on the fence between the M11+ and the Hyper Tractions, but he couldn't comment on the Hyper Tractions because they don't carry them. I was very impressed by the feel and comfort of the M11+'s and am still not sure which ones to purchase. The only issue I am worried about is warmth. My feet have never been cold in the winter, but some of the conditions in the High Peaks can be brutal, and I think I want the extra warmth the Hyper Tractions offer. I guess I will have to order the Hyper's and decide that way. Thanks for giving me a hand!!
I am looking for a well rounded four season...
I am looking for a well rounded four season boot. I need something that I can use for ice climbing in the winter, ascents of Rainier in the summer and general year round classic alpine climbing.

I own a pair of the Kayland Contact Rev, which I absolutely love, and as such have become a bit of a Kayland loyalist. At the same time, I have had my eye on the La Sportiva Nepal EVO for quite some time, and cannot find a single bad review on it.

It seems natural to draw comparisons between the Hyper Traction and Nepal EVO. I am trying to discern how comparable they really are, and where the differences lie between the two. Which boot would best suit my needs?
Best Answer
Matt, they are both very well respected boots and you will have a hard time finding a negative review for either one of them. I purchased the La Sportiva Nepal and have never questioned if I made the right choice. They are comfortable for hiking or a very capable boot for ice climbing.

You are in a win/win situation and whichever boot you choose it is going to suit your needs.
These boots were made for my feet - narrow with slightly wide toes and a medium high arch.
The construction feels solid while the boots are relatively light. The soles are 2x4 stiff but the slight built in rocker eases the strain of long walks. The ankle support is pretty solid as well.
They are warm, but not super warm. If I am idle, standing still, then somewhere around 25F degrees my toes get a little frosty, but I usually have cold toes.
If Scarpa and La Sportiva almost fit, try the Kaylands.
UPDATE:
The Glen ice climbing area is a short half-hour hike uphill from the parking area in the Lehigh Gorge State Park. With the laces undone above the ankles, these boots hiked (despite stiff soles) almost as well as a real pair of hikers. When I got my BD Sabretooth crampons on (which fit perfectly) the boots ultra stiff soles really started to shine. I had no problem kicking in points or standing on them afterwards. All day. The heavily padded tongue took most of the brunt. Fruit boots notwithstanding, I can not imagine a more precise feeling boot.
so i just got these and have been wearing them around the house so far. first impression is that they are light and stiff. i am a size 9 in shoes and a 9 1/2 in every boot. went with the 9 /12 in these and they fit really well. the heel is not as tight or secure as the nepal evo(same size) but the footbox feels just slightly more roomy. the gator zip extends all the way to the toe box area, and secures fairly well around the ankle. have tried them stock, and with green superfeet, with a combination of socks and liners, tried smartwool mountaineering socks with liner and they have a really nice fit, same with a liner and mid wieght socks. i do feel that since the lighter construction that the nepal evos will be sturdier but the kaylands have a much shorter break in time. all in all really impressed but for my foot shape of slightly narrow with a narrow heel mi will be going with the nepal evos. the "walkability" of these on flat ground is almost as good as the evos, so long approaches on trail will be of little discomfort and technical ability with these being so stiff will be great.