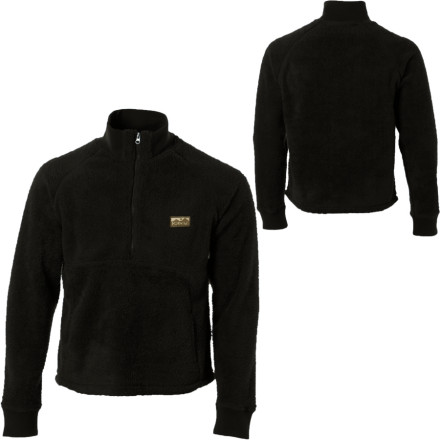 Detail Images
This Fleece is ridiculous. Warmer and more comfortable than any I have ever worn(including North Face, and Columbia).

People talk about ladies loving the softness on the outside, but the inside is even better. ;)
Most Comfortable Fleece EVER
I just got my new KAVU fleece and absolutely love it!! I have owned Pagagonia, North Face, and MH fleece jackets in the past and this one blows all of them out of the water. I got a Medium and the sizing is just right for me (5'10" 160lbs guy). It is REALLY warm and everyone else is right, the ladies love it!! BUY THIS!
As the other reviewers have said, this jacket is ridiculously soft. And yes, ladies love it. I got the blue one, and then got the brown one right after it came to my doorstep. The only problem is the waist length. I am 6'3" 225, got an XL, and it is just a tad short, but that does make it better for layering. Throw on this and your shell and you'll be fine in 10-30 degree weather. Add a base layer and you'll be good in below zero.
I know this is a man's item, and I am a woman! But I bought this for myself! Initially I loved the way it felt and it was so comfy, but after the first wash and short dry time the beautiful fleece bunched up or pilled or something funky. Doesn't feel nearly as nice now. One other minor complaint is that the torso length is just a smidge short, another inch or 2 would be good. On the up side it is VERY warm! But still not sure I would buy it again.
I can't keep my hands off this top. Bought it for the boy and love to snuggle up to it! Great for cutting down your energy costs as you can knock it down a few degrees in the house!
Hells yeah...I have another one coming and it is definitely soft and petable. I feel like a human teddy bear!!
This pullover is the softest material I have ever bestowed upon my being. Ladies love it and so do I.