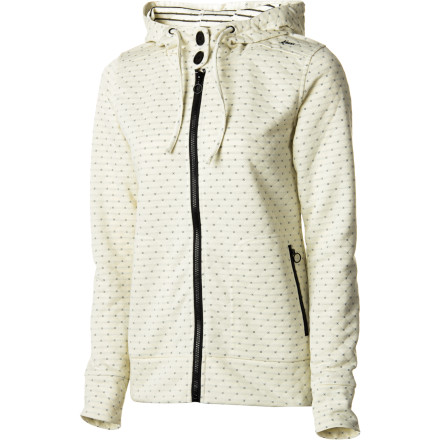 Detail Images
Tearing up the town or kicking around basecamp you'll fall in love with the cozy Kavu Women's Rilyn Hoody. A pair of color-matched buttons secure the front of the Rilyn's tall collar and give this patterned hoody an extra touch of feminine flair.
Bought this as a gift, the material is basic cotton so you get the cotton issues . But it is a decent street wear hoody. Size is true.
This hoodie is very warm and the design hugs your waist. The fabric has a quilted look and the color is an off red. The fabric does tend to pill up on the inside of the jacket, causing little beads of thread.
It is decent, but not recommended.
The jacket fits snug with a little bit of room. It does not fit loose. I am 5 foot 11 inches and an athletic build. Not overweight, not skin and bones. Bottom line: the jacket arms rub against the jacket material and it gets all rolled into little cotton balls on the jacket sleeves. Disappointed because the jacket is cute. Another thing I was disappointed with is that the material is thin. Not much to keep warm with.
I love it. Elegant pattern, and flattering design.
This is not a stretchy hoodie, but that's just fine with me.
I agree with the other reviewer...

I really like this sweatshirt- the fabric, the fit, the feel. Unfortunately, the fabric pills after just a few washes. My husband bought it for me for Christmas and it has already pilled like crazy, especially on the underside of the arms and the side flanks where it rubs on itself. I called company, and they said, "that's just what happens with that fabric." :(
I liked the looks and fit of this slimming hoodie, but after only a few wearings the material was pilled and looked crappy. Under the arms is where it was the worst, but even on the front of the garment pilling was occuring. I'd shoot a pic but it's already packed up to return.

It is my understanding that pilling is more of a problem on blends. I'm sticking with 100% cotton for my cotton products in the future. You should be able to get a good, long wearing 100% cotton hoodie for that kind of money.