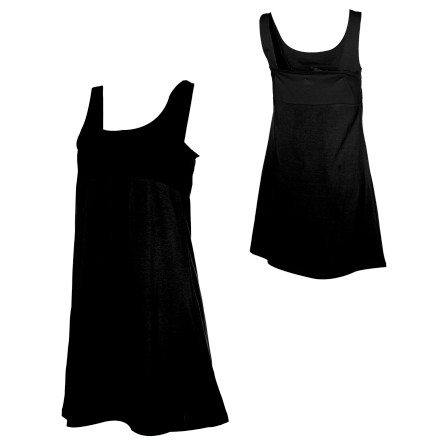 Detail Images
Lightweight and falling at the knee, the Kavu Women's Me Soy Pretty Dress gives you a go-to for just about any summer activity. Soybean fiber, cotton, and spandex fabric keep you comfortable while reducing your carbon footprint, and the adjustable straps can be worn halter style or buttoned at the back. With the empire waistline and interior shelf bra, this dress frames your figure in a smooth silhouette.
i have the kelly green in an XS (i am 5'3" and petite in size). fits great! falls right above the knee, comfortable and SUPER soft. the color is as in the photo and so pretty! highly recommend, esp for the price on SAC. it's nice enough to wear casually or for a night out. i wore it to an outdoor concert where the temps were in the high 90s F-- still nice & cool in it!

there is a shelf bra (little to no support) & the shoulder straps are adjustable to 2 lengths (i used the shorter one). this is my 1st kavu piece and will consider future ones if they are like this!
soft, sweet, versatile.

I'm 5'8", ~125, 32-B-ish; got a small & it's perfectly loose & comfy. Falls a few inches above the knee.

I've been wearing it since it arrived. I would hike in it and teach in it (with a shawl or something).

Would definitely buy another color.
i'm 5'10 and thin, but athletic. I bought a medium (I go small in many other brands) and it fits. I have room to shrink it a bit in the dryer. This dress is perfect because it is straight - many other dresses curve/flair out at the "waist" and they never hit my natural waist since I'm tall. Length is great. It hits above my knee without being too short or too long. It's fun for a casual night out or walking to campus. Just what I was looking for! And I love the adjustable straps and soft fabric!
So for some reason I can't see the kelly green or navy on my computer...went to Kavu's site to check them out. Totally worth the extra work, the kelly green is gorgeous. The fabric is really lightweight and super comfortable. I got a small, I am 5'4" and it hits perfectly above the knee, not too short or too long. True to size. Now I just need to decide what other color to get :)
HELP! I ordered the small and medium and...
HELP! I ordered the small and medium and I am smack dab in the middle of sizes. If it shrinks I need the medium, if it doesn't I want the small. Anyone know if it shrinks and if so does it shrink a little or a lot....don't know which to keep.
I say go Med. It will shrink a little bit- Tumble dry low or lay flat
Ok, this dress rocks. I have the XXS Teal color, and it fits well. (I'm a petite 5 foot-ish figure). Kind of fits loosely around the body for me (most things are too big), without being clingy. Falls just at the knee for me. Super flattering neckline. Straps are thick enough to wear a bra under, or interior shelf bra alone offers some support.

Aside from being a good, basic design that you can dress up or down, depending on the occasion, it keeps nice and cool. I've worn it on hot summer days, humid ocean-front conditions, and good spring day. Nice.

I've worn this dress to: run errands, barbecues (tx girl), picnics, outdoor venues, a baby shower, dinner, and just general day-to-day fun.

It is very, very comfortable, feminine, and super flattering -- while being practical and easy to wear.
Fabric was so awesome....Wore this to an outside affair in really humid weather...received many compliments...5'6" 150.....!!!!!
The best summer dress ever
Looks and feels great! Easy to wash fabric.
Is this dress true to size? Or does it run...
Is this dress true to size? Or does it run big/small?
pretty true to size but I have heard it is about mid thigh in length
i love this dress! it's super comfy and soft. wore this to vegas the past weekend and it was nice and light on me. even when i sweat it wasnt clingy. and its so cute!
My daughter picked this dress. she loves it!! It is VERY SOFT