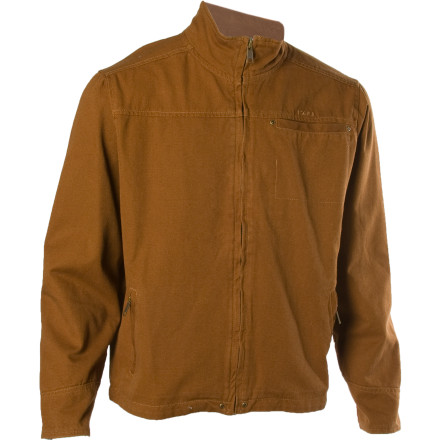 Detail Images
The Kavu Men's Ketch-a-can Jacket might have a utilitarian, tough appearance, but under the collar and cuffs lies some very soft fleece. This means your chin, neck, and wrists can luxuriate in fuzzy, secret warmth. Kavu made the Ketch-a-can Jacket with comfortable cotton fabric and antique-brass zippers and rivets. Throw this casual jacket on over a sweater or long-sleeve shirt in the fall.
I've had the jacket for almost a month now and it has been really nice for the Spring weather (40s-50s) we've been having here in Washington. I ordered a XXL cause Im 6'4"/220lbs with long arms and broad shoulders and I have plenty of room. It does have a larger fit so skinny guys might be swimming in it but thats only to be expected from a Kavu XXL. As far as the material goes, the outer fabric is nice and seems to hold up to wear and tear and the inside is nice and soft. Im not a fan of the webbing like material on the inside so I knocked off a star but the fleece on the neck and cuffs is nice. Its no Carhartt but for the price on SAC you shouldn't be expecting one anyways.
I'm 6'2 180lb. and the Large looks good on me. Ladies like it, and I do too. This isn't a parka, but it is nice for winters in Texas however and it is my go-to on non rainy days. I think the liner is nice and soft, and the Pyrite goes well with my khakis to work. All in All for $40 on SAC, I saw why not. Hell I came back and bought a Slate Blue as well.
Stylin', not that warm, good deal.
Got this on SAC for around $35, in grey. First off, of all the jackets I own, this one is the one I get the most compliments about somehow, everyone loves the look - kind of outdoorsy, kind of urban, and not too technical. I'm 5'11, 160 pounds, with long arms, and I got the medium. The fit is pretty good - arms are plenty long, the only thing weird about the fit is that the wrists are kind of loose and the collar is a little too tight to zip up all the way. It's the right length in the torso and has enough room for layering a hoodie or fleece underneath, which is good. Nice jacket for early fall and spring, but otherwise not that warm. The pockets are a good size; the inner chest pocket is in a nice spot, but the zippers on the hand pockets can get rough if you're pulling your hands in and out of them often. Don't know if I would pay full price for it, but if you ever find it at a discount do not hesitate to grab it.
Got this off of SAC, so I'll preface this by saying this is a decent jacket, for the price. I was looking for a cheap jacket that I wouldn't mind tearing up and this should fit the bill. The initial quality seems like its a "seconds" or "made for outlets" product. This is not a Carhartt Duck Jacket, not even close. The fit is a bit odd, baggy in the mid section, but tight around the shoulders and the neck is way too small to zip up all the way. The mesh liner seems pretty fragile especially if you want to put something with some heft in them (tools?). That being said, its got a cool look, its pretty comfy and I wont really care if it gets banged up, ripped, stained, and abused. At SAC prices this thing was a good purchase.
Was able to snag one of the last few in Black for $20-something which was a huge plus :)

Overall I think the jacket is great, and perfect to add to your closet for a good all-around fall/spring jacket. The mesh lining isn't the greatest, but unless you plan on going shirtless under this thing, it's a moot point -- the fleece around the cuffs and neck is a real nice touch and very comfortable.

The pockets are well placed and are of reasonable size. While others have complained about the smaller zipper on the inside, I like it as it seems less prone to snag on things... pocket is perfectly sized for a wallet/ipod/phone/etc.

Canvas outer material gives it a bit of a rugged look, but the overall cut & design gives an urban appeal and wouldn't hesitate wearing it around town or out to the bar. The brown stitching featured on the black jacket adds a nice touch of character.

As far as sizing goes, I took advice from the other reviewers and am thankful.... this jacket can run a bit on the large side. I wear a medium in everything (5' 10", 165 lbs, 38" chest... all around 'average'), purchased the small in this and couldn't be happier. That being said, you do need to size accordingly. As is, fitting a thicker layer underneath might be a bit snug, but as an 'around town' jacket with thinner shirts it works like a charm.

Have yet to try this in windy or rainy conditions, so until then this jacket only gets 4 stars. Definitely would recommend this jacket to anyone (just remember to size accordingly!)
Is the black really the color shown - ie...
Is the black really the color shown - ie more of a brown? Because I LOVE that but wouldn't want black. Thanks!
The Ketchican jacket shown is black, but not a deep black, kind of a distressed black. Hope this helps.
The picture of this jacket looks nice, but it turns out there's a reason they sell it for 80 bucks. It's like a poorly made carhartt jacket. It's also cut big, so if this will only fit bigger people.
I was looking for a decent coat for fall/spring weather that had that "utility feel". This coat definitely fills that slot nicely. The mesh lining inside paired with the study canvas cloth outer makes this the perfect weight coat for fall when its still warm in the day but cold at night.

I agree that the zippers are flimsy, but the faux fur lining is warm and soft. The fit is good, perfect for a hoodie underneath.

I got the "pyrite" color, their new khaki. Its darker than in the pictures, very similar to Carhart's standard issue khaki color.
Fit was nice, zippers were a little flimsy (the outer zippers were metal, but the inner one was smaller and cheap plastic). I liked the multiple pockets. The fleece lining was very warm. Not too crazy about the ORANGE stitches... I think white or black would've been my preference. ( I bought the black jacket)
This jacket is amazing. The material is awesome and the fit is good. If you're skinny, then you have more than enough room to rock a hoody under this jacket and it'll still fit great. I can't say enough good things about this jacket. I love it so much I bought a second one.
I want to buy this for my boyfriend but...
I want to buy this for my boyfriend but dont know his measurements. He wears a large in shirts. Is a large big enough for him to wear a thick shirt under it or should I get an xlg?
I would stick with a Large since that's his normal size. I am able to wear a very puffy down vest under mine without going up in size and it works perfectly with no too much bulk.

I love this jacket & will be in it all winter this year. The faux fur is nice against the wrists and neck, especially when hands are already cold. I am very happy I bought this coat : )
This jacket is not only well constructed, it's as comfortable as silk underwear and has gotten more compliments from women than I can count. No joke. Just the right amount of urban "that guy" mixed with lumberjack. Not a jacket for anorexic indies or pointy-shoe metrosexuals. Trust me. Magnet. Do it. I got black.