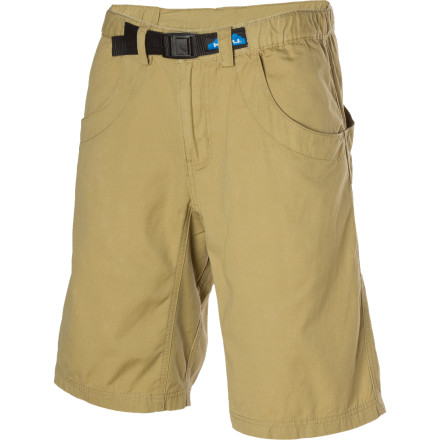 Detail Images
Now then, Kavu???s Chilli Long Shorts might sound like an oxymoron, but ... well, actually, ???long shorts??? is pretty much a classic example of an oxymoron. You get the point though; for shorts, these are pretty long, but for pants, they???re still pretty short. Even the word ???Chilli??? implies an oxymoron. So spicy, they???re cool. So cool they???re spicy. Looks like Kavu just served up a double salchow oxymoron smack down and tried to sneak it past us without our knowing. Yeah, we???re on to you and your word games, Kavu. Better luck next time.
KAVUshorts
Familiarity:

I've used it several times

Fit:

True to size
Another great KAVU product. very big pockets
Mucho Bigg-o pockets
Familiarity:

I've used it several times

Fit:

True to size
Yep these have some crazy big pockets. I can stuff a chihuahua in each pocket and still have room for my phone, wallet and a few other nick knacks.

Tough fabric with no stretch and a bit of a rough feel. nice built in belt and buckle. average fit with a at the knee length. Decent pair of shorts, probably a lot better products in the $65 range.

If you need a pair of shorts with tons of carrying capacity these may be for you
wrong sizes for me
Familiarity:

I've used it once or twice and have initial impressions

Fit:

Runs small
I tried the L but it was too large around the waist so I tried the M but they were too tight around my thighs. If you have thicker thighs you may have a problem.
Great shorts. Extremely comfortable, great pockets. Can fit a nalgene into both back pockets. make these shorts great for camp. I don't like hiking in cotton shorts but these have proven to be great.
These shorts are comfy and great for hanging around. The cotton fabric feels good and has been tough. The gusseted crotch gives these shorts a nice, comfortable fit.
I have really enjoyed the Chilli Long shorts. Fit is good, colors are not bad and the price was right. The back pocket is pretty deep, your wallet would actually be below your butt curve. Just got to remember that when you wear them. Only complaint is that the buckle comes off the belt when you wash them. I definitely recommend.
These shorts weren't exactly what i was expecting, however that being said they are nice shorts. They are very soft and comfortable, the built in belt is a nice feature, although the option of using my own belt would have been nice. I cant attest to the durability as of yet, because iv only worn them 5-10 times, but so far so good. the only downside, and this would only be for people who are climbing or hiking, is that the fit is not very technical, however it says in the description that its a regular fit :)

Edit: So not that there is anything "wrong" with these shorts, but the Enormous pockets got a little obnoxious, always fishing around to find your wallet, or having your phone fall right out of them, just not for me. Also, the built in belt is just not that well designed, the newer version may address these issues, im not sure. If your a giant pocket person, by all means try these out, but if you like being able to still feel wallet and cell phone in your pockets, maybe try the prana zion stretch shorts, they are pretty great.
Light and breathable. Nice design on belt and pockets. Only problem is that the right front pocket has a hole in it after just one month.
are these very stretchy? would they limit...
are these very stretchy? would they limit movement in climbing?
Hey Sam,
These are 100% cotton, no additional spandex or stretchy material so prob not going to have a ton of stretch. As with most cotton shorts though you shouldn't have a problem climbing in them.
Lookin Good While Climbing
These shorts are durable, roomy, and the built in belt is key. I am 5ft 11in with 34in waist and these pants are just right for outdoors activities. I dig the placement of the pockets and the nifty wallet pouch in the rear right pocket is a nice touch.
These are my current favorite short. I bought my first pair a few months ago and just bought another. They are super comfortable! Great for climbing, backpacking, camping and hanging out. I like the length of the and think the regular chili short would be too short for me. I am 6ft 3in with a 34in waist and wear a Large. It fits great! Highly recommended.
These are awesome, especially for a tall skinny guy such as this friend I know who bought these off of SAC. The length isn't too long and they feel very durable. Not to mention, the pockets are HUGE!