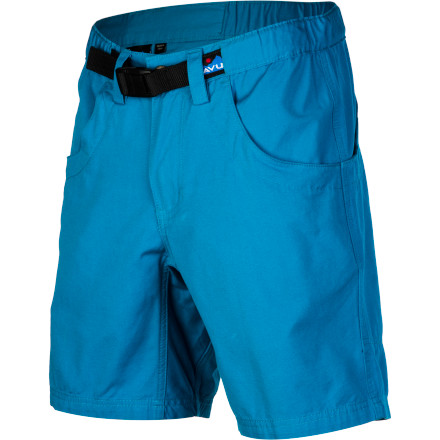 Detail Images

Community Images
With any activity like backpacking, hiking, climbing, or even casual use really, a heavy short that feels like a pair of drenched oversized denim pants with jars of mayonnaise in the pockets is less than ideal. Move easily and wear a stylish and durable short like the Kavu Chilli Lite Short.
Great shorts for all activities
Familiarity:

I've used it several times

Fit:

True to size
I was apprehensive to buy these shorts at first, since I've never tried on a pair myself. But they were true to size with plenty of room in the legs for bigger thighs, such as a man like myself. I've worn them nonstop around the house and out on the town, and I can't wait to take them on the trail in the spring! The built-in belt makes it convenient to ensure you don't show your back side to innocent bystanders. The spacious back pockets allow your wallet and other belongings to fall below your bottom, that way they do not bother you while you're sitting on long drives or out on the town.

Great buy! I recommend these to anyone looking for a lightweight hiking short that has multiple uses.
Great comfortable shorts
Familiarity:

I've put it through the wringer

Fit:

True to size
I love theses shorts! They are cut well above to knee to show off your glorious thighs. I love the built in belt, so you can do all of the activities without getting pants-ed in the process. Well done Kavu!
I'm 5'8", 130 lbs. I know I should get a size small, but how would these shorts fit? Would they flare out, be fairly close to the leg, etc
they fit pretty normal. Not skinny or mordern fit more traditional, good for people who have muscular thighs (skiers, cyclists etc).
Great All-Around Shorts
Familiarity:

I've put it through the wringer

Fit:

True to size
These shorts are great. Integrated belt, very soft to the touch, deep roomy pockets and a solid fit. So far, they have proven to be very durable and show no signs of wear after a year of abuse.
Glorious Guy Thighs
Familiarity:

I've put it through the wringer

Fit:

True to size
Bought two pairs of these shorts for myself, and now consider them a staple of my backpacking/climbing attire. Heres the down-low:



- These puppies are shorter than your average male shorts, and I am super happy about this. Men, your ridiculous cargo shorts dont need to be flopping around below your knees, ever.. You are presumably grown adults, step the classiness up a tad. I dont have to worry about the weight of these shorts pulling themselves down off my hip where they should sit, and I am able to hike, and climb without restraint from my clothing. very handy. Getting some sun on those thighs I work so hard for is nice as well. My girlfriend, and her friends approve of the length on these.



- The material is actually super tough, but the fit is so good that it isnt a knock on comfort. The material almost resembles tough canvas, but maybe a little more giving. Wipe climbing chalk on em, dry your hands on em, whatever... they wont degrade anytime soon, thats for sure.



- The Pockets are very deep, and the way they are integrated into the structure creates a secure pocket as well. I have been upside down climbing over hanging boulders and not lost my phone to gravity from my pockets.



- the fit is SUPERB: im 5'10", 170lbs, and the smalls fit me like a classy white glove you'd put on before handling fine art.



Conclusion? Let your legs step out of the deep dark cave you call shorts now0-a-days and put on some real shorts. The world deserves better than your 19 inch inseam..
What is the length of the inseam on a...
What is the length of the inseam on a medium? I generally run into the problem of shorts being too long, so hoping these would fit the bill for me. 5'8", 170lb, 34-35ish waist. Have some Columbia shorts that I like that seem to have a shorter inseam...


cool pockets, good length
like the sturdy material, and the deep wrap-around pockets. i am on the shorter side, and the length works great for me. sadly i ordered a size too big for me, but i am wearing them anyhow.
I am 6'1" weigh around 175 and generally...
I am 6'1" weigh around 175 and generally wear a 34 waist. Does anyone know if I should get a medium or a large?
Best Answer
Medium. The large will be too big.
Love these shorts so much I bought three pairs. The half moon moon pockets are deep and accessible, the built in belt helps you stay classy, and the fabric is really comfortable and soft after a short break in period. I like them a lot better than the pair of Patagonia stand up shorts that I have, and they are the perfect length-above the knees but not flashy. These shorts are everything a pair of shorts should be.
i have two pairs of these bad boys and they're some of my favorite summer time wear. yeah they're a little short, but who doesn't like some guy thighs and/or bike spandex tan lines. super comfortable and once they break they're buttery soft!
Are Kavu shorts cut large small or just...
Are Kavu shorts cut large small or just rite ?
Hey wally Houts,

Thanks for the question. Kavu shorts usually run pretty close to correct in the waist, but do have a slightly smaller cut for the inseam/outseam.
Not the product represented
Received the shorts and they were not the shorts that I ordered. The person on the chat said sorry, we'll change the picture. Not shopping here again. Bad customer service.
perfect for front-country wear... would not take them backcountry for long because of cotton! great for around town or travel
Very comfortable shorts, but as other reviewers have mentioned, they are rather short. If I'm not doing something outdoors like hiking/climbing, I feel a little sheepish in these due to the length. Not so short that you feel like Lt. Dangle, but definitely shorter than most on the market.

I also got one of those pairs were the fly-flap has a hard time staying flat. Very annoying, but fixable with some ironing.
Im just starting to get into backpacking...
Im just starting to get into backpacking and outdoors etc. and I am considering buying the Chilli Lite's or Patagonia Stand-Up shorts. What would be best to buy for everyday use, and use on the trails?
Elliot,

Either of these pants would be just fine for general/light trail use. When you start talking about backpacking, you may want to look at a more technical fabric then cotton. Here is a link to our hiking and climbing shorts pages.

http://www.backcountry.com/store/group/100000070/Mens-Hiking-and-Climbing-Shorts.html
The shorts are good quality and well made. The Cocoa is a great color. We returned them as they are very wide in the legs. They make skinny legs look even skinner.
Durable and they look good too!
I bought these for my boyfriend and we both love them. They are a really durable and comfortable material. They can go from the crag to casual wear no problem. They hit just above the knee which is good for climbing (doesn't restrict movement) but if you like shorts below the knee these may be short for you. The waste band has a belt and allows for adjustment. Overall really durable and good looking. I really like the light striping that comes with some colors. We got the brown bear stripe and I may get him another.
I love my Chili Lite's...
Just so you know, though, they are shorter than the average pair of shorts these days. they come up maybe 3" above my knee and i am an average 6' guy.

But please, I need a new pair, I was cleaning the bathrooms in our house, and I spilled some bleach on them. SAC, can you come to my rescue?!?!
These are now my favorite shorts. Bought 2 pair on SAC and will buy more if they come up again. I live in the deep south and its shorts weather here 11.5 mos of the year. These are cotton but it is so light it breathes well. They are a comfortable length and the cut is such that you dont flash folks if you squat down. Highly recommended.