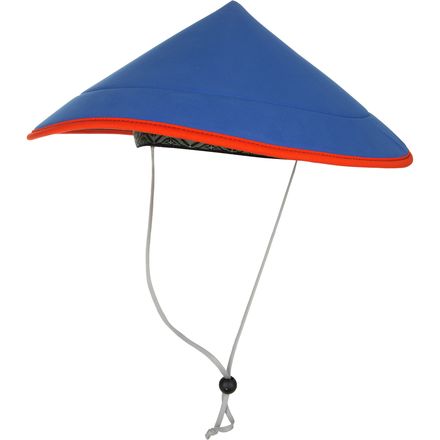 Colors

Detail Images

Community Images
Description
Highly functional sun-blocking extraordinaire.
The Kavu Chillba Hat sure looks funny but you won't be laughing when you're using it to bail water out of your boat. DWR coated nylon repels water and the closed-cell foam makes it float so you can chase it down the river if you drop it in.
Outside TV "Branded" : Kavu
Kavu understands the needs of their customers because they get out and do the same thing: play hard, get dirty, and have fun doing it. This has allowed them to create functional and durable clothing without sacrificing fashion.
Not as cool as it looks in the pictures
Familiarity:

I returned this product before using it

Fit:

True to size

Size Purchased:

ONE SIZE ONLY
The interior fastening system that makes this wearable and attaches to your head is too large. It makes it looks like your wearing one of those comical umbrella hats. http://goo.gl/lQydyS . They either need to make the hat MUCH larger to hide this interior monstrosity or make the interior MUCH smaller.
Easily my favorite hat.
Familiarity:

I've put it through the wringer

Fit:

True to size
I absolutely love this hat. I've used it for everything from trad-climbing to paddle-boarding, but have actually found my favorite spot to wear this hat is probably the golf course. It shades me well enough that I don't have to wear sunglasses, which I don't like while golfing. It's a bit of a foam material, rather than your typical hat. This lets it shed water extremely well too, which has come in handy a few times. Great hat.
Love it!
Familiarity:

I've used it several times

Fit:

True to size
This hat is very comfortable and shades me completely. I get a lot of interesting looks too - which I'm not bothered by. I can tell people are amused with this fun hat! It is very light weight and I like the mesh underneath as it keeps my head cool and air flowing. I will bring it with me to my thruhike of the Pacific Crest Trail this year.
It's always sunny in this sun hat
My bro got one for a river float and I was jealous. Great simple design that looks pretty cool as well.
This hat is not for everyone because its a bit different looking. What it does is great shade for the head. The hat is super light weight and super comfy. It works fine even in wind. The adjustable headband and neck cord keep it on no matter what. I love it for anything i do outside.
I work and play around the water everyday, and this beauty keeps the rays off my melon. Thanks for the killer deals!
Their website says that you shouldn't leave...
Their website says that you shouldn't leave these in direct sunlight because it will melt the foam. Does that mean I can't wear it out in the sun on hot days for extended periods? If so, can anyone recommend something like this that can deal with those conditions? Thanks!
Best Answer
This hat will be great for long hot days. If you leave it exposed to sun for an extended period, like leaving it on the back porch all summer, then it will fade or disfigure the foam. But for day to day use it will be just fine.
Great hat, good fit to my big head, well built.. Just buy it!
I got this hat to use at the beach when I go surfing. When I show up in California at Dana Point every year, the guys say, hey, the rice merchant is here again this year. The hat floats and has plenty of ventilation. As already said, it is a conversation piece; however, I don't know if it is a bird puller.
Has anyone seen the "Pyrite" color in...
Has anyone seen the "Pyrite" color in person? In photos it looks like it could be anywhere from a darker burnt orange, to the pale orange shown above. Thanks in advance for your help!
Best Answer
It is the lighter, almost yellowish gold color. For the darker, burnt orange, I'd get it in the ketchup color. Hope this helps!
So I'm a tree planter working in Golden, B.C. I bought the chillba hat after seeing my sister's. This is the best rain-sun hat I've ever had. It has unmatched ventilation which is awesome on hot days and it's basically like an umbrella that you wear on your head. I've only had one day thus far where the wind was a bit too strong for it, but it seemed that if I tightened the chin strap it stayed in place pretty well. Even with the shipping charges to Canada I still payed roughly what a store what charge at retail value (roughly $60 Canadian). Best outdoor hat in existence (in my opinion..).
This is hat is clearly kind of crazy looking, but as the last reviewer stated, it does its job. I use mine the most when working outside, and occasionally while just relaxing creek side. Tried it out on a few paddling adventures, and unfortunately due to the chance of wind, it just get's left at home now.

Pro: Water does not get through to your noggin', nor does the harsh sun

Con: If it's even a bit breezy out you'll be wishing you had something else on, sits pretty high on the head
When I go on the river I never forget this hat, perfect for keeping the sun off my neck and hell, its a great conversation piece! I really think that anyone who is comfortable with themselves should own one if they kayak, suhch a good deal!