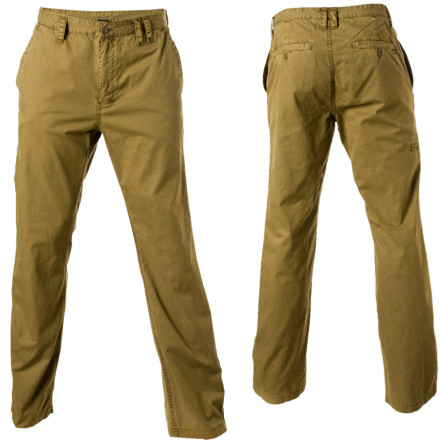 Detail Images
Get ready for a day of unbridled trail exploration when you put on the Kavu Brewster Pant and head to your nearest wilderness area. Slide through bushy trails, over boulders, and into small caves with this cotton pant holding up to the abuse thanks to its reinforced seams. If you stumble upon a waterfall or incredible mountain vista, pull out your camera out of a convenient front pocket and take the scene home with you.
Very comfortable fit, BUT

1) the fabric ha a definite glossy stripped look that turned me off, this stripe was no mentioned in the text or illustrated in the picture
2) i purchase a 36 waist, the inseam is huge!
These pants are pretty good. I used them for work since they look formal enough and are quick comfy. The chocolate color will "stain" your legs at first and will only stop after a few wash. Sizing seems right on.
These pants are GREAT for those days you hafta ditch the shorts due to dress code. They're lightweight (like others have said), they're just fancy enough that you could wear them to dinner with your gal', and if you catch them on steep and cheap the price is right! Although, i just might pay full price for these, which is really sayin something; I'm a cheap college rat.

The only problem i have is that they don't make them in specific length sizes! ARGH i hate that! I'm 6 foot, fairly long legged and they're just a smidge short. I suppose for the average 6 footer they'd be okay, but if you've got gangly legs at all, you'll run into the same problem. such a bummer. OH, and the waist runs a LITTLE big. They sag on my butt, gotta start holding my glock sideways.

Despite the fit issues, i'd buy them again, they're that comfortable. (and stylish, in my opinion)
Love my Kavu Brewsters! I have two pair - they work for lounging (very comfortable and lightweight material), hiking, working in the yard, and I wear them to work with a shirt and tie as well. Very versatile and manufactured by a great company!

Sizing: pants are true to size. The 32's fit me and I am 6'00" tall, roughly 180lbs and typically fit into a 32" waist.
I love these pants, light weight material, wear well, and plenty of room through the legs for moving around. This look at home at the office, around town or in the woods.