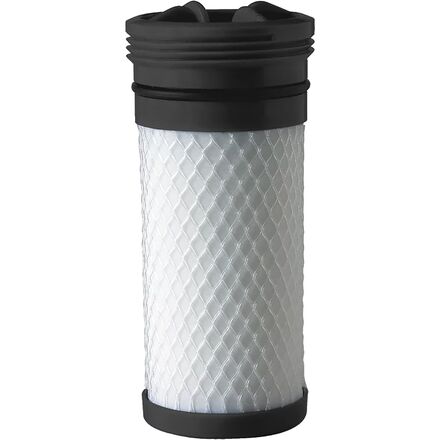 Community Images
Description
Please don't eat the bugs.
The Katadyn Hiker Pro Replacement Cartridge replaces old, scummy cartridges from your Katadyn Hiker or Hiker Pro microfilter. The Hiker Pro Cartridge uses the same awesome microfilter element, but wraps it in a protective membrance that makes it a snap to service in the field. Clogs will be less common and easier to fix if they do. When you're out in the wilderness, you just need the water, not the nasty things living in it.
I never go backpacking without the Katadyn Hiker and am super happy to be able to replace the cartridge through Backcountry. Light, easy to use, easy to replace the filter.
This also fits the base camp pro model
Familiarity:

I've used it several times
Just wanted to note that I wasn't sure this would fit the base camp pro model from a few years ago, but was pleasantly surprised when it fit.
Pretty awesome
Familiarity:

I've put it through the wringer
Awesome filter, super easy to change out. Only thing is that it came with a filter "wrap" that screens anything that's gotten by the float filter, but didn't really tell you what it was. I had to google a bit to check it out. Shipped incredibly quickly. Super duper light weight, so I have an extra for my extended backpacking trips.
Simple filter that does the job
Familiarity:

I've put it through the wringer
You cannot beat simplicity paired with reliability. Which is exactly what the Hiker Pro offers. A caveman could filter it's own water - it is that easy. Installation of the new filter is quick and easy. Just unscrew and then re screw.
Hiker Pro makes you a pro
Familiarity:

I've put it through the wringer
Rather than buy a new filter or switch to a different brand, just replace the filter to your life saver.

And make sure you replace your filter when you should, there is no reason to use an old filter and risk getting sick from one of your favorite past times. Replacing the filter is painless and easy. After pumping water in Escalante, Uintas, and the Wind River range, it was time to replace my filter. I usually use coffee filters to extend the life of my filter.
worth the money
Familiarity:

I've put it through the wringer
I've been using the hiker filter for 10 years. I usually go through 2 cartridges a year since I backpack so much. The only downside to this filter is it's sealed and hard to clean. As long as you filter clear water you will be fine. I just did a 5 day trek though Buckskin Gulch and Paria Canyon in Southern UT/AZ border. The water was thick and muddy. even with a coffee filter and the extra screen the filter was clogged in a day and took very long and slow pumps to get water but it still worked. This would of happened to any filter. Some newer models have a way to backwash them. with this model you can use a large syringe to backwash it. That helped a lot with the muddy Paria River. Other than this one trip the filter usually last me half a season. I did the entire JMT with it. no problems at all. I hike over 200 mile a year and this filter has never failed. I've seen other problems with the steri pen, and MSR pumps. This is a time tested filter.
It is a replacement filter so....
It does the same thing as the filter that comes with the hiker pro so performance is great. Replacement filters are a necessary evil when using water filters, but it is great that the hiker series have easy to find and replace filter cartridges
never want to take a extra filter but when you need it its nice to have.
I love the hiker pro. I have used it to drink some water that would make your mother cry. And have yet to get sick. I have used these filters for years and haven't had the slightest problem. Highly recommend.
I have been using these filters for eight years. They are easy to replace and last a long time. Dry it out completely after use. If it is really discolored, or it is harder to pump water through it, then it is time to replace.
I had the old Pur Hiker and bought this replacement cartridge. I was able to screw the top off and replace it with the new cartridge. It comes with a thin layer of plastic to wrap around the cartridge for more protection. The lub helps slid on the tube. I pumped some fresh water and its working. Instead of buying a brand new water petrification kit this replaced a perfectly fine working item but now its brand new because the cartridge is fresh.
The original filters last a very long time and I have not had to change mine yet. It is very easy to swap them if you ever need to but a little pricey at almost 40 bucks.

I have had my filter for about a year but do not use it on a regular basis.
GREAT FOR ENTENDED HIKES...!!!
The Katadyn Hiker Pro makes a great long lasting replacement cartridge, but even the best have to be replaced sooner or later. When I hike solo on the Appalachian Trail one filter will last me well over 1,000 miles. They are quick and easy to replace and because they have a great reputation they are sold at most outdooor stores along the AT.
Fits perfect in my old PUR filter. Just unscrew and pop it in. Lasts a good long time too!
Great (especially in the Base Camp filter)
This filter lasts a long time, and is easy to clean. The replacement comes with a small tube of O-ring lubricant to help ensure that it does not leak. There is a fine mesh "filter protector" which filters out larger debris before it gets to the actual filter. I use this in the Katadyn Base Camp (gravity bag) system, and it works wonderfully. This is indeed the correct replacement filter for that system.
I've used my filter now for about three years and it is one of the best systems that I have ever used. It is lightweight and efficient. I do a lot of tough hiking and it is a very good system. A buddy of mine bought one before deploying to Afghanistan and he swore by the filter. That's what got me looking.
This looks like the replacement catridge...
This looks like the replacement catridge for my PUR water purifyer. Will it work with the PUR?
Best Answer
Yes! Katadyn bought the outdoor water-filter division of PUR from Proctor & Gamble. My slogan is: if it looks like a Hiker or Hiker Pro---it takes the Hiker Pro Cartridge. Please bear in mind there are PUR filters that don't look like the Hiker.My Katadyn replacement cartridge fits a little tight in my Pur filter housing. I called Katadyn & explained the situation & they didn't have a clue except for the fact that it was a seamless transition between mfg's. This was after I used the O-Ring lubricant. It just isn't as easy to remove the Katadyn cartridge as it was with the Pur.
Bought one of these for my PUR. It fits and works great.