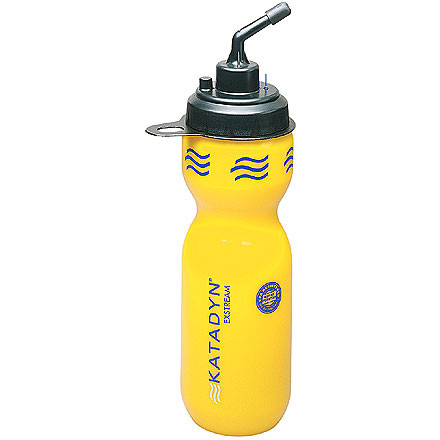 Community Images
Unanswered Question
Other than size and price, how does this...
Other than size and price, how does this differ from the Extream XR Purifier bottle.. How much are filters? I am looking for a filter for our BOBs. Any recommendations on any other types? Thanks!
Great little bottle for day hikes! I wouldnt take it on a multi day trip, as I have a katadyn pocket for extended trips.

The water capicity could be greater. If you have a source for water, just scoop and sip! Its that easy! You're going to love my nuts! This unit will keep you hydrated and cool.

Easily clips to your belt or pack!
I have this bottle clipped to my pack. its real convienient on the go. And although i use the hiker pro filter on all backcountry trips this bottle is quick and easy to fill from a stream or a public fountain. Used this as a backup in europe and africa where bottled water during a tour or hike was pricey or unavailable. Great for hotels in those 3rd world spots where i can quickly filter the tap just for brushing my teeth.Bottomline: it works!!!
Is this appropriate for international...
Is this appropriate for international travel where there is unsafe water?
I've used this bottle in Mexico, Germany, England and recently in Spain and morroco without fail. Its now my primary water bottle on all my hikes. My philosophy abroad is "if it aint bottled or made in the U.S.A., filter it!!!".
As long as the "Viustat" properties remain intact, this purifier is good for international usage. Still consider your water source. For example, I wouldn't use this or any other water purifier for purifying water taken from the Tigris River!
This product works really well in many cases! Definately approve for the avid hiker. If your a survivalist though your going to run into some drawbacks with weather. I am a survival instructor in Washington and we get roughly 4 to 5 feet of snow in the winters and into the single digit temperature range, this product is not insulated at all and your water will freeze in less than 30 min.

To the company; if you could make an insulated model that would withstand cold temperatures that had a larger bite valve (diameter)for larger flow of water, then I might be interested in purchasing this product in large bulk i.e. 200 a year.
Yes its a little heavy... so what. Yes it is a pain to prime...again, so what. When my buddies, who use pumps, ran out of water on the trail, we thought we were going to be in a little trouble. thankfully i had the Exstream. we found a small trickle of water coming out of a rock wall but that was all I needed to fill the bottle. The pumps could not work here because there wasn't a pool of water. i was able to ignore the funky taste after the second day.
excellent product - it delivers
I've read all the prior 7 comments, and I'll try to address some of the complaints (that I found rather unfair). This purifier bottle (when filled) is a tad heavy, and it remains weighty after squeezing out the usable water, because the filtering system (3 stages) remains inside of the bottle, and the filtering system also remains wet (hence a bit heavy even when the bottle is effectively 'empty'). The weight did not bother me, as I was grateful not to be lugging around 20+ liters of bottled water. Regarding the taste, yes, there is a noticeable iodine taste, but that is the point of having an iodine stage filter -- it's a virustat. I much prefer the rather mild iodine taste to getting a stomach full of nasty bacteria/viruses. If you cannot stand the taste of iodine purifier systems, then the only real option is to load up on bottled water -- a rather impractical task (and possibly dangerous) if you are in the middle of nowhere. When assembling the bottle, do NOT throw out the paper inside of the bottle until you remove the first-stage filter -- you will find a charcoal filter (i.e., initial stage filter) wrapped inside of the paper. (I nearly threw it out, but thanks to a below comment, I unwrapped and located the filter. NOTE TO KATADYN MAKERS: please improve the packaging so that your buyers don't toss out the wrapped up filter!) Regarding the pain of priming, yes, you must prime the 3-stage filter -- it takes time (if I recall correctly, it's approx. two bottles of water squeezed out, and then a few hours of full-bottle sitting). Priming is required in all water purifiers that I know of...including home Pur brand water purifiers that need to have water run through it before use. If your circumstances permit, try priming your bottle before heading out to the backwoods. I was able to prime before leaving home -- this kept my filter stages wet and primed before dipping into skanky water. Another random note -- when your bottle runs low, you will have to squeeze harder than when the bottle is full. I think this hard-squeezing is a reasonable expectation, given that you are squeezing a smaller volume of liquid through a 3-stage filter. If the filter clogs up (which mine eventually did after about 20 refills), have a replacement filter kit handy. I found the clogging reasonable, given the amount of nasty stuff in the water I was filtering. (I read a prior comment criticizing his/her Katadyn crapping out after two days...well, if the water source is dirty, then, yes, the filtering system will clog up. I would have liked to have been able to reverse the flow direction in order to blow out some of the gunk, but I'm guessing that this would be nearly impossible (and possibly unhygienic) given that tainted liquid may end up on the wrong side of the final-stage filter. Bottom line: I used the Katadyn system per directions, and I kept hydrated and did not get any gastroenterological illnesses. I was truly amazed that such a product exists in such a handy form factor. If you want high volumes, then you'll need to stick with the big pump filters. For mobility/backpacking, this is a great purifier.
Bought this filter to use in Nicaragua. Great design but the filtered water tastes AWFUL to my taste.
Used in on a trip to Cancun
I used the smaller version of the ExStream bottle as my water bottle while vacationing in Mexico. I kept the filter in my waste bag in case I couldn't locate a bottled-water source. This is a great product gave me piece of mind that I could still drink the tap water if bottled water wasn't available.
I did my back packin' 15-25 years ago with iodine tablets, so when I read about filter bottles taking out bacteria and virus and the smaller the filter the more suckin' and squeezin' necessary, I was leery of buying one for my grandson.
He reported back that there was no problem at all with the Exstream, it drank just fine and he's not sick yet. Way to go!
A nice filter inside a bottle. I only had one problem with it. The first was that the bottle itself was filled with paper, kind of like when you buy shoes. So I just took out the paper, but the problem was the actual filter had two pieces, one of them was inside the paper, and I did not realize it until I read the outside of the bottle when I was miles away from civilization. So half of the filter did not come on my trip, though the other half worked great and I did not get sick. What a great thing that you could lose half of it and it still works perfectly fine.
Worked well until the second day out in the boondocks, then crapped out, clogged after maybe two uses—one of the reasons I left days earlier than planned. I will use the space for a liter bottle and regular pump/filter next time. The brand is fine, just not the product.
, ☃bcs_badge_alumni_label☃
Easy Drinking
Finally, a purifier bottle that you don't have to squeeze like the Hulk to use. So simple to use you have no excuse to not stay hydrated. You can also change the order of the filter element so the charcoal is after the iodine section, eliminating that wonderful iodine flavor.