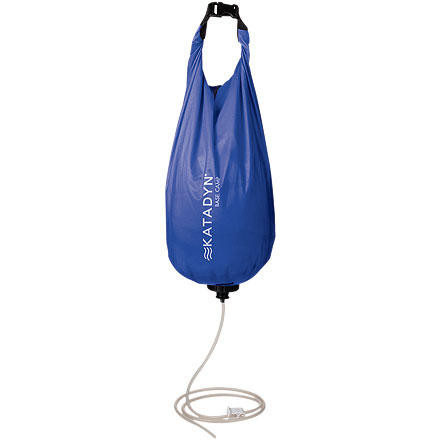 Community Images
The Katadyn Base Camp water filter conveniently filters up to 2.6 gallons of water in less than 20 minutes. If you're family camping, on an extended trip, or have set up a base camp, this hanging water filter is a must-have. Just fill it and hang it, gravity does the rest. The Base Camp removes bacteria, Giardia, and Cryptosporidium to EPA standards. The cleanable, replaceable Hiker Pro microfilter cartridge survives up to 200 gallons, depending on the initial water quality. An outlet hose and on/off valve conveniently fill containers without wasting your precious water.
2.6 gallon waterbag allows your entire group to stay hydrated
gravity filter lets you move around camp instead of pumping while your water is being filtered
200 gallon capacity cartridge that can removed and replaced
I have a katadyn base camp water filter...
I have a katadyn base camp water filter system and I am going to Isle Royale National Park where the ranger states they have trouble with tape worm cysts in there water there. I believe that these cysts are 0.1 to 0.15 microns and that this filter does not filter that small of organisms. Do you have the specifics on this?????
I can speak for the size of the tape worm cysts, that might be best answered by somebody with a micro-biology degree, or by the rangers in Isle Royale. You are correct though, this filter does filter only down to 0.3 microns.



Now to put you at ease, I did spend a lot of my time growing up camping and hunting up in the Houghton/Copper Harbor area and never had much any issue with parasites, and I never filtered a thing back then, but if you do want a beefier filtration system check out the Sawyer water treatment system listed below:



http://www.backcountry.com/sawyer-4-liter-complete-water-purification-system#question-atg169969
Best Answer
Hey Glenn,



Yeah, the only filter system that goes down to the 1 micron diameter is the Sawyer. Chlorine dioxide (Aqua Mira and Micro Pure) and UV treatment (SteriPen) supposedly won't do it, or at least have never been tested on that particular species of cysts by the manufacturers. Even though, after reading up on the specific tape worm cysts in IR, it looks like people are finding it effective to filter down to several microns, followed by either treatment with Chlorine dioxide or iodine. Without spending money on another filter system, your best bet is good old fashioned boiling, or, based on the recommendations of the rangers at Isle Royale, only drink from spigots or taps at certain locations. What is sort of strange is that, in spite of the size of the cysts, their NPS website only recommends filters with the capacity to go down to 25 microns, so before you buy a new system, you might want to get to the bottom of it. Maybe ask them what they're using to treat the water from those sources. It's got to be either chemical or pumped up from down deep in the aquafir. Although with the Sawyer, they offer their "1 million gallon guarantee". Along with the amazingly small pore size, capacity like that is absolutely unheard of in the industry. Hope this helps.



Here's a link to a Backpacking light forum with some recommendations and thoughts:



http://www.backpackinglight.com/cgi-bin/backpackinglight/forums/thread_display.html?forum_thread_id=42881
Works well, but....
Familiarity:

I've used it several times
Works great for a large group, just hang it up and let it dribble into a large container that people can use to fill their canteens. But after three days the filter gets plugged and the dribble slows to a drip.



Solution: to prevent use the cleanest, clearest water you can find. When filter gets plugged turn the bag inside out and remove the wrap around pre-filter and clean it, then slosh the still attached filter around in the lake or stream, and reattach pre-filter, turn bag right side out, fill and hang up. Should have some improvement in flow. Of course the most effective way to do this is at home in the kitchen sink with high pressure vegetable sprayer.
O for 2
Familiarity:

I've used it several times
The first unit I used got one bladder of tap water through the filter and then the second time (this time in BWCA) did not work at all...drip drip drip. I returned it filter and all for one more try. The second time the bag failed. There is a plastic washer that is sewn into the bottom of the bag around the filter. It split for no particular reason and leaked severely through the crack. It appeared that the water that did get through the filter was moving just fine, but more water leaked than collected. The concept of this thing is great, and it appears for some it works just fine, but I'm 0 for 2 and won't try it again.
Katadyn Base Camp Water Filter Video
Katadyn Base Camp Water Filter
Hi, what type of cartridge does the KATADYN...
Hi, what type of cartridge does the KATADYN BASE CAMP WATER FILTER use as replacement?

Tks
It's called the Katadyn Hiker Pro Replacement Cartridge. It runs around $50 here on BC.
When your backing with multiple people this thing is money! You don't have to leave camp to continuously fill up a bottle/bladder. The filter has a few steps to change it, but it's very easy process. Downsides: heavy when full (duh) and can be hard to find a spot to hang (just bring rope).
is there anyway to backflush this filter....
is there anyway to backflush this filter. I don't get 200 gallons from it.
Best Answer
Hey Christian,

No back flush, it's not a directional flow type of filter, but remove and clean your pleated filter cartridge and see how that works. 200 gallons is a measure when filtering water that's basically pretty free from suspended particles to begin with. Anything else is going to require more frequent maintenance and is going to shorten the filter's life expectancy. Hope this works for you.
I have found paper coffee filters to be a good way to catch silt and other particles before using the base camp. They are lightweight and don't take a lot of room.
Easy to use! Scoop up a gallon of water, hang it from a tree and gravity does the work! Durable, and I haven't had the filter clog on me yet. Really good filter!
I just got back from a 5 day trip to the Adirondacks. The filter worked with the first bag , slowed down for the second and was just dripping from then on.IT BECAME UNUSABLE. Has anyone used this filter in water that was stained from tree roots? We tried cleaning but we could not continue using it and since we had 9 people we had to start pumping water. Good thing we had 3 back up pumps.
Great & Easy... but be careful with it
Nothing beats pumping water by hand quite like just filling a bag and hanging it! I've had the base camper since it came out as a new product. Over the years I have come up with some things to be cautious of when using this product:

1) When hanging it in a tree, be careful not to run it along the bark. The skin is durable, but only to a point. Also, be mindful of wind tossing the tree, which could result in the bag rubbing with you are makin' water.

2) I ran into a situation the last time I used it. Air was getting in between the discharge point of the filter (a little nipple the hose fits on) and the end of the hose. When this happened the filter would no long keep its siphon going, it would just slowly drip. After hours of trying to find out how the air was being let in, I found the when I bent the nipple on the end of the filter (where the hose connects) to one side it would work perfect. I concluded that the nipple has gotten bent and cracked near the top of the hose (bottom of filter). ALWAYS BRING A BACKUP SOURCE FOR WATER!

I figure this issue was caused by one of my group members (or myself) setting the bag on the hose/nipple area while the bag was full. The nipple is enclosed/protected by plastic fins, but when the hose is connected it can bend it to one side causing it to break.

3) When on open water (such as in a canoe), do NOT let a young novice try to fill the bag by leaning over the edge of the vessel! The bag gets quite heavy when full and could make for an unwanted swim (or worse).
I have used this filter several times over the past three years. I have had no problems with it and it sure beats pumping, especially after hiking 10-12 miles. It fills the bottles almost as fast as the pump filters do and you can be doing other things (eating, relaxing) while your bottles are being filled.
I have used this filter on 4 or 5 trips into the BWCA. I always paddle into the middle of the lake to get clear water. I will agree It is very easy to use, but I have never gotten more than 40 or 50 gallons of water from a filter. I always take a 2nd filter, because one gets plugged during the trip.
This time I added a coffie filter over the filter, but this did not help.
Any one else get more than 50 gallons?
I would like to know how, these filters are not cheap.
Great idea simple design, just wish you could clean the filter in the field.
This is the easiest filter I've used. Just fill and forget. We camped next to a very muddy creek and this filter worked great even in the muddy water. This is now a staple part of my camping gear I don't leave home without it.
i live in northern australia and was curious...
i live in northern australia and was curious about the bacteria in tropics ands would this product be suitable.
Best Answer
Malcolm,

This product will filter bacteria out of water, yes. If you're looking for something to filter large amounts of water in a base-camp-type setting, this would be an excellent choice.
The Base Camp will filter out anything down to & including 0.3 microns but it still won't filter out viruses. For those nasty, little critters you'll need to purify.
I've read several complaints about flow. After a few trips, with a little experimentation beforehand, the solution in the field is not necessarily to empty bag and clean filter. I notice the biggest culprit to be air bubbles. The solution here is to suck on the hose as if you were siphoning gas. The flow increases and you stick the hose back into container. You can also be a little more careful when you scoop the water and try to avoid debris. Six of us have used this product and are verry pleased with not pumping. Fill it when you hit camp, hang it, forget it. Go set up camp and by the time you're done you have plenty of clean water. During that time, check the flow and fix it (see above). No one has been sick yet and I put everything into bleach water after trip. Rinse it, dry it and you're good to go. I easily recommend this to friends. I also carry a strap to use for a hanger if a good tree hook is not available. Wrap the starp around a tree and hang the bag,
Katadyn Base Camp Microfilter
Perfect for Group or Family Camping! Let gravity do the work!
Best Water Filter on the market
I've used several different water filters over the years, Still have a nice Katadyn Pocket pump that has been serviced and ready for action. After having used the Base Camp on an ten day trip at Philmont back in 2005, I'll never use another one again. This couldn't be simpler. Scoop up the water, hang it from a limb and hook the tube into an Ortleib 2L water bag for the simplest and easiest filtration ever devised by man. We took two base camps, two Ortlieb water bags and the filters lasted twelve guys for ten days, being used several times per day. The filters never needed replacing.

For the ultimate protection, we also used MSR Sweetwater drops in each water bag before filling up from the Base Camp. Never had anyone get sick or the runs, just pure, clean water. I'll never forget the comment from a friend of mine who went on the same trip a week prior about how much of a pain it was to always be pumping water and how much time it took away from enjoying the trip. Use your brains people and let gravity do the work on your next trip.
I bought this thinking how nice it would be to save time and trouble filtering water when backpacking. I used it and almost immediately the filter flow slowed to mere drops. At that rate, it would take about a day to fill up a 1 gallon water container. We're going to switch back to our regular water pump/filter. The water was clean, alpine, high elevation lakes in the California Sierras so we were starting with gin clear water. They need to re design their idea.
Best Answer
It's interesting that you had this experience, because with fairly clear water you should be able to filter much more water without having to clean the filter. However, I have had a similar experience. When I first got this filter, I was able to filter probably 30-40 gallons of murky water with little problem. However, I eventually replaced the filter, and on my last trip I had to clean it after only about 20 gallons of relatively clean water.

Yes, it can be cleaned in the field (without fully dissembling it). Drain the water, turn it inside out, and then take the mesh off of the filter and clean it (there is a tubular netting that slips off of the filter and allows you to unwind the mesh). Then, I put the filter in the water and (underwater) scrub it with a sponge or clothe. This can improve the flow for a while.

One other trick I have found is that if the filter begins to slow down, with the bag still full of water I will pinch the bag and 'rub' the filter through the bag. This usually speeds up flow for a little while.

When this filter works, it works great. However, I am always sure to have another filter (or water purification method) just in case.