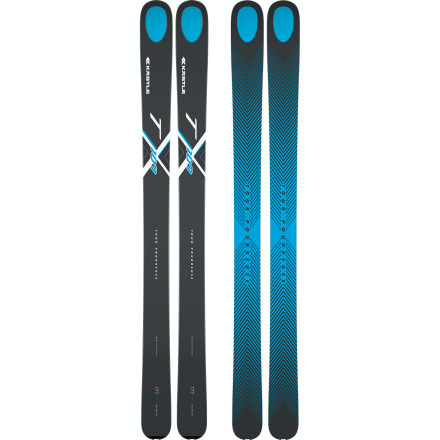 Videos
These days, everyone is itching to ditch the lifts and duck into the backcountry. Most skiers simply slap a pair of AT bindings on their heavy resort skis and slog away in the mountains. The Kastle TX107 wasn't designed as a resort ski, though—this is a purpose-built touring ski designed for uphill speed and downhill flotation.
At first glace, the shape of the TX107 might strike you as downright traditional, but on further inspection its subtleties begin to stand out. The tip features Kastle's proprietary Hollowtech technology, which means that part of the tip was cut out and replaced with a plastic insert to save weight and reduce tip vibration and slap. Traditional camber gives you precise edge control underfoot, and the early rise tip profile helps you bust through crud and float to the top of deep powder. Kastle's designers recognized the perils of hooking your tip in choppy conditions or catching your tail in tight terrain, and they addressed the issue by moving the shovel contact point just forward of the widest part of the tip and rear contact point just behind the widest point of the tail.
At the heart of this scalpel of a touring ski is a wood core, sandwiched between multiple layers of fiberglass and a fast base and capped with a tough topsheet. Sandwich-cap construction gives this ski consistent flex, good torsional stiffness, durability, and more than ample power transmission to the edges. Tip the TX107 on edge and it drives through every turn with a certain unshakable smoothness. The single-radius sidecut eases into the first part of the turn and there's no skipping once the ski is flexed and no looseness when you're exiting the turn.
Kastle divides its skis into a variety of inbounds and out-of-bounds categories. The TX family is a collection of backcountry touring skis designed for everything from randonee racing to guiding to sniffing out powder stashes. Although the TX107 shares its core construction, single-radius design, hook-free tip and tail, and Hollow Tech technology with its TX brethren, it is the widest and most rockered of the bunch. Reach for this ski when you're on a mission to hunt down powder under your own power.
Sandwich cap construction with a Karuba woodcore
Single radius sidecut
Early rise tip with traditional camber underfoot
Hook-free shovel and hook-free tail
Hollowtech cutout at the tip