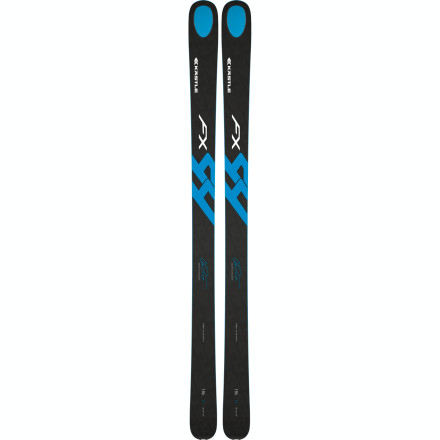 Videos
Developed by team athlete Chris Davenport, the Kastle FX94 Ski aims to please, whether on powder, hardpack, crud, or corduroy. Because face it: those fat skis with 100mm+ waists don't love the bulletproof stuff. And the FX94 has Titanal sheets on top and bottom for stable, chatter-free speeds and torsional stiffness for rocketing edge-to-edge. A mid-fat waist accommodates pow and hard stuff, because that's what all-mountain dimensions do. ABS sidewalls, a full wood core, and sandwich construction transfers power like a mofo, and the early-rise Hollowtech tip prevents tip-dive and delivers stability without added weight. Naturally, this middle-of-pack all-mountain freeride ski has a crowd-pleasing do-it-all sidecut radius. It really is an overachiever, come to think of it.
Early rise rocker profile
Traditional camber underfoot
Sandwich and ABS sidewall construction
Ash and silver fir wood core
94mm waist
Titanal top and bottom sheet
Hollowtech tip
Hook-free shovel and tail
Medium-large radius sidecut
UHM sintered base
Hi Im thinking to buy these as my touring skis. I have Nordica helldorado 193 and I absolutely love them . Best ski I every have,but they are too heavy for touring . For touring I'm using K2 side stash too heavy for longer trips t. I want to go lighter. What size you will recommend to me ? I ski 35 + years aggressively ,I like speed ,bumps ,trees , I used to race but now I just enjoy the mountains. Thanks Jan
These skis are going to be much too heavy to be used as a touring ski weighing 2200 g/ski in at 186 cm. They have a thick sheet of titanal metal in it, which makes them quite stiff and is the bulk of the weight. I put about 10 days on a pair of these last season and they rip everywhere, and are speed demons!
Get Ready to Rip
Familiarity:

I've put it through the wringer
I am 6 ft, 185lb, been skiing for 20+ years and former racer that prefers bumps, trees and snow. I used to ski on the MX88 (178cm) which I LOVED - great for GS turns and narrow enough to mess around in bumps. After a few years, it felt like the ski had lost it's spring/mojo and I wanted something that was a bit softer in tip/tail to more easily float over crud, same stability at speed and a little more under foot to handle sub 6" snowfalls without a need to demo. Lo and behold, I discovered the FX94 and bought them without demoing (scary). I'm glad I did.

My first day on the FX94s was a little freaky...they are like bugattis - fast, firm, damp, grippy and much more comfortable at speed. Once I got used to that and the extra 8cm, I cannot go back. They ski through anything, they track like a GS ski, they're relaxed on tip/tail so you can get in/out of trouble pretty easily and they will go as fast as you want them to while still being rock solid.

I'm a die hard Kastle fan after these two skis and would recommend the FX94 to confident, strong, aggressive skiers who want a ski that will cover 85% of days on snow (barring big snow days when you need a fattie to ride).

Enjoy!
Awesome Ski
Familiarity:

I've used it several times
I'm 5'10" and 165 lbs. Just bought the FX94s in 176cm with Kastle bindings and took them out on the slopes in Northern Japan. It took about 1/2 day to get use to the turn radius (i'm use to a very short turn radius) but after that I fell in love with these skis. I skied three straight days and they just kept getting better. Now all I want to do is get back on them. Carved really well on the groomed runs but really cut through the crud and powder with ease. $1200 is a lot for any ski so if you can wait to get them on sale then I would buy them quick. The best skis I have been on and I have been skiing for 40+ years. Highly recommend that if you demo them, do it for a couple days. These skis only get better the more you ski them. Cheers
How do these compare to the Bonafides and the Rosi Experience 100?



Looking for a ski for hard, ice off piste conditions at Squaw. Don't care how they do in powder, have better skis for that.
Tom I love the fx94 more so than either the bones or e100 but for their refinement and versatility off piste. Awesome between storms weapon especially if you aki a lot of piste.Edge hold is solid but if you want grip on ice go narrower like an MX88 or fx84. Check additional reviews over on epicski

Go luck
Best ski on the planet?!?!?!
Familiarity:

I've put it through the wringer
Probably! I wrote a lengthy review but accidentally deleted it. so heres the brief version.these are the best one ski quiver on the planet if you know how to ski. they reward good technique. size down if on the fence. i ski the 176 need its all i need! i really think the 186 is only for really big guys, or the absolute fastest skiers on the mountain. kastle is making the Ferrari of skis!!!
a 1200 dollar ski that is sold out, but...
a 1200 dollar ski that is sold out, but has no reviews?!?! what gives?! anyone have beta?!
Best Answer
Mathias,



That's a great question. This is purely a guess but I'm thinking that it's early season and any customers that provide a review on this might be waiting until they get 10-20 days in on these suckers and get the chance to ride in a variety of conditions.



It's just a guess but I know here in Utah our snow coverage is bleak right now and I'm sure as heck not taking out my nice gear right now.



I'd hang tight and hopefully we'll see a bunch of reviews on here about the end of the month and into February.



Jared D.

Gearhead

800.409.4502 ext 4055
Jared, I just had my first day on these, at 5'9" on the 176.... WOW!!! Absolutely killed steep double black bumps on Deep Temerity at Aspen Highlands today! So Light, and powerful, agile. Really fun on groomers... not quite the g-force as the MX83. But super stable and great edge hold. Looking forward to getting them in softer/deeper snow. everything I expected and more... fun from the first turn... will also wait to write a full review!!!
Kastle FX Series with Chris Davenport