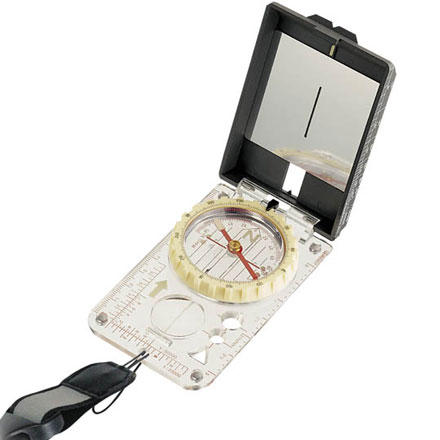 Community Images
Kasper and Richter and the BRK Mountain Rescue Service give you a super durable sighting compass that you can take on wilderness explorations and ski tours—the Alpin Sighting Compass. Along with adjustable declination and a triple sighting system, the Alpin Sighting Compass has an unbreakable polished aluminum sighting mirror and a thermo-elastic, fluid-filled capsule. The Alpin Compass' flexible capsule prevents bubbles that often occur with temperature changes and hairline cracks that appear after an accidental drop. The sighting mirror's solid metal housing and a durable ABS lid put up with trail abuse, while the built-in clinometer takes the guesswork out of slope measurement on ski tours. A luminous bezel makes readings easy on the eyes.
A good tool for a woodsman
Familiarity:

I've put it through the wringer
IMHO, the Alpin compass has a couple of distinct positives over its competitors that may sway a woodsman/outdoorsman to choose it over others:

1. I like that the the mirror is a highly polished aluminum hence making it more resistant to breakages.

2. The dial felt more pronounced and hence easier to grab and rotate for my big clumsy hands.

3. Setting declination is very easy to set as you just need to turn the inner rotary (don't need those tiny keys to turn, imagine doing that in the dark!)

4. The compass needle housed in a liquid filled capsule is responsive, and the numerous sighting options provide options for orientation in different situations.

Couple of cons include:

1. the scales on the inner rotary dial don't match the scale of the outer dial all the way through.

2. The luminescent ring, albeit useful for night navigation, required me to hit it with my headlight every 5-10 minutes for the numbers and scale marks to be legible.


I bought this primarily for ski touring and have used it a few times. Seems like it is going to hold up well. Everything on it works great including the clinometer. So far no complaints. It has lots of features that I won't get to use till summer backpacking.
Great for Wilderness Navigation
This compass is loaded with the features I was looking for in a compass: sighting mirror, declination adjustment, measurements in both cm and inches and a magifiying lense (the eyes can use help reading the map details). Its nice to have an aluminum mirror - no worries about it breaking just when you need it the most. Its nice to have a flexible capsule - I guess time will tell about how durable it is. I wanted a compass that I could easily use to sight landmarks in the field and draw onto my map. This compass is easy to use, and the luminous dial is easy to read.

In some respects, its more compass than I need - I never use the clinometer, for example.

The declination setting requires the use of a special plastic tool that is included. Some compasses use a small screwdriver which allows you to use a knife blade if you lose the screwdriver. I haven't figured out what to do if I lose the plastic adjustment tool that's needed with this compass. That may be a problem in the future.