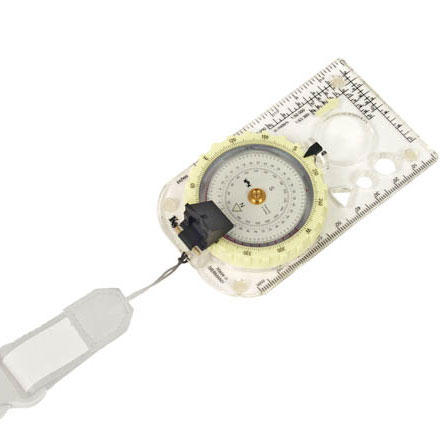 Detail Images
Kasper and Richter made the Alpin PRO Sighting Map Compass with a flip-up prism optic, so you can either use this compass like a standard baseplate with a two-degree resolution rotating bezel, or you can flip up and take a direct bearing reading off of the internal compass card with one-degree resolution and half-degree accuracy. The thermo-elastic capsule flexes so it won't accumulate bubbles when the temperature changes or develop hairline cracks if you accidentally drop the Alpin PRO Compass. Use the clinometer on the reverse side to figure out slope degrees when you're ski touring. *Nylon carry case included.
What do you think about this product?
Have questions about this product?
First off, let me say that my eyesight is not what it used to be - I need 2.0 power reading glasses. Having said that, the reading of the azimuth through the prism was not possible for me without glasses, and was difficult with glasses. A larger prism would be better. This compass functions as a card compass, but pretends to be a baseplate compass - I think it falls short on both counts. It is not feasible as a baseplate compass because the compass card blocks any vision of the underlying map, and the view of the azimuth through the prism is difficult unless one has excellent vision. The clinometer on the reverse side is labeled as "declination", there is however, no declination correction that can be set. It seems they used part of another compass to get the clinometer functionality in there. I wish I could have something better to say about this compass, but it is what it is. Oh, and I almost forgot - the compass has graduations for mils, but no way to read them through the prism - one can see them by looking down from the top, but what good is that? It would be better to not have them at all if they cannot be viewed through the prism. On top of all that, the directions that come with the compass are really poor - it seems that they were translated to English by someone who doesn't speak/read/write English very well, and it shows. Sorry to be so negative, but I have to tell it like it is on this compass.
No declination adjustment? is that really...
No declination adjustment? is that really important if you know your bearings; USE; Hiking
Best Answer
Nope....sort of. Not technically an adjustable declination, but the outer ring on the bezel will allow you to compensate for it visually. If you don't know your declination, you can still follow the magnetic bearing that you read to a target on the ground, but it's going to mess you up on the map or in following someone Else's directions. Still, it's something that you really should know. That doesn't necessarily mean that you need to have it set on your compass, just that you have to account for it in the math.

Read this-

http://www.ussartf.org/compass_basics.htm

Rule #1- know how to read your compass and map. It's all in the user.

All that said-The flip-up sight and ability to take a reading on the compass card is a nice feature-makes taking those sightings easy and accurate.
Everything you need to know about declination corrections:

TC = MC + (+/- declination)

TC = True Course (Map Course, True Azimuth)

MC = Magnetic Course (Compass Course, Magnetic Azimuth)

declination = East declination is positive, West decl. is negative

A little bit of algebra yields:
MC = TC - (+/- decl)

From these equations you can get these nuggets of wisdom:

"Declination East, Compass least"
(Magnetic bearings alway less than true when decl. east)

"Declination West, Compass best"
(Magnetic bearings always greater than true when decl west)

"Empty Sea, Add Water" (MTC AW)
(map-to-compass, add west, or again, MC = TC - (-decl) )

The same considerations hold true for Grid North, except the angular difference
there is called "convergence".

TC = GC + (+/- conv)
GC = TC - (+/- conv)

Any questions???