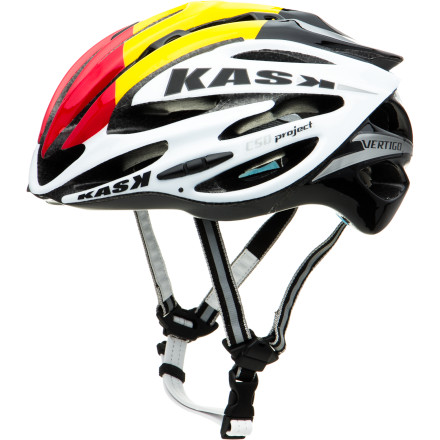 Detail Images

Videos
When you close your eyes and think of Italian contributions to cycling, the obvious imagery is filled with flashy bicycles, bright colors, and bold riders. But, you wouldn't think to envision an Englishman winning the Tour with his eyes set on the 2013 Giro. However, the Brits at Team Sky have been utilizing the forward-thinking advancements of the Italians with everything from a fleet of Pinarellos, to Giordana kits and skin suits, and even with the Kask Vertigo Helmet. That's right, this is the helmet that helped position the top two podium spots in the 2012 Tour, only now, Kask has provided colorways that accommodate your national pride with its Vertigo Special Helmet.
In order for us to dedicate ourselves to a helmet, it has to meet three criteria: Safety, comfort, and fit. We know that this sounds rudimentary, but as you've surely experienced, this harmonious trifecta is rarely achieved. Not so with the Vertigo. Starting with fit functionality, Kask incorporated its signature Up-N-Down adjustment system in the Vertigo helmet. This system relies on a dual-hinge strap network that cradles the nape of the neck. With it, you're able to adjust both the helmet tension and up-and-down positioning with either a central ratchet wheel or a finger push system. Additionally, the Up-N-Down system has been paired with an internal, non-slip liner that adds to the confidence of a consistent positioning. Furthermore, the chin strap also uses an original Kask design. Not only does the strap use a washable eco-leather pad, but it also relies on what Kask calls its Self-Adjusting Lateral Divider. This feature eliminates the finicky adjustments of accommodating the straps to your ear lobes. Now, you can simply clip-in, and the Lateral Divider naturally adjusts its position comfortably around your ears.
For safety, the inner shell of the helmet has been made from compressed polystyrene with an in-molded frame. This frame construction method combines the polycarbonate shell and the polystyrene inner for an enhanced and well-distributed shock absorption. The strengthened inner frame of the Vertigo also serves to keep the entire helmet from breaking into pieces upon impact.
To address comfort, the Vertigo is equipped with 24 vents throughout the front, sides, and rear. This system creates a steady stream of fresh air flowing from fore to aft. Essentially, the airflow controls the temperature and effectively wicks away moisture. Additionally, the chinstrap has been constructed from the breathable, hypo-allergenic, and washable Coolmax fabric. Kask used this abrasion-free material strategically, as the jawline is prone to chafing after close contact over the course of stage. And further along the lines of gentle contact, the internal liner features an antibacterial, soft-to-the-touch, and smooth gel padding.
The Kask Vertigo Special Helmet is available in the sizes Medium and Large and in the colors Belgium, Germany, Italy, Pois, Sprinter, Tour, UK, and USA.