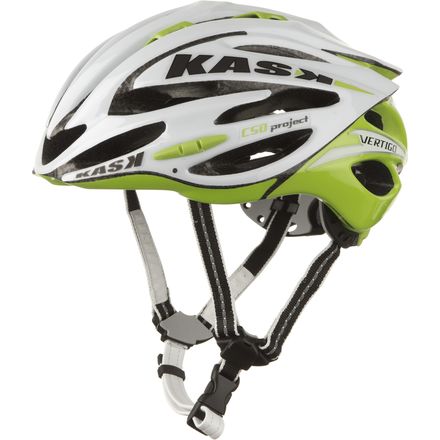 Colors

Detail Images

Videos

Community Images
Description
Get comfortable, ride faster.
Pull on the KASK Vertigo Helmet, marvel at the way the Up 'n' Down retention system cradles your cranium, buckle the chin strap, and set out on your ride. Kask's self-adjusting lateral divider means you won't need to make any adjustments under the ears -- the divider does it automatically. The Eco-Leather chin strap is washable, anallergenic, and phenomenally comfortable. Between the perfect fit, and the feathery 270 gram weight, you'll nearly forget your'e wearing a helmet.
In-mold technology with inner strengthening frame makes the Vertigo incredibly strong while reducing weight

Non-slip gel grippers on the Up 'n' Down adjustment system ensure everything stays in place

3D Dry Padding is comfortable, and extremely breathable for long days in the saddle

Reflective stickers increase visibility to motorists

Share your thoughts
What do you think of the
Kask
Vertigo Helmet
? Share a...
The helmet is nice. Backcountry=awesome!
Familiarity:

I've used it once or twice and have initial impressions
Love the helmet. Looking forward to some serious riding.

But, Backcountry was great. Had to return a previous helmet because it didn't fit. They were great on the phone, excellent with the return, and made sure I got the best deal on the helmet that fit.

Highly recommend this great online site.
Perfect Road Cycling Helmet
Gender:

Female

Familiarity:

I've put it through the wringer
I am an avid road cyclist and this is by far the best helmet I've ever worn. It is not only very stylish...but it is also very comfortable. It has padding in all of the right spots and I love the faux leather chin strap (easy to wipe clean) the rear adjustment dial is easy to use and you may even fit your ponytail through. As for sunglasses...I have Oakley Radar Lock...fit fine with helmet and you can place them upside down into the vents on top of your helmet until ready to wear (no problems) Overall I'm extremely happy with this helmet and highly recommend.
Disappointed...doesn't fit with glasses
Familiarity:

I returned this product before using it

Fit:

True to size
I really wanted to like this helmet. It was incredibly comfortable when I put it on, but the happiness was fleeting...I ran into the problem another reviewer described with sunglasses. The retention system of the helmet sits right in the path of the arms of every single pair of glasses I own. Sending it back now...
Perfect fit
Familiarity:

I've used it several times
used the chart and ordered a size M awesome fit, adjust in most directions and the vents work well, I did not have an issue with my glasses, but this was just a personal experience, found them to be one of the most important and best purchase ever.
My Primary Road Cycling Helmet
Familiarity:

I've put it through the wringer
I have a quiver of helmets that I use for road riding - both triathlon training as well as competitions. If I am on my road bike, and not on my tri bike, then I am using my Kask Vertigo (mine flies the Italian colors). Overall, I really like the helmet. If you could try on road cycling helmets before purchasing, this is one you'd want to try on. Problem is, you don't find many Kask helmets in shops. You mostly find them online. So trying this one on really isn't an option.

Why do I raise the issue about trying on this helmet? You are going to see in many comments that most people focus on the retention system in the back of the helmet. This retention system is a set of sticky pads that sit on a skeletal framework that grip the back, lower portion of your skull. Once you have the pads properly positioned, you then twist the knob to cinch it down. If you've got a big noggin like me, getting the sticky pads over the back of your head can be difficult. If you wear a headband under your helmet, then you are going to have even more of an issue getting these pads in the right spot. But if you can get it on, I've found the fit to be terrific. Honestly, I love the helmet and it is terrificly ventilated for hot, summer riding.

Overall, I really liked the purchase.
Frustration
Familiarity:

I've put it through the wringer
I was super excited to get this helmet. I was long over due for a new helmet. I had been riding the Giro Air Attack and while it is a fantastic helmet and fits my head very well it is too hot to wear during a Phoenix summer. When I first put on the Krask I was amazed how well it fit and how easy it was to get snug on my head. I went out on my first ride thinking I am going to love this puppy!!! My bleeping glasses would not fit onto my ears. I wear prescription sports glasses and I could not get them all the way back on my ears so that they were snug against my head. The ear part of my glasses kept coming up against the retention system of the helmet. For the next several weeks I tried anything I could to get them to fit well. Can you imagine how annoying it is to be riding along and have to keep pushing your glasses back up against the bridge of your nose? I could not even do that. Finally, I just gave up and thought to myself, what a waste of a couple of hundred dollars and what a piece of crap helmet. How is possible that the designers of this helmet not realize this was a problem. I read a ton of reviews online and even seen you tube videos that discuss this issue of glasses fitting correctly. I am so disappointed. I have been riding since 1985 and this is the first helmet that I have not worn for at least a few years before getting a new one. This one did not even last two months on my head.
Great Helmet
Familiarity:

I've used it several times
I have had a few helmets dating back to my first Greg Lemond Giro Helmet when we first started riding with helmets. I have had a Rudy Project "Slinger" and most recently a Giro "Atmos." After I put the Vertigo on for the first time, I knew right away that is was a great helmet. I barely noticed that it was on my head when I was riding. The rear strap grips the lower part of your skull so it gives a snug fit more like a hat. As the sales guy mentioned as well from Competitive Cyclist, "when it gets to this level of helmet it is about style." This helmet also looks great on your "cabeza" as well, so you are styling on the road.
As Advertised
Gender:

Male

Familiarity:

I've used it once or twice and have initial impressions
I just purchased, received, and put this helmet to the test. I read the other reviews and was pleased to see that the fit was as described (runs a bit small). Also, my Oakley Path's fit perfectly with no issues both in use and placed on top of my helmet. I realize some other customers did not have the same luck for whatever reason. Not sure what the difference is but I have no complaints. As a matter of fact I have no issues at all with this helmet or the price. This is a product where you get what you pay for in my opinion. My last helmet was a Giro Aeon size M 55-59. No fit problems with that helmet either. This helmet is definitely more comfortable and seems to be built much better. I purchased a size L 59-62 per some of the reviews. That recommendation was right on point. CC processed and shipped the order in a timely manner. Very positive experience all around!!
I'll say it this simply....saved my life
Familiarity:

I've put it through the wringer
I was wearing a Vertigo when I went head first over bars from out of saddle sprint at 32mph last Saturday in Florida state road race championship.. Landed on my head. Helmet cracked in half. I suffered a compression vertebrae fracture but never lost consciousness. Truly believe the helmet saved me from concussion or much worse. Just ordered a new one and wouldn't wear anything else. Super comfortable and battle tested.

Can't say the same for my Dogma 65.1, which snapped into four pieces.
Kask Vertigo - Nero Mat
Gender:

Male

Familiarity:

I've used it once or twice and have initial impressions
Looks amazing. Fits perfectly. A couple nice features like the up/down adjustment and reflective chin straps....

But I'm having the same issue with glasses (oakley radar lock) sliding in the vents...it just doesn't work. Also the stickers literally started peeling within minutes. They are some sort of foil that have sharp edges (might just be for the nero mat version) and snagged on the inside of the provided helmet bag. Then the next day just touching the helmet with gloves, they would catch on the edges of the stickers. Have repeatedly moved them back in place. It's only a matter of time (like 4 or 5 rides) before they fully peel off.

Overall I'd give a 3.5 if I could. Would be a 5 with vents that accommodated glasses, stickers or decals that didn't peel in minutes and ideally some sort of lazer like aero lid.
Best helmet ever
Familiarity:

I've put it through the wringer
This helmet is awesome, I agree with Shannon, it is the Cadillac of helmets. I put mine on and forget it is even there. I like the retention system, it works well and the gel grippers make it comfortable. My Oakley Radars work fine with this helmet, not sure what the other complaint is about. I usually put my glasses on before tightening up the helmet. While the price is a bit more than other top of the line helmets, it felt better on my head than a Giro Ionos and Specialized Prevail.
The Cadillac of Helmets
Familiarity:

I've put it through the wringer
I have owned many brands of helmets in my cycling lifetime and the Kask Vertigo gets my vote for the most elegant design, comfort and fit. If this helmet were to cost $500 I would still feel the high price is justified. I wear a large in every brand of helmet and the large in the Kask Vertigo fits just like all my other helmets.

"If you have a $10 head, go ahead and wear a $10 helmet" I am not implying that this helmet is safer than others but my old motocross coach used to tell me that. I thought it was appropriate.
Item # KSK0001

Kask Vertigo Helmet
Not necessarily for everyone
Why would a helmet manufacturer that throws a huge amount of weight behind the Sky Professional Cycling Team, not take into account that nearly all of their riders are also Oakley sponsored? What I mean, is that if you are a dedicated Oakley wearer on the bike, then you'll need to look elsewhere for a helmet. I really wanted to like it - I really did. It fits great, is pretty comfortable, and has a great retention system. Unfortunately, I have multiple pair of Oakley Radars and they do NOT fit under this helmet. I was forced to stretch the arms of my glasses to fit over the retention system in the back, and invariably, this caused extra pressure (and eventual pain). In addition, the vents of this helmet will not hold glasses (if you sometimes take them off while riding and need a place to stick them).

I know that my choice of cycling glasses shouldn't be a reason to abandon a helmet, but I'm far more invested in Oakley than I am Kask. Hopefully this will help others considering this helmet. Back to Giro for me...
sizes run very small. try one on at a bike shop before you purchase. they look great!!!!
What sizes does the helmet come in?
What sizes does the helmet come in?
these sizes run very small....a large will not fit me even though the sizing chart says it will. had to send back.
I expected a lot from this helmet for this price and got it. Excellent Fit and very comfortable and light. It is also very quiet when compared to my Giro Ionos.
Unique, minute details like the hypoallergenic gel pads on the retention system, to the white "eco-leather" (faux leather) chin straps, and reflective piping down the nylon thermo ear straps, all contribute to a an overall helmet package that is every bit as well thought-out and constructed, as it is totally PRO at every level.