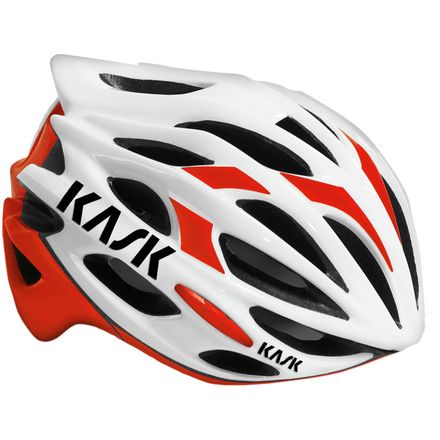 Detail Images

Videos
Description
Mint never felt so fresh.
True to its namesake, the Kask Mojito Helmet is a fresh new take on a head protector. While so many companies are moving toward more subtle rounded designs, Kask draws from the pro issue Vertigo to construct a helmet that turns heads with its 100% Italian style.
The Mojito is fabricated with an In-mold construction using expanded polystyrene to reduce pressure on the head upon impact. The fit system is Kask's Up-N-Down ratchet adjustment that allows the helmet to sit below the occipital bone for optimal fit and comfort. The liner features a non-slip gel to ensure your helmet doesn't slide as you move your head around. Twenty six air vents allow air to move freely and help pull perspiration away from your head to keep you cool.
Reinforced In-mold composite construction
26 Air vents
Removable Coolmax pads made from Kask's 3D Dry system
Up-N-Down hinged fit adjustment system
Made in Italy
if it fits...
Familiarity:

I returned this product before using it

Fit:

True to size
The pros: great looking and nice fitting helmet. runs true to size. love the design and feel.

The not so goods: This helmet is heavy for the price. Replacing a cheap-o ($40), 7 year old Giro and this helmet is about the same weight, if not heavier.

The front ear strap ran over my front ear lobe no matter how the helmet or strap slider was adjusted. this would have rubbed/chaffed on a ride. Giro helmets (same size) all fit me fine without this issue.

Smith Pivlock V2 lenses fit nicely under the front of helmet, but the arms of the glasses rest on the rear plastic adjustor of the helmet. there was no way to avoid this and I suspect others have this issue. Not a huge deal, but i'd prefer my glasses to rest on my head, not a piece of the helmet.
Fantastico!
Familiarity:

I've put it through the wringer
Can't feel it while your suffering. Doesn't make you look like Toad from Mario Bros.
sz L, wear a 7 1/4 in New Era baseball fitted caps.
I'd buy another in a heartbeat....even at full price.

2nd one
Familiarity:

I've put it through the wringer
I'm writing my review on the purchase of my 2nd one. There is only 1 real reason to order a 2nd one, and the fact that I'm ordering the same one should speak worlds! Split like its supposed to and protected the nugget. When riding super comfortable and plenty of air.
Great Look!
Familiarity:

I've put it through the wringer
Great helmet, best I have ever owned. Lightweight, great ventillation, and perfect fit. Also looks great!
Great Helmet!
Familiarity:

I've put it through the wringer
I had the Mojito for about 2 months before bouncing it and my head off the pavement racing. It took the impact perfectly, cracking and protecting my head as one would hope a helmet would. Prior to crashing it, the helmet offered a superb fit as it is comfortable, light and well vented. I have already purchased a direct replacement.
Can anyone who owns one of these tell me if the straps thread through the retention system in the back? I received one in which they don't and don't have the option to do so, but I see online photos in which they do, and I could swear I've seen the same thing in local stores.
Best Answer
Here's an answer to my own question: Sometime in 2014—gauging from the dates in the Mojitos and other Kasks I've now checked out in local stores—Kask apparently ran out of the retention system that allows for the attachment of the straps in back (it has flanges that you can work the straps into). For instance, I looked at two identical white-and-blue Mojitos; the one from 1/2014 had it, and the one from 8/2014 didn't. The helmet offers a superior fit (and so seems safer) and easier on and off when the straps attach, so unfortunately the two that I bought from CC at a terrific price are going back.
Where did you buy one where the retention system had the plastic slots to fit the straps into?
Eve—I bought the helmet at R&A Cycles in Brooklyn. But it's hit or miss there—some of the Mojitos they have in stock have the older retention system, and some have the newer one.
Great fit, awesome style
Gender:

Male

Familiarity:

I've put it through the wringer
Since there is little information on safety to compare helmets and they all meet certain safety requirements, choosing a helmet comes down to fit, comfort , and style. This helmet ticked off all the boxes for me. First, a helmet has to fit comfortably and this one had a wide range of adjustment. I particularly like the way the retention system moves up and down behind the head-positioned properly, the helmet fits snugly on your head even without the chin strap clasped. There is great airflow and the rear vents seem to pull air through the helmet providing excellent cooling. Materials are great and craftsmanship first class. Lots of colors to choose from and replacement pads are readily available. I like the smaller size of the overall helmet-some look huge on your head but this one looks great. All together a good package. To address the weight issue mentioned in other reviews-I think it is simply a case of a corporate boo-boo on the part of Kask. Their website lists the helmet at 220 g in size M (as does CC in their description), however the label in my size M states a weight of 275 g. Makes sense when you see a pic of one on a scale showing a weight of 276 g. I tried to make contact to Kask through their website about this but no response. Bottom line, for me I'm not sure I can tell the difference in 30-40 g on my rides of 30-50 miles. I try not to get bound up in the numbers-this helmet fits me great, is comfortable, has good airflow, and looks great.
Great fit
Familiarity:

I've put it through the wringer
The best fitting helmet I've worn. Sits down a little further than some that look like they're perched on the top of your head. The rotating strap allows you to adjust the helmet so it holds on to your head. Sharp looking too if you want a little bling. I got the white/orange.
When will you have in stock the new mojito flag edition? The RSA and USA versions look great!
Zac, THe new colors typically show at the fall shows then are released alter in the fall. As of 9/1 we haven't heard a ETA yet.
Should I start with a M or L for a 58.5...
Should I start with a M or L for a 58.5 cm head?
If you're over a 58cm you will need to go up to a large.
Best Answer
Long after the fact, but as another data point I sit just shy of 23 inches (58cm) and the L fits me great.



This helmet looks so good, the hardest part is choosing a color! Almost want to buy multiple for kit matching.
Makes you look fast
Familiarity:

I've used it several times
This is a very sharp looking helmet. It truly makes you look faster! ha. Its pretty comfortable and I was impressed with the range of adjustment. Very open to allow your head in nicely, then sinches down snuggly. One thing to consider. If you are like me, I like to wear a thin sweat band on my head, typcially this doesn't bother the adjustment system on helmets, but the up/down adjustment feature on this helmet interferes with the head band. Not a dealbreaker, but if you use a head band, its something to think about.
Nice Helmet
Familiarity:

I've used it once or twice and have initial impressions
It is a nice helmet, well made, really like the leather like bottom part of the strap, but is not as good looking as the one that the SKY team is using.

The weight is about 270 grams, but the main problem for me is sizing. I order the large, following their recommendations and it does look huge on me.

So I am returning it and ordered the POC octon instead.
What's the main difference between the...
What's the main difference between the Mojito and the Vertigo? Do they both use the same retention system? I really want a Vertigo for the retention system, it's one of the best helmet I've put on, but the price does not convince me.
Best Answer
Hey Erick Brian-



There are a couple of differences between the Vertigo and the Mojito.



The Mojito is the lightest helmet in the KASK range weighing in at 220 grams. Compare that to the Vertigo at 270 grams. The Mojito uses 26 air intakes, Vertigo 24. The difference in these vents is based around the best aerodynamics that the helmet can offer.



As far as the retention system, the Mojito offers first, a quick release buckle, and a hinged adjustment systems that allows for both size and up/down adjustment, which together comfortably cradle the nape of the neck. The helmet size can also be adjusted by using either the dial or finger push system. I see that is something that you may be interested in so retention wise, you are looking very similar.



I have heard from numerous consumers they do fit a little different. Some prefer the feel of the Vertigo to the Mojito and vice-versa.



If you have any other questions or concerns do not hesitate to contact me directly at slukas@backcountry.com, (888) 276-7130 ext 4309.



-Sarah




I don't know how much the Vertigo weighs, but my guess is more than the listed weight on this website. The Mojito is certainly not 220g as listed, but even the sticker in the helmet lists it at 276g...that's a pretty big difference when you consider you can get a Bell Gage or Giro Atmos for less money and less weight. I think CC has the EU weights listed on the website.
Weight might be a deal breaker
Gender:

Male

Familiarity:

I've used it once or twice and have initial impressions
This is a gorgeous helmet in black/lime, and the quality, fit and finish is outstanding. When I started looking for a new helmet, I wanted to find something that was comfortable, looked great, was light, and unique. I thought I had found it in the Mojito, and actually it covers all the bases but one...weight. Maybe the EU version is 220g but the USA version tops the scales at 276g for the medium! To me that is quite heavy for a $200 helmet. I currently use a Prolight in small and it is 175g. I went for a 45 mile ride yesterday with the Mojito and I really noticed the extra 100g on my head by the end of the ride. My neck is still a bit sore as I type this. Another aspect I noticed yesterday is the retention system. It works great, but again, I'm used to the uber-minimalist Prolight Roc Loc SL (piece of elastic) system, and one does not realize how "airy" that system is until you have this giant (in comparison) retention system on the back of your head. Although the helmet was very ventilated, I did notice that the KASK retention system caused some sweating issues that I'm not used to.



I know that some folks have had issues with Oakley's and the Kask retention system and I can see how that can be a problem. I wear Radarlock Paths and it does take some effort, but it is doable. Also, I have no problem fitting the Oakleys on top of the helmet either right side up or upside down. I have an oval head and Giro's have always fit me well. The Prolight has been the best fitting helmet I've ever worn (typical...most either love the fit, or hate it). The Mojito fit very well; however, I think that it would fit someone with a bit rounder head even better.



We cyclists are a vain bunch, and I really want to like this helmet because it's just so damn good looking. Because of my vanity, most things noted are not deal breakers. However, the weight is something I'll have to really think about. I may have to end up like everyone else I know and buy an Aeon.
Best Helmet I've ever worn
Gender:

Male

Familiarity:

I've put it through the wringer
I tend to bounce from helmet to helmet, trying as many of the different options out that are available. From all of the helmets that I have worn, this is hands down the best one, and I was excited to see it come available on the site. In addition to its good looks, the retention system is secure and easily adjustable to accommodate a variety of head shapes. I'll admit that the leather chin strap seemed like an unnecessary embellishment, but after having had one for the past few months, I don't know that I could go back. I wear a medium in Giro, Lazer, and Louis Garneau, and the medium fits well in the Kask.
Item # KSK0009 Kask Mojito Helmet
when will a large black be available?
when will a large black be available?


The first shipment of the Black/Large is expected to arrive the first week in March. This is admittedly an estimate of when the shipment is expected, but setting up a back order will reserve one of the first helmets to arrive. We do not charge for back orders until the item ships out to you, so we can make any changes that you might need to the order right up until it ships.
This helmet is super comfy and well made. I had a Giro aeon before and this one is much better. The airflow is great the strap in the back is comfy and easy to adjust. The leather chin strap is nice and soft and also has a high end look to it.