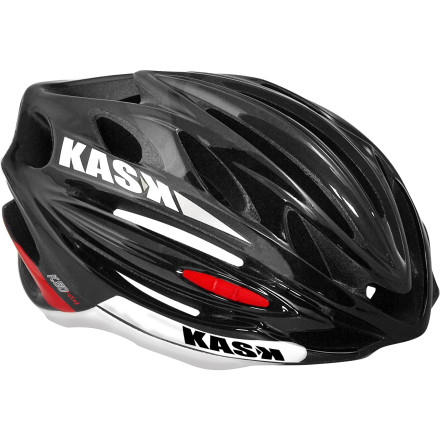 Videos

Community Images
Quickly get the perfect fit when you dial the Kask K50 Evo Helmet's 3D Up-N-Down adjustment system. Now you can ride without annoying helmet migration, pinching joints, or—thanks to large, air-moving vents—a hot head. In the unlucky event you left your jungle-cat reflexes at home and a squirrel happens to take it life by jumping into your front-wheel's spokes ... sending you ass-over-teakettle in perfect head-first, lawn-dart form, the impact absorbing in-mold construction will help prevent any serious injury.
Double-pivot Up-N-Down adjustment system, controlled by a central ratchet wheel, cradles the back of the head for a precise and comfortable fit

In-molded polystyrene shell and polycarbonate inner ensures a lightweight shock-absorbing structure

CoolMax removable and washable inner padding keeps you comfortable and the helmet funk free

Excellent fit, extremely lightweight...
Familiarity:

I've put it through the wringer
...and



It's already done it's job. I just bought the damned thing less than 2 months ago and I smashed my Calabasa against the pavement today. The shell and foam buckled and delaminated but my head is in one piece!!!!



Thank you Kask for preventing additional loss of my already sorry IQ.
Not my favorite
Familiarity:

I've put it through the wringer
I bought this helmet as I thought it would fit like my Vertigo, but it doesn't.

The helmet is tighter and doesn't sit on my head like the Vertigo does. The retention system seems bulkier and can interfere with glasses like my Oakley Radars, but works fine with my Salice 007. I don't hate it, as I would rather wear this than my Giro Prolight, but I will replace this helmet soon.
Brain love
Familiarity:

I've put it through the wringer
I love this helmet! It is super comfortable, light, secure, and looks sleek. It is so comfortable, I forget I am wearing a helmet. I have not experienced issues with the low drop and the fit of my sunglasses. I wear Smith PivLock V2 Max when I ride and have no issues at all.
I ended up returning this helmet. I loved how comfortable and well made it was, but because of the drop the helmet makes behind the ear, you can't wear a normal (straight arm) pair of sunglasses. As long as your sunglasses curve down behind the ear, you will be fine.
I use this helmet for mountain biking, road biking, and cyclocross racing. The vents are well placed for protection, I smacked a tree branch with it on and came away unscathed.
kask have done it again super style k50 evo
super light super up/down adjustment system fit's all heads
washable pad's and chin stap wick so well made
shell wraps all the foam all round and underside as well
best fitting out all helmet's i have had and i have had most
of them just feels so good ..well done kask,
Amazing fit but glaring sunglass problem
This helmet had the most secure and comfortable fit I have ever experienced. The Up and Down retention system really does live up to everything Kask says. I had absolutely no problem finding a perfect fit. Also, the quality of the helmet itself was some of the best I have every experienced.

BUT! There seems to be a glaring flaw with the retention systems design depending on your head size and sunglass choice. Of all my sunglasses that I tried *No-Name brand, Oakley, Smith* NOT A SINGLE ONE fit with this helmets retention system. The Up and Down comes quite low on the back of your head and as a result the ear stems clashed every single time. I was either forced to shove the stems under the retention and pinch my head or stretch them very far over where they then refused to move with my face.
Got the helmet today, bought it because of the price and because it might fit my odd head. Kask helmets are pretty roomy and fit rounded heads way better than anything i had tried before. Since I got the blue color i did not pay that much either.

The helmet is comfortable right out of the box, still need to try it riding but the 1st impression is super positive. Well finished, not heavy, really nice helmet.
the K10 uni-size didn't fit my 24" circ. block-head but this K5 in Large fits perfectly. Nicely made, really makes you appreciate the difference in Italian helmets, shoes, and clothing over anything made in Asia. Nicest helmet I've ever owned.
My wife bought this one. She was worried about fit, but with the two-way adjustment (up and down, or sort of higher on your head or lower to your eyes, and then the standard wider or narrower, it works perfect.). Got to love the made in Italy. Nice one. Well made.
The other reviewers were right...this is a serious "low profile" helmet. It sits low on the head and on the sides. FULL DISCLOSURE: I have girthy cranium at 24" and the LARGE fit perfect. but I would say if your head is bigger than mine...its not going to fit.

The "low profile" is perfect as it does not exaggerate my already enormous head. That makes me feel good. I despise "mushroom head".

The "up/down" and "ratchet system" work awesome in keeping the helmet comfortably snug in all the right places. It is for-sure the most comfortable helmet I've ever had.

I wish I could have got this in a different color, but the blue/white is OK (at $74.97 it's hard to complain). This helmet rivals most that are 2x or 3x the price.
This helmet is far more than I expected it to be. I have a slightly more narrow egg than round and this helmet fits like a glove. I agree with the below post of no "mushroom effect" whatsoever. It is light, very comfortable, and has plently of ventilation. I live in FL and it is very comfortable in our hot/humid weather. I am about 59cm and the large is perfect w/out any looseness or voids that I have been left with from other products that fit you round heads out there. Buy this, you won't regret it.

It comes with a soft pseudo suede chin strap cover, this was disposed of shortly after unpacking.
Used this helmet for a 580mile ride in California and it was extremely comfortable. It hugged the back of my head, it was very easy to adjust - most importantly, I could easily put my pony tail through between the helmet and the adjustment system. It is also very cool on long rides where the temperature is over 100F. Highly recommend it.
less dorky, most comfortable
Helmets fit so subjectively from brand to brand, but after trying them all, this K50 completely dodged the dreaded "mushroom effect," and was the lowest profile (neither tall, nor wide), and most comfortable helmet I've ever put on. So much so, it almost has a vintage profile to it, as it sits so low on the head. The Up-N-Down system is a sneaky, hugely versatile, and very secure system which cradles the top of the neck (instead of the back of the head), and ensures the helmet simply disappears when worn, yet keeps it in place on those mach 2 descents. Ventilation and Coolmax pads are top quality, as is the "100% Made in Italy" construction.

* vents aren't terribly sunglasses-friendly, but I'll survive
* I'm about a 57.5, and the Large provides plenty of adjustability, whether or not a cap is being worn