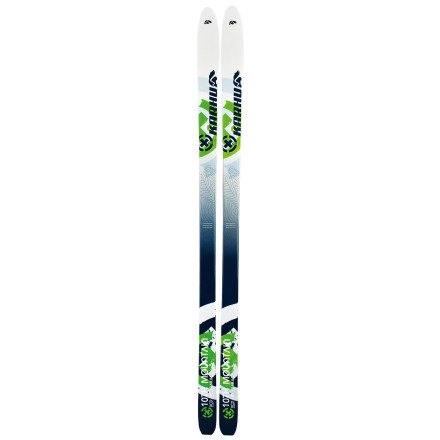 Unanswered Question
Any tips on tuning the edges without...
Any tips on tuning the edges without damaging the waxless base?
Hesitant to go up to a 185, let alone a...
Hesitant to go up to a 185, let alone a 195. I weigh 190lbs and I am 5'10". I usually ski a 175 downhill/tele. I want to use this ski for touring but also want to be sure that I can make turns. Thoughts?
I ski a 171 normally, just went to the Backcountry ski fest in ADK and took 185 demos out on a 14mile backcountry trip.they were perfect for me at 160 and 5'11 carrying a small daypack no real gear.they handle alot better, being a larger ski than i am used to, than i thought they would!
Write your question here...Having problems...
Write your question here...Having problems finding Karhu XCD 1th Mountain skis. anyone know where i can get some?
What size? 5'10" and 180-190 lbs.
Thanks
I just scored a new pair of XCD GT's in 195cm length, at RaggedMountain
Equipment, New Hampshire / ph# 603-356-3042 I looked everywhere too,and finally found them there.

185cm up to 175lbs / 195cm 175lbs +
Couldn't be happier with these skis...
I've done casual x-c skiing for about 30 years and ventured into more serious mountain terrain with backcountry skis for about 3. I started out with Rossi BC90s with voile 3-pin bindings and Merrill leather boots and this year upgraded to Karhu's 10th Mtn with Rottefella BC NNN bindings and alpina BC1550 boots. What an incredible difference. This setup (which the backcountry.com staff recommended to me) climbs much better and has much better stability and control coming down narrow trails through winding canyons. I was apprehensive about losing some glide while skiing on valley floors but even there they are a pleasure.
I recently bought this ski with the alpina...
I recently bought this ski with the alpina NNN BC 1550 boot and the Rottefella NNN BC Magnum binding. I plan to use this setup for general touring with moderate ascents and descents through both tracked and untracked snow. Is this a good setup for general back country touring? I plan on using the same trails as I mountain bike on int he spring fall and summer here in Flagstaff, AZ.
I was also considering using these as telemark/alpine skis. I am an accomplished alpine skier and have only a little telemark experience with almost no real skill. Would I need a beefy boot and binding to be able to do that or could I make this work in alpine conditions and steep ascents?
Best Answer
Yes to the first question. An accomplished old school "skinny ski" "pin head" would have little problem cranking out tele turns on your set up. Me! You have to commit to learning your tele turns and break yourself of the tendency to revert to alpine turns. Groomed resorts are the easiest place to learn and practice your tele turns. The patterned base will slow you down a bit but maybe that's a good thing. You won't have the turning power of higher performance gear but your gear will do the job. What you don't have in boot leverage and ski sidecut you can make up for in skill. Modern skis almost turn too easily. Your good tele turn will make the turn not some over cut "pussy" ski. In 1975 I was 16 and went XC skiing with a 65 year old German guy on mushy spring corn snow. He was using a light leather boot, straight wooden skis, and light three pin bindings. We headed up a fire road. A mile in there was a nice open bowl down to the right and off he went blowing my mind with three high speed tele turns down to the bottom. I had no Idea that skiing could be done like that. By the end of that day I was doing tele turns on gear much lighter than yours. I had been an alpine skier since I was eight but I got some Fisher Europa 99s skis, Alsolo Snowfield boots, and some Rotofeller three pin bindings and have been mostly telesking ever since. I lived in Valdez, Alaska in 81 and 82 where I skied Thompson Pass on a grey pair of Karhu XCDs. At that time there were no world class ski lifts in Valdez just epic snow! You can ascend almost anything with the proper technique, snow conditions ,and gear. Traverse and learn your edging techniques, kick turns, and use skins if you want too. In the Sierras I rarely use skins as my quiver of nowax skis all work very well. I do hot wax for glide and use a paste like Maxiglide in certain sticky conditions. With metal edges and skill you can go up and down almost anything. New comers to "free healing" as some now call tele sking may give you a hard time about having gone too light with your gear. Modern gear requires less skill to drive up a hill and much less skill to go down the hill. I've got the modern gear too that I use mostly at the resorts. Synergy boots, G3 bindings big fat parabolic K2 skis. I feel lazy on them as I hardly have to do anything to get them to turn. They are my "pussy" skis for a fiftyone year old with a micro brew beer gut.
The first time I turned them they came around so quickly I almost went right over them. My bottom line is that you made a good buy. As you gain skill and want to go a lot faster you'll want a bigger boot and a stiffer ski. What you have will get you down in control at moderate speeds. I have five pairs of skis and three pairs of boots. I still use them all in the conditions that fit them. Your equipment should last you ten to twenty years if you take care of it. I buy a new set about every four years. Build a quiver! Good luck.
Great for Maine Woods Skiing
I bought the 10th Mt skis last year for my daughter.
We ski twitch trails, stream bed, around lakes, and woods roods in Maine, usually breaking trail except for runs close to home we maintain. If you are making 1st tracks or breaking trails you will love this ski. My daughter has enjoyed the 10th, we bought it based on it being close to the old catamounts my wife and I ski.
We have ours all paired with BC NNN bindings that we love. Which is great for what we do. I would be interested in pairing this set up with a 75 dinding and light plastic tele boots for some turns. Sound like the Guides may be better for that. would love a great BC NNN boot you could Tele in.

I Think you would be happy with the ski if your use would be similar. Note my wife and I have used our Karhu Catamounts for over 12 years of the above use on weekends we are not downhill skiing.

Enjoy,
I am an alpine skier. I am thinking in the...
I am an alpine skier. I am thinking in the Karhu XCD 10th Mount. for exploring roling terrain in the backyards. I dont have the skill for Telemark-turns; so I would like to use an alpine binding (diamir fristhi) used with a Garmont boot. ?will this ski support this binding-boot equipment? I will aprecciate a lot if anyone have any experience or idea about.
I used the Karhu Orion/Catamount (more or less the predecessor of this ski) quite a bit before I learned to telemark. They can be wedge/stem turned easily, and paralleled with practice and the right boots (the bigger end of the touring spectrum or light tele boots.) You'll have to get used to throwing ski school technique out the window and skiing in the backseat - lean forward into your boot tops and you'll eat snow. It also helps to learn the kick turn to get yourself out of trouble.
Best Answer
I have these skis mounted with Voile 3-pins (the red ones) and use Garmont Excursion boots. The Excursions seem to be the perfect match for these skis, enough boot but not overpowering the ski. I am a telemark skier, but I find little hiptwisting parallel turns very easy on these. If you gotta break alotta trail, they are a great width for that without picking up too much snow on the top sheet.
I know someone who mounted these with BD01 telemark touring bindings. I think that is overkill (too powerful for the ski) but a superlight model of Dynafits would probably be ok if you have a superlight touring boot like a Scarpa F1 or some kind of randonee boot. You might want to look at the Karhu guide for your setup.
I live in the middle of the Adirondack...
I live in the middle of the Adirondack Mountains in New York State and would like to go deeper into the back woods and have enough control not kill myself. I'd like to use Garmont Excursion boots with one of the following bindings: Hammerhead or Rottefella Chili vs G3 Targa vs Garmont 7tm Power Tour. Any advice would be greatly appreciated...
Excursions have MUCH more lateral stability than any other XC boot I've ever skied. I snow-plowed down a hard-packed, difficult green downhill run last weekend in them, holding up my 4-year old on her skis in front of me, and a big 'ol grin on my face, in great control. I ski on Fischer Rebounds : the 10th mountains are even wider with more sidecut. Not QUITE enough difference to convince me to upgrade, but still tempting.

I have an earlier pair of the Excursions, and the fit can be a bit imprecise. I think they've gotten better, and it's worthwhile to take them to a ski shop to get the fit dialed in. Too tight can put your feet to sleep, too loose is a recipe for shin blisters. Just right is warm, dry, and lots of control.
Best Answer
I like the skis and boots but not the bindings. Those are all primary downhill tele bindings that will tire you out on the flats. The 7tm's "tour mode" is really for climbing wearing skins and doesn't help much for kick-and-glide.

Take a look at Voile's binding offerings. A heavy 3-pin such as the Mountaineer may well be all you need, but if you want more control on the hills you can try the 3-pin cable or even the 3-pin hardwire.
I'm from the chicago area. There are no...
I'm from the chicago area. There are no ski resorts in my immediate area, and anything near a 500 ft vertical is at least 3-4 hrs away. Rather than going with a traditional downhill set up, I was thinking I would be able to get more use from a ski like the 10th mountain. Primary use will be kicking and gliding on and off trails and searching for any hill worth turning down in nordic parks and forest preserves. I would also like to use them at midwest ski slopes, and eventually get into real back country skiing( skiing the upper peninsula with 250" plus annual snow, 900 ft verticals, and average slope being 31 degrees). The set up I was considering would the 10th mt with voile 3 pin cable binding and a boot like the rossignol bc x11 or the fischer bcx 675. would this be to heavy of a set up, to light? would the karhu gt be a better ski for me?
Best Answer
I ski a pair of Fischer Rebounds with Garmont Excursion boots in the Oregon backcountry : Just looked @ a pair of the 10th Mountains, because they're even wider than the Rebounds. I think the 10th Mountains (especially with cable bindings) are way to heavy for parks and golf courses in Chicago (I did a lot of that back when). Better to get a lighter pair and learn a good kick and glide. 10th Mountains with cables would be much more of a shufffle, and they're soooo wide that you'll ALWAYS be breaking trail, even in somebody else's tracks. The metal-edged, but narrower Rossignols are probably a good bet. The 10th mountains would be great for the woods in the U.P. You'll be grinning through turns and drops that bring terror to your buddies on regular XC setups. Not sure about using them on groomers at a resort: I've heard double-camber skis are harder to learn to turn on hardpack than standard teles, and the waxless pattern on the bottom make a fun ZZZZZZZZ sound on packed snow. It's probably worth renting a tele setup at least once and learning how they work before trying the 10th Mountains on hard snow.
I ski with the 10th mt./Voile cable binding setup except with Alpina 2175 boots. The boots have one less buckle than the x11 and I'm able to iniate tele turns, but it is a little bit of extra work and I've been dreaming of upgrading to the x11 or Excursion for more control.