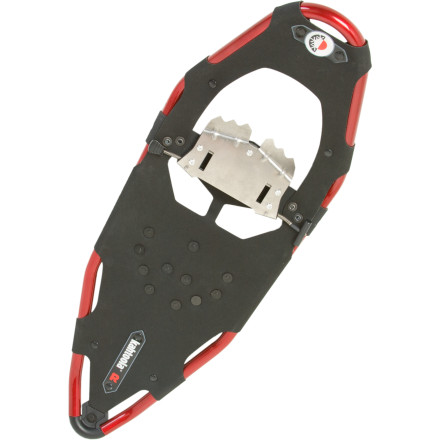 Detail Images
When the mellow snowfield turns into an icy ridge-walk, switching between crampons and snowshoes can be a huge pain. Thankfully, Kahtoola integrated a pair of eight-point crampons into the binding system of its MTN Step-In Snowshoes for seamless transitions between snow, rock, and ice. All you have to do is pull on the shoe's T-handle to disengage the binding and crampon from the snowshoe chassis. When you're ready for some flotation again, just step back into the snowshoes' binding point and be on your way.
Use the Skyhook Trail Crampons alone on rocky, hardpack, and icy surfaces; these eight-point crampons provide traction in slippery conditions
Leaving the crampons on, use the innovative T-hook clip to connect your feet to the MTN Series Step-In Snowshoes and enjoy greater floatation in light, fluffy snow; clip out again if the footing gets sketchy
Fixed rear traction cleats on the snowshoes improve grip and help prevent lateral sliding on uneven terrain
Bindings employ a two-strap design in the front, a one-strap design in the back, and are compatible with standard hiking footwear and less-bulky snowboard boots
Unlike the other snowshoes on the market that take a one-width-fits-all approach, the WingSpan adjustable width technology allows you to easily customize the fit
Bindings accommodate women's running shoes size 7 to men's running shoes size 12.5
Anyone out there own these snowshoes as...
Anyone out there own these snowshoes as well as Kahtoola microspikes? I would like to know if the trail crampons would be considered "better" than microspikes. Am I able to eliminate the need for Microspikes with the included crampon?
Way better than microspikes. They are more securely attached to the boot and have deeper more aggresive teeth.
Best Answer
I would get the snowshoes and the microspikes. That way you have microspikes, crampons and snowshoes for any conditions you might encounter. The microspikes are great for when you need traction but have little elevation. The crampons work better for big ice and terrain changes. And of course, the snowshoes for when you would otherwise just be postholing. Good luck! Chuck5282
Stepping in and out of the MTN snowshoe
How to adjust your wingspan binding on the MTN snowshoe