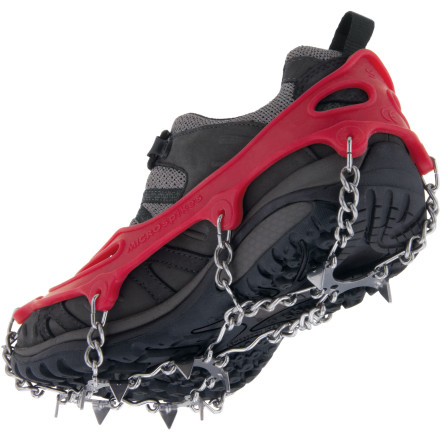 Community Images
Reduce your number of cheek-bruises this winter when you roam the neighborhood in the Kahtoola Microspikes Traction System. An included tote bag makes transport and storage almost as easy as the slip-on design of these ice-friendly foot-huggers. Kahtoola beefed up the elastomer for added durability and longevity, so you've got the whole not-falling thing covered for foreseeable winters.
Fits nearly any type of footwear
No tools needed for adjustment
Spikes provide better traction than most winter walkers
As we get older we start to think more about not slipping, sliding and falling. Things break easier, and don't heal well. But being active outdoors women, we are not ready to give up our outdoor adventures.

And so it was that Santa brought these 2 old broads Kahtoola Microspikes. We love them!

Day after Christmas we went to one of our favorite places. Slippery Rock Creek gorge earned its name, everything there is slippery! Even in a dry August heat it's easy to go face down! Winter it can be downright treacherous! This day was one of those, fresh snow on top of the hard frozen remains a few days freezing rain. But not being as bright as we look, we went anyhow!

We swung our legs out of the car and pulled our new 'spikes onto our boots. I have big feet, women's 14, so it did take some pulling to get them on. My sister had no problem getting hers on her dainty little size 11s. But once on, they stayed there, never shifted, never rolled, never did anything but just what they were supposed to do – keep us from slipping. We hiked all day, down to the water, up on the soft banks, packed trail and virgin snow, on the rime and verglas, even on bare rock, in the water wet spots and up on the hard ice, (and on a later some névé) these things just hung on! We both commented several times about how we just were not slipping. And we never had snow ball up in them.

At the end of a lovely day we sat back in the car and pulled them off. As they were wet, I stood up to put them in the back of the car – and promptly went on my butt. That parking lot we'd just walked across wearing our microspikes was black ice!

We used them several more times last year, and were thrilled each time. They are light, stay put, and you stay put on them! Unlike traditional crampons, they don't shred your pants legs! We're anxiously awaiting some winter to get out & use them again. Even if we don't need them when we start, we'll have them in our packs in case things change.
Great traction
Familiarity:

I've used it several times
These are great when ice is an issue. They fit easily over shoes and boots. They give me the extra confidence when things get slippery. Great for around town, camping, or to take with you for just in case when backpacking or even traveling in the car. They aren't full on crampons so don't try to cross glaciers or anything.
Not only for ice
Gender:

Male

Familiarity:

I've put it through the wringer
I have had a pair of these for about 4 years and I have put many miles on them. The only failure was this summer when I pulled them on and the pull-up slot tore. Still very functional. I use them on steep wet S&R missions all year long. It's the only way I can keep up with the dogs. Winter ice is where they really shine. Icy, hard pack trails prove no challenge for them. Buy them, you'll be glad you did.
Great
Familiarity:

I've used it several times
Great product! I used it in my sprint/autumn trip from paradise to camp muir @ mt. rainer, it worked wonderfully. Light weight and good traction when crampon is overkill.
Awesome!
Familiarity:

I've used it once or twice and have initial impressions
Used these during our recent hike of the Tour du Mont Blanc in Europe and they proved very useful. Easy & fast to put on boots. Very light, yet sturdy. Very convenient storage bag. Provided a good grip despite the short spikes. Seems well-built. A bit of snow build up (spring-like, mushy snow conditions), but easy to clear. Will prove useful when walking on icy surfaces next winter.
For a pregnant daughter and the hard winter time nothing was perfect to keep her on her feet save!!!
I've used once so far but I was extremely satisfied hiking 2600 ft+ in steep ice/snow. (2600 ft over 2.5 mi).
How do you choose the size. I wear a size...
How do you choose the size. I wear a size 12 (47) shoe. Would this be Large or XL?
Hey,



The large will fit great.
I would suggest that it would depend on the shoe style. The large would be fine for most size 12, but I don't know that I'd try to put the large on a big pac boot. The large is fine on my women's size 14 (men 13) hiking boots (see picture above), and they go on my sister's size 11 (men 10) pac boots OK, but I won't even try to put them on my pac boots. The large is just too tight for them.


These are awesome
Gender:

Male

Familiarity:

I've used it several times
For when snowshoes or crampons are too much. I use these all winter on bootpacks. Fantastic traction, lightweight, and thus far very durable. I love 'em.
Is there a description or photo of the...
Is there a description or photo of the tote available? The price difference between the 'bare' spikes and the one with the tote suggest it's not just a stuffsack. Is this correct?
Best Answer
I got the option with the tote and regretted it. Yes, it is just a stuffsack, and it is absolutely not worth the extra money to buy the option with the included tote.
Confidence Builder
Gender:

Male

Familiarity:

I've put it through the wringer
These spikes provide great traction while hiking on icy trails. They are easy to put on and take off, especially while on the the trail. With these on my boots I am able to hike at my normal pace no matter how much ice is encountered. They make a huge difference. I forgot they were on my boots until I got back to the trailhead.
Amazing tracktion
Gender:

Male

Familiarity:

I've put it through the wringer
I never leave home without these in my pack. They are great on ice, I have even jumped on ice and ran on it to test them no issues. I have also used them on gravel of very steep slopes and they worked very well for that. If I am on a scramble with some ice on it, I don't even think twice about crawling over it.
Excellent
Familiarity:

I've put it through the wringer
Great traction on icy/snow packed trails so you can run with confidence. These fit snuggly, wrapping fairly high over your shoes, so they will not slip or need readjustment as I found to be the case with yaktracs. Also much better traction than the spring/chain style of traction devices. highly recommended if snow or icy conditions is adversely affecting your winter hiking or running.
Winter running essential
Familiarity:

I've put it through the wringer
Microspikes have made my winter running enjoyable again, perfect for icy New England trails. I feel confident with these spikes on ice and very hard snow pack during runs and easy scrambling.



My medium spikes work well on size 11 Patagonia Fore Runner shoes. A friend wears size small spikes on size 10.5 NB MT110 shoes, which might be too tight for some -- but the general point is that if you're a runner, you'll want to size down, minimizing the chance of spike shifting and slippage.



My pair of medium spikes weigh 13.4oz.
Kahtoola MICROspikes? Specs.
Small / 11.4 oz. / 8 - 3/8 inch Spikes

Medium / 12.7 oz. / 8 - 3/8 inch Spikes

Large / 14.4 oz. / 10 - 3/8 inch Spikes

XLarge / 15.6 oz. / 12 - 3/8 inch Spikes