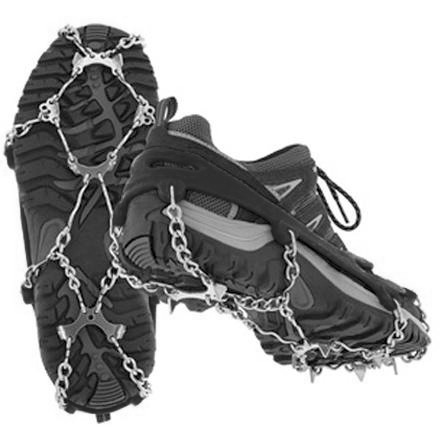 Community Images
When heading out on the sidewalk feels like a trek onto the Antarctic ice sheet, strap on the Kahtoola MICROspikes Traction System, and get durable grip on even the slickest surfaces. This flexible system attaches securely to running shoes, casual shoes, hikers, and snow boots, and provides a firm bite in ice, snow, or wet rocks thanks to a dynamic stainless steel flex chain with strategically placed 3/8-inch spikes. The durable elastomer shoe harness stretches for a snug fit, and the whole thing folds up to fit in your coat pocket or pack.
Share your thoughts
What do you think of the
Kahtoola
MICROspike Traction System
? Share a...
These were the best $60 I spent last winter. Not much to add to what everyone else has already written, but wanted to share my serious love for my spikes. I've used them on ~10 hikes, and they still look new. I've used them a lot on bare rock since I'm too lazy to put on/take off in between icy and rocky sections, and they look no worse for the wear. Hopefully the rubber lasts a while, because it doesn't look like the spikes are in any jeopardy.
I have 10.5 feet, I got the medium. A little snug around my Keen PCT boots, but I like them snug vs. floppy, which the larges were.
Recently I used them on section h of the PCT when I encountered snow just north of Shoe Lake near white pass. I wear size 14 Zamberlan boots and the XL Microspike fit perfectly. Really easy to get on and off, they're light and provide good traction. I will be taking them along for my 200 mile PCT trip from white pass to Mt. Hood. Specifically for the goat rock wilderness area where I will likely encounter snow by the Packwood glacier.
Easy to get off and on and provide insane traction. I use these for some winter hiking but mostly to keep me vertical on my steep driveway when I clear it off. It is exactly what I needed.
I used the microspikes on a recent trip to Glacier National Park to cross snowfields. They provided a significant amount of extra traction, and were very easy to take on and off and attach to my pack with a carabiner when I didn't need them. I was very pleased with the microspikes. If you're on the edge of the sizing window, I would go with the smaller size because they can stretch quite a bit. I wear a size 11 or 11.5 and the large fit well for me.
I wear a size 10.5 trail running shoe. I...
I wear a size 10.5 trail running shoe. I notice on the sizing chart that this is a border size. Would I be better off getting a M or L size? Part of me thinks it may be wise to get a Large in the case that I get some insulated boots some day, but I hear they stretch a bit over time and am afraid of them being too large for trail running shoes if that's the case. Any first hand experience?
Ryan, I would go with the Large and you will be covered if you decide to wear them with boots. Even with the Large there will be plenty of compression on your shoes over time.
These things are just great
I got my first uses of my microspikes while out in Yosemite just two weeks ago. I was shocked I got use out of them in June in Yosemite, but that's a whole different story this year.

I brought them with me on a hike up Clouds Rest and we hit snow early in the morning which was still hard and icy. I started traversing some of it on a slope in just trail-runners and quickly realized I had no traction. I threw on my microspikes (which went on very easily) and I had instant and perfect traction. I made quick work of the hardened snow and felt very comfortable doing so.

I used to use Yaktrax, but these things put Yaktrax to shame in terms of traction and only expensive crampons would provide as much and more.
Yes, these spikes are as good as everyone else says. They are super handy for spring and early summer hiking in the cascades.

Here is one thing i didnt see anyone else mention though: If u wear the spikes in deeper snow (snow u should prob have snow shoes on for) the rubber part can ball up snow and hold it in close to ur boot. This makes for a wet cold foot even with leather gortex boots on.

If u stick to the hard pack and icy stuff on the trails and use the spikes how they are meant to be used then they work GREAT.
Best invention ever! I hiked Tuckerman Ravine (Mount Washington, NH) in the beginning of May and these babies were perfect for the terrain I encountered (ice, snow, rocks, mud, etc). I would recommend these to anyone who likes to hike. They gave me confidence and sure footedness like nothing else I have had on my feet. They're very durable and portable too.
I have several pairs of ice cleats, i.e., Yaktrax, Atlas, Stabil-Icers, Katoola crampon-like cleats and my new Katoola MICROspikes. I hike twice a week, year round in Southeast Alaska in all kinds of icy terrain and these cleats are THE BEST. They are lightweight, easy and quick on and off and they are great on ice! I wear them over Asolo hiking boots. They are my new best friend.
dmc
Got these for winter hikes in NH. They do an alright job. Halfway decent grip but will never match a true crampon.
These things are great. Solid underfoot and non-slip. I use them over my hiking boots and ski boots. I wasn't sure about sizing, so I bought medium and large to test fit. I went with the large even though my shoe size is smaller and returned the medium. Backcountry has by far the BEST return process that I've found on the Web. Good job folks.
Great traction, not very durable.
I really like these chains. I use them to walk my dog in the snowy and icy Wisconsin winter. I was disappointed, however, that they broke in less than one season and I was forced to do a home repair job to get them to last one season. If you plan to use them mainly to walk over pavement that may or may not be icy or snow covered, they won't last very long. I did get mine replaced and I'm hoping my second pair will last longer.
Made with nanotechnology...?
I've had the red ones for a few years now and they still work perfectly for almost any winter terrain in the white mtns. I sharpened my spikes with a file mid season and suspect I will get another year or two of use out of my original set. I wear a size 12 or 12.5 and wear a large for my boots. My trail running shoes are a size 12 however and my girlfriends medium set fits a lot better. Consider not just the sizing of the shoe but the overall mass or type of shoe, ie. boot vs. trail running shoe. Hopefully my size reference helps someone choose the right microspike size!
Any suggestion on size for Asolo Revenge...
Any suggestion on size for Asolo Revenge (size 12) hiking boot and Keen Blackcomb insulated boots (size 13)? Will a large (L) work for both? Thanks!
Best Answer
They stretch quite a bit, a large should work.
Incredible gripping and traction
I have gone through a countless number of YakTrax Pros and finally decided to pony up what it takes to get some serious ice spikes. The Kahtoola MicroSpikes deliver in a big way. When I'm on icy Rocky Mountain trails with my MicroSpikes, I can run with confidence and without any worry. At first, it's kind of unnerving hammering it over pure ice, but with MicroSpikes you know you have the footing to get in that great workout regardless of how slick the trail might be. Huge props to Kahtoola for this incredible product that delivers superb traction thanks to sharp teeth that really dig in with each step.

Also, last Sunday I ran in Boulder, CO with a pal who wore YakTrax Pros. It took me half the time to slip on my MicroSpikes that it took him to put on his YakTrax. You just slip on the MicroSpikes and you're ready to go. No velcro strap and hassle.

Kahtoola MicroSpikes are one of the best products I've ever bought. Huge thumbs up.
I used these this past weekend for shoveling the driveway and pushing a car that was stuck. They provided great grip on the hard packed snow and ice. They were usable on the dry pavement, though I would not choose to walk any distance that way. The best feature is that I can put them on and take them off with one hand without sitting down.