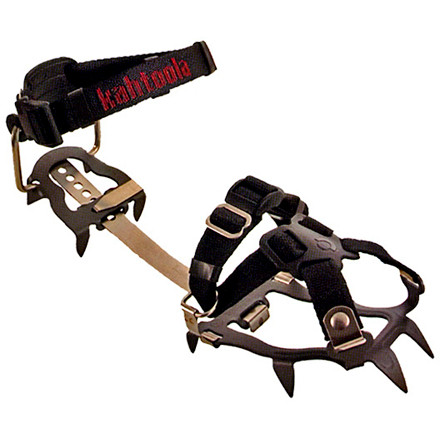 Colors

Detail Images

Community Images
Description
Lightweight, flexible traction compatible with almost any shoe.
Use the Kahtoola KTS Crampon with your trail runners, backpacking boots, or snowboard boots for grip in icy conditions. Its innovative, flexible traction system aggressively bites into sketchy terrain. Kahtoola made the KTS Crampon's ten-point gripping system from strong anodized aircraft aluminum or virtually indestructible Cro-Moly steel. And at 19 ounces per pair for the aluminum, the KTS Crampons won't weigh you down.
Quick-release buckles make getting in and out of the Kahtoola Traction System a smooth process
The durable 3/4-inch points maintain a natural stride and reduce snagging, whether you're hiking, adventure racing, ice-fishing, or salting the driveway
Works with nearly any shoe or boot
Tool-free adjustment
Wonky Sizing
Familiarity:

I returned this product before using it
S/M size is supposed to cover up to size 43/US W10. I wear a size 42 (W 9.5/10). It was way too small to fit on my Salomon X Alp boots, which have a similar footprint to summer trekkers and a substantially smaller footprint than winter hiking boots. I'd recommend upping the size if you're borderline. On the plus side, the rear cup design allows it to fit the wide heel of Vasque winter boots, which is not possible with the Petzel Vasak or Black Diamond flex crampons I've tried. Bummer have to pay $7 to return because of poor Mfg size chart.
How could you not like them?
Familiarity:

I've put it through the wringer
I love these crampons. I've had them up to the top of Whitney, Rainier, Shasta, and a bunch of smaller peaks, and they've been awesome every time. I got the anti snowball gizmos for the bottom, and they work great, but I'm pretty sure you could make your own for about $5 (it's a cheap yet effective piece of nylon reinforced plastic/rubber that prevents snow from sticking to the bottom). They're fast to put on and take off, and I think that because they have less severe teeth, they tend to pull less harshly on my feet, making me less likely to catch a tooth and trip and also rubbing less and causing less blisters. I've used them in plenty of conditions where other people had the most aggressive crampons, and I had no difficulty. I don't think you would need front pointed crampons until you got into like 60 or more degree slopes and they'd have to be solidly icy (I went up some steep steep stuff on Whitney and Rainier and the crampons were not the problem). Frankly, I'll always carry my Kahtoolas rather than a more aggressive crampon. I have the steel, and I highly recommend it for the odd patches of rock and scree you will inevitably come across. I never clean mine and they are not appreciably rusting (a spray of wd40 will help if you're paranoid), and so I will never clean them because they will already outlast me. I recommend the steel just so you don't have to worry about them... they're already a light crampon. I have no slipping issues like others have mentioned, in fact, they're so solidly affixed to the boot that if you're boot is not laced tightly, it (or any crampon I've used) will yank your boot around so much you'll get blisters. Buy this if you tend to be the person who prefers agility to redundancy. If you're typically the only one with regular boots when everyone else has hard shells, these are for you. If you're climbing an ice waterfall or taking an expedition to the south pole, look elsewhere. Buy these!
tj
Gender:

Male

Familiarity:

I've put it through the wringer
we have two pair and have used them a lot we like them work great but little problems we have my brother is big and wont fit his shoes need to have a larger size and the out side is in to far and we both slip side hilling a lot snow also sticks if its not really cold out
Had to watch the video a couple of times to figure out the initial sizing of the crampon. As long as you use the same boot, there is no need to adjust again. Works great on ice when the microspikes are not enough. I would recommend getting the bag (I didn't). Crampons did not slide at all.
Tried them on a late spring hike up Mt Quandry, Colorado. They worked perfectly on the snow and snow/scree mix! I wore a pair of light hiking boots...didn't have any issues chaffing/rubbing and they stayed snug the entire day (I didn't have to re-tighten them). They exceeded my expectations!
I recently purchased a pair of Kahtoola aluminum crampons. Once i adjusted them to my boots they were awesome. Very lite compared to the steel ones I had been using the last two seasons. Very easy to deploy and take off. Very good traction with not a lot of snow and ice build up. No worries about rusting either because of the aluminum. The straps work great with zero chance of loosening up. Overall very excited about purchase. I hike twice a week so we'll see how they hold up.
Took these with me for a week long tour of the southwest in january, lots of snow and ice, these took everything in stride. They even held their own on the slickrock, my only problem with these is they are not the easiest to get on and off which caused problems in mixed media, I got the steel KTS I dont know how the aluminum ones hold up but these are rock solid
No Left/Right Heel Support!
I would avoid buying this pair as your heel has no left/right support even when adjusted properly. It is an adjustment nightmare. As soon as your heel falls out the entire crampon falls off. I would fine a good pair that has bars to keep your heel in place. The BLACK DIAMOND Contact with ABS Crampons would seem to be a much better choice (note the bars on the heel) They are also stainless steel which means you don't have to dry them off every time to prevent rust.
Do I need to buy an extender for size 14...
Do I need to buy an extender for size 14 shoes? Do they have an extender bar like BD? Thanks.
Kahtoola does not make an extender but the M/L size will fit boots size U.S. 9-14.
Which crampon should I buy, KTS Alluminium...
Which crampon should I buy, KTS Alluminium or KTS Steel, what is the difference? Which one is more durable?
Aluminum will be lighter but less durable. Steel will last longer but be heavier. Good luck!
My review might be a little biased as the Kahtoola KTS Steel is the only crampon I've ever seriously used. However, I really don't see the need to use any other for anything but the most technical climbs. If for some reason you might think these crampons are not quite beefy enough for hardcore use, just consider that Lhakpa Gelu Sherpa set the former speed ascent (10 hours 56 minutes and 46 seconds) of Mt. Everest using a pair of Kahtoola KTS.

I purchased my pair of Kahtoola KTS steel crampons before climbing Gannett Peak, WY. This was my first glacier climb, and admittedly was rather naive and made many silly mistakes. One mistake I didn't make was choosing the KTS. The first thing that appealed to me was that these had been called "racing" crampons. I didn't want to spend 500 dollars on crampons and mountaineering boots, and the Idea of crampons strapping onto practically any piece of footwear was very appealing. Add to that they were the least expensive crampon I could find at the time. :-)

I will fully admit… using my Brooks Adrenalin road runners was a weeeee bit of a mistake on Gannett, but the crampons worked exactly how I would expect them too. Since Gannett, I have used my Kahtoola KTS on Mt. Hood, Mt. Rainier, and Mt. Shasta. On the latter three peaks I upgraded my footwear a bit; using the Asolo Fugitive GTX on Hood and the Raichle (Now Mammut) Mt. Trail XT GTX on Rainer and Shasta. On all peaks the KTS performed beautifully.

The advantages should be fairly apparent. The leaf spring allows you to wear flexible footwear. This means lighter more comfortable travel. In my opinion the ability to move quickly and agilely, more than compensates for perceived shortcomings that the Kahtoola might have against a C2/C3 set up.

As with any product the Kahtoola KTS is not perfect. Adjusting the crampons with mittens is next to impossible. The Leaf spring can get bent. I took a hard fall on Gannett (not the crampons fault, I was being dumb) flew over the bergschrund and the first thing to hit the side of the mountain were my Kahtoola KTS. I tweaked the leaf spring a bit. Once I got back home I adjusted them a little and haven't had any problems since. After a awhile the rubber bands that hold the excess strap in place can become brittle and break.

I'm not sure where my next glaciated climb is going to be, but my Kahtoola KTS are going to be right there with me.
A good set up for the weekend warrior. Light weight and compact. Great for hikes on snow and ice. all purpose set up.
My ice fishing boots are 15 inches long,...
My ice fishing boots are 15 inches long, toe to tip, & 5 1/4 inches wide across the ball of the foot area. Will these crampons fit them?
You should be fine with the M/L crampons.