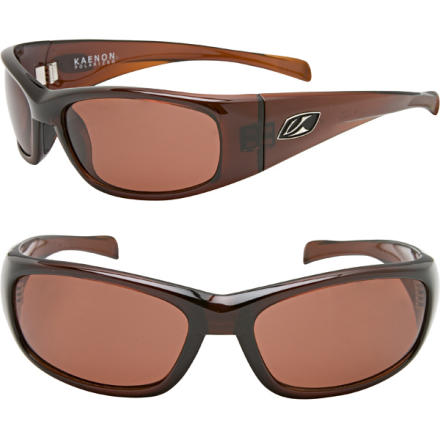 Detail Images

Videos

Community Images
Description
Take life head on with the Kaenon Rhino Polarized Sunglasses.
With wide frames and a boxy design, the Kaenon Rhino Polarized Sunglasses provide excellent coverage and a confident look. Wear them for everything from chilling with your friends to downhill mountain biking. The Rhino's Light Transmission Control SR-91 polarized lenses are lightweight, scratch-resistant, and fight off glare like crazy. Seven-barrel stainless steel hinges combined with an injection-molded TR-90 frame make these Kaenon sunglasses incredibly durable. If you like large, full-coverage frames and top-quality materials, the Rhino Sunglasses fit the bill.
ARE the lenses on the black matte lIke the old smith shelter sunglasses?

Meaning if you were standing in front of me you could not see my eyeballs behind the lenses ie there was no transparency whatsoever....



The regular black lenses deem a little more "gray" or see through where as the matte black seem to be a little more harder to see through???
Hey Trayers



Sadly these are not like the Smith Black out lenses they do have some translucency and so you would be able to see you eyes through the tint. The Matte Black coloring is referring to the frame color not the lens color. I hope that this helps and please chat or call in if you need any more help.



Cheers!
What are the measurements?


Measurements:



Frame Width - 144mm

Lens Width - 63mm

Lens Height - 36mm

Bridge Width - 18mm

Temple Length - 135mm
Second pair of Kaenons. Awesome again
Familiarity:

I've put it through the wringer

Fit:

True to size
I previously owned the Hard Kore and had picked them up on Steep and Cheap. Fell in love with the clarity, fit, and overall quality of Kaenon, if at first I thought they were too big! Went for my second pair of after 3 years of use on the HK's and decided on the Rhino. Duly impressed. Great build, super light weight and stick to my face like a mud mask. The K logos on the side of these ones look a little cheapo compared to the metal on the HKs, but everything else is great. I was a little concerned about the lack of rubber pads on the arms, but these stick just as well without it.

I use these for travel, snowboarding, mountain biking and riding on boats. They perform everywhere.

The only negative I might mention is that the C12 lenses do not perform great in low light conditions, like riding through the woods with low angle sun.
Kaenon Rhino Sunglasses - Polarized
Sweet Shades
Gender:

Male

Familiarity:

I've put it through the wringer
I bought these 4 years ago as replacements for an old pair of Oakley's and they are still holding up really well. I have no issues with glare or full sun and they are surprisingly (!) lightweight. I will definitely be a repeat Kaenon customer.
30 days of non stop sun? No problem.
I have these with prescription lenses in them. Every activity I wear them- I literally bring them everywhere I go. They are very comfortable and feel bombproof. I do use chums with them especially for water sports, but have never had an issue of them ever coming off. They are my first pair of Kaenon's and surely not my last- would buy again.
Mike Horn Internationally Renowned Adventurer wears Kaenon
An internationally renowned adventurer and founder of the Pangaea Expedition; Mike Horn educates youth about environmental issues while traveling the world.

Prior to the formation of the Young Explorers program, Mike began, what it called, the Amazon Expedition in 1997. Without any form of motorized transport, Mike traversed the entire South American continent alone. Starting at the source of the Amazon River, Mike navigated its entire length using a hydrospeed (a human powered flotation device), hunting for food to survive and resting on the Amazon's riverbanks at night.

Additionally, Mike circumnavigated the globe without any motorized transport, starting in 1999 and ending 18 months later. This expedition thrust Mike into the worldwide spotlight and won him the 2001 Laureus World Alternative Sportsperson of the Year Award as well as an invitation for an audience with Pope Jean-Paul II at the Vatican in Rome.

As similar journey around the Arctic Circle beginning 2002 (lasting 2 years) won him the 2005 Laureus World Alternative Sportsperson of the Year Award.

In 2007, Mike became a member of the Laureus World Sports Academy in recognition of his ground-breaking achievements.

Mike Horn wears Klay, Rhino, Jetty and Hard Kore.
Y35 lens - I find this as the absolute best option for fly fishing -- especially for sight-fishing in the tropics. Brightens up colors underwater and draws out shapes of fish. Even in extremely bright sunlight, the 35LTL is great. Also allows for use in lower light (dawn/dusk/overcast) situations when polarization is necessary. The Y35 also has a mirror finish now which is great.
Ok, let me start by saying I have a bigger than average nose that I have broken a couple of times so its a little crooked with a med size face, needless to say my search for plastic framed shades has been vast. I used the spy dirty mo shades (which fit my face/nose) for a while and like them but I always wanted copper tone lenses with a black frame which spy and many other manufactures do not make. They always seem to match up the copper lenses with the tortoise shell frame which I am not a fan of. Then along came the Kaenon Rhino's... match up any lens with any frame! The measurements were almost exactly the same as the Spy Dirty Mo and reviews about lens clarity were outstanding. When I got them I was not disappointed! They are definitely, without a doubt the best shades I have ever used. Crisp color and very comfortable to wear all day. I use them for everything... laying down spring turns, fishing, golfing, partying on the beach..everything. Oh, BTW, I bought the black frame with C12 lens.... definitely some sick shades.
May be a dumb question but here goes. I...
May be a dumb question but here goes. I wear a hat when i golf (not one of those dumb flat billers) and I had the Kaenon Gauges and I couldn't pull my hat down as far as I like. Guess the question is: are these really bulky on your face as are the gauges or are they smaller than the gauges?
The Rhino aren't quite as "bulky" as the Gauge, so a hat should fit better with these. Brian Gay, a PGA Tour pro, wears Jetty, which has a fairly similar shape as the Rhino and he wears a hat/visor with them just fine. The temple tips taper down on these more than the Gauge do, so that will also help. Still the same great SR-91 polarized lenses.
I've owned Oakley, Smith, and Ray Ban and the optical quality of Kaenon is far beyond any of them. I tend to get headaches from even the slightest distortion, and have had no problem with Kaenons.

The Rhinos are a little bulky, but that makes them nearly indestructible. I grab them first for skiing, snowmobiling, and dirt riding. They seem to be very scratch resistant, too.

You get what you pay for. The Kaenons are not cheap, but neither is $1000 worth of sunglasses that sit at home because they simply don't work for me.
I have owned the Rhino for ~2 years and have no complaints! The C12 lens offers superb polarization. As an avid fly fisherman, I feel one of the most important pieces of gear is my sunglasses. I can easily spot fish and the glare reduction dramatically reduces eye fatigue. I sincerely recommend Kaenon!
Great glasses, however, don't lose the insert logo on the sides of the glasses.(they seem to pop out once in a while ) Kaenon will not offer a replacement. They do however offer to replace the whole frame for $ 120.00 + $10.00 shipping. FYI
I love the lens but the frame style was not comfortable for me. I can describe as brow forward, just different for me. Might be good for someone looking down outdoors...lifeguard, etc.
Write your question here... How can I...
Write your question here...

How can I find out how these glasses will fit on me?
Of course, it's hard to tell how sunglasses are going to fit without trying them on. Having said this, these are large, full-coverage glasses. If you go to the Kaenon web-site, you can see how they look when they are actually being worn.
http://kaenon.com/product/11_rhino.html
I do a lot of sunglasses. The Rhinos are the pair I turned to most. The lens is a perfect for both dappled light when biking in the Sierra forests and balls out sunshine in the Virginia Mountains. They work perfectly at any and all times of the day, high noon or a post sunset dog run. I would easily give away all my other shades for this one. They are big for great coverage, but not the stupid, "Hey I'm pretending I'm a big star on drugs." I bike a lot so I am usually wary of lots of material around the hinge---I need to see what's behind me in a quick glance--but these aren't a problem because the glass coverage is so good. I got them for a great price on Steep and Cheap, but I'm ready to pay full for my next pair because they are so awesome. If I ever need a next pair. These won't scratch or blotch even dropping them on granite boulders on the Tahoe Rim.
I would like to know why I can't find the...
I would like to know why I can't find the rhino's in a black frame with the c-28 lens .
They are available. Just click on the select options drop down menu. They still look to be there.
These sunglasses are the best I've ever owned. They are durable and scratch resisitant while providing outstanding clarity and protection from the sun. I have the black g12's and they fit and feel perfect. I'm a bigger guy and have a good size schnoz, but they look and fit my face perfectly. I love the look and feel whether I'm hiking, at the beach or travelling. Best sunglasses I've owned and worth the money. I've owned REVO's and Bolle's and they don't hold a candle in durability and performance.
Where can I find the frame measurements...
Where can I find the frame measurements for the Kaenon line?
If you need a specific measurement, feel free to email the Kaenon Polarized customer service department with your questions at info@kaenon.com