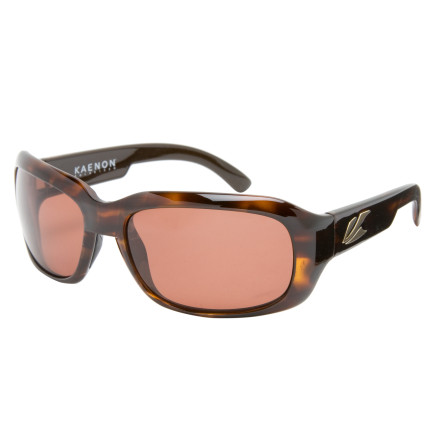 Detail Images
These are Kaenons so the lens quality is said for. I'm mainly commenting on the look of these shades. I tried these + Georgia + Eden. I ended up keeping the Georgias. The Porter was surprisingly small to me, both the lens size and the temple width. These were tight on my head.
Nice shades, interesting style
I really like Kaenon shades. Their lenses are excellent, as is their polarization (I have tried polarized shades from a number of different manufacturers, but none have been better than Kaenon). The optics on these shades are very good.

However, the style is a little different. This Porter style isn't designated as being specific for men or women. The oversized frame is similar to stylish women's shades, but the overall size of these sunglasses is probably too big for most women's faces. Instead, the sizing is more appropriate for a decent-sized man. But even then, the lenses are on the large side, which allow excellent field of vision but do provide something of a different look for men's sunglasses. This isn't a bad thing, but is something to be aware of before buying them. You may wish to check out the Kaenon website, where there are pictures of what these sunglasses look like when actually being worn: http://kaenon.com/product/5_porter.html
Write your question here...Are these lenses...
Write your question here...Are these lenses glass, or polycarbonate? Thank you
Actually, they are neither. Kaenon calls the lenses SR-91, which seems to be their version of a polycarbonate-type lens. I have been very impressed with the clarity of this lens.
More info on SR-91 can be found on the Kaenon website here: http://kaenon.com/sr91/KaenonSR-91.html
Is there a visual advantage to using the...
Is there a visual advantage to using the copper vs. the grey lens, or is it just a stylistic preference?
Both have the SR-91 in them.However, copper is a "contrast" lens, grey is neutral.See their website: http://kaenon.com/sr91/KaenonLightTransmission.html
I just read the other review 'best sport lens on the market' and I agree, I've owned them all, all the major brands of sunglasses and Kaenon Lenses are by far the most superior lenses I've ever worn. I hate to say it but I can't wear the large over size wrapped frames, which is why I was so excited to find the Porter. They fit great and are the perfect style for someone like me who is a bit conservative. Great glasses w/ amazing lenses.
Best sport lens on the market
I have had Maui, Oakley and all the other supposed best brands but for the best sport polarized lens on the market KAenon is hands down the best. They might not spend millions in ads and endorsement fees but the technology is currently the best. Like wearing a high end glass frame but you can do anything in them with no worries unlike glass. I have the Rhino and Lewi. 5 star
I won my first pair of Kaenon's in a raffle and lost them skiing. I loved my first pair so much, I sucked it up and bought another pair. The glass lens is amazing. They are great for skiing, biking, outdoor activities. They wrap well around your face eliminating wind and sun. A little expensive, but well worth the price.
Eden was too big. I was assured Porter would be smaller, and they are, but they're still too wide for a typical woman's face. I would say I have a medium sized face, if anything it's probably wider than the average. Yet the Porters were definitely too wide for me.

They're not as ridiculous as Edens, but I still occasionally catch myself looking like I'm wearing Grandpa's wrap-around sunglasses that fit over prescription glasses (Ray Charles, if you will, but nowhere near as cool looking as Ray!)

Having said they're too wide, they do fit the head quite nicely, though. The arms snug your scull, and the nose pad really does keep them from falling off.

I probably can give them 4 stars, but let's face it, at this price, you want to look b!tchin.

Still not sure if I'm going to keep these, some days I think I can live with them, other days, I feel like a kid wearing dad's glasses.

If you're a guy with medium sized face, these will probably look really good. But if you're a woman with average sized face, these will be too big for you.
My last two sunglasses were 1) Action Optics Exuma, photochromatic/polarized clearwater copper lens and 2) Smith Super Method, polarized brown lens.

I was looking for a marriage between my prior two sunglasses. The Kaenon Porter was my solution. Huge coverage, can't see frame in my field of vision. The lens quality is remarkable to say the least. I've never come across anything clearer than these lenses, including the glass-lens Action Optics.

These are by far the best sunglasses I've ever owned. I will likely never buy a brand other than Kaenon. Did I mention the mengol nosepads? These things have every feature I could want. Frames solid. I could go on forever. Best of the best of the best.