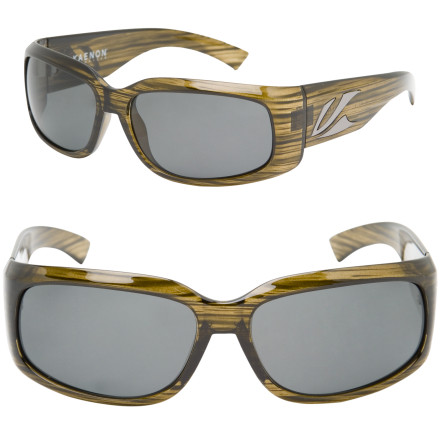 Detail Images
I was looking for a pair of glasses to do it all- biking, skiing, running, driving, every day use... something with technical features, but also something that looks good. These are those glasses. I love them, and have probably worn them every day since I got them about 1.5 years ago. I get lots of comments on them. They have some moldable feature in the frame, so they stay on your face during activities. The lenses show no wear, even though I rarely use the case and often leave them in backpacks or in purses.

Only problem I've had is that they do get emerged in salt water once in a while (oops), and I'm not good about wiping them clean after. Thus, the metal emblem has flaked a bit. I contacted Kaenon about this, and they offered replacements... but I don't want to be without the glasses for very long, so I haven't taken them up on the offer.

These glasses, as others have mentioned, for LARGER faced people.

In summary... highly recommended! Great shades, great company!
I own several pair of Kaenon styles, Rhino, Jetty and Klemm and they are all perfect. The frames and lenses are incredible quality and they last forever. The lenses show little to no scratches ever - unlike my old polycarbonate lenses from other brands I've owned. Kaenon is high class and the best available. Give them a try!
I bought my first pair of Keanons 4 years ago and they are still in amazing shape. I love how they are light so they don't slip off your nose like Maui Jim's do. The polarized lenses are great and the copper tint makes every day colors seem extra brillant. I will never buy another brand of glasses after having these! (I have the Klemm and Rhino styles)
The quality exceeds any other brand by far. I have a pair of anarchy consultants that I wear all the time. The quality of my consultants does not even come close to the Kaenons. The klemms are made in Italy whereas most glasses are made in china. Bought this pair for the sickest deal and couldn't be happier!
The quality on the G12 lenses is great but these frames are HUGE on your face. The extra wide temples take a little bit of getting used to when they mess with your peripheral vision. Overall this is a cool frame but you better have a pretty big head in order to carry them off without looking like an idiot. I'm keeping these for around town, definately not for technical use.