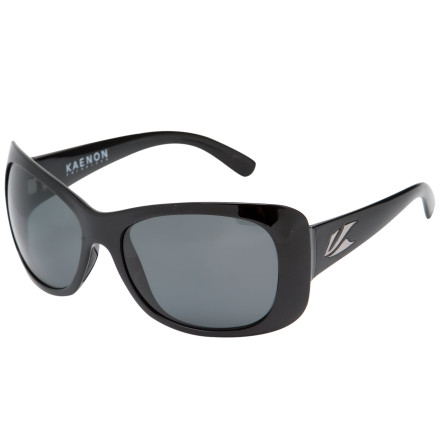 Colors

Detail Images
Description
The Kaenon Eden Sunglasses make paradise look even better.
Give Eve a high-five, don the polarized Kaenon Eden Sunglasses, and head out for a killer day at the beach. Kaenon's SR-91 lenses give you the eye protection you need for any of your active pursuits. The Eden Sunglasses' revolutionary SR-91 lenses provide the lightweight durability of a polycarbonate lens and the clarity of a glass lens. The wrap-around design ensures a comfortable, stable fit, which keeps them locked on your head as you pedal your bike through paradise. Kaenon made these shades versatile enough to handle high activity sports as well as laid-back days of soaking up the sun.
UV protection at great ...
Familiarity:

I gave it as a gift but have feedback to share
The sunglasses are there 's a rewarding gift to wipe the sunscreen effect is very good to drive and sports activities.
What are the measurements?
Frame Width - 135mm

Lens Width - 59mm

Lens Height - 45mm

Bridge Width - 17mm

Temple Length - 125mm
Kula Barbieto wears Kaenon Eden
Kula is an accomplished Roxy surfer girl, both on long and short board, model and standup paddler. Nicknamed "Bula," her dad introduced her to fishing early in life and it quickly became a deep-seated passion. Kula is from Oahu, HI.

Kula Barbieto wears Eden, Georgia, Soft Kore and Calais among others from Kaenon's collection of women's sunglasses.
These are Kaenons, so lens quality is said for. I'm only commenting on the look of the shades. These are "retro-inspired" shades, meaning they look like (somewhat) updated versions of sunglasses from movies depicting 1960-ish women in convertibles wearing lots of lipstick. I was going for a particular look w/ my shades, so I tried the Eden, Georgia, and Porter. Decided to keep the Georgia but that's just personal preference.
A while back, I lost two pairs of sunglasses into the river in two weeks. I resigned myself to buying yet another new pair of sunglasses and ordered five, yes, five pairs to compare and contrast.I can't tell a lie—as I asked everyone I knew what they thought, these were definitely the most divisive of the bunch. Big glasses seem to get that reaction—you either love them or hate them. Personally, I loved them right off the bat; despite the fact that they are big, I like big, and they fit perfectly (and I have a pretty small head). I especially love the fact that they don't slip when I'm running or rowing and that the lenses cover the entire eye area. Once I have them on, I can completely forget I'm wearing them. Two minor criticisms—on the bike, the wind rushes by more audibly than normal and the wider arms end up slightly reducing the field of vision when you turn your head over your shoulder.Super-detailed specs: at their widest, the glasses are 140cm wide. The distance between the ends of the arms is 91cm.Each lens is about 45cm high x 60cm wide and the frame of each eye is about 54x70cm.
i disagree with hobo66, i didn't find these shades heavy... not at all. when i first ordered them i thought they were going to be heavy but they are in fact fairly light. way lighter than any of my spy sunglasses. it comes with a really cool case. these fit my face perfectly, but i have a pretty small face. i just wish the lenses were even bigger.... =P
I really truly did want to love these glasses, but they were much too big. I don't have a small face, either, I would consider it medium.

The lenses are so big they made me look like one of the Olsen twins.

I don't doubt the quality of these glasses, the tobacco with grey lenses looked really good, but they were just simply too big. I thought about just keeping them for fishing and driving, but every time I smiled, my cheek bones would push the glasses up. And another annoying thing was they didn't fit over my head to rest them, the large lenses just kept sliding down my head onto my face.

I think Kaenon Georgia is smaller and I'll probably give them a try.
I have been looking for a great pair of fashion sunglasses for some time and have tried them all. Finally, a salesperson introduced me to kaenon. I loved how the eden looked and felt but most importantly was the polarized lens and the clear visibility. These classes clearly outperformed all others with a reasonable price. Fashion and performance!
Fantastic glasses - I got 2 pair
These are described by Kaenon as WOMEN'S glasses. I liked these above all the other women's "retro/big" Kaenons because they have the non-slip pads so they won't slide down your nose when you sweat. They are also they only women's "sport" glasses (thus the nose pads) whereas all the others are "fashion." It just so happens that they felt the most comfortable of any pair I tried on, women's or unisex. The Kaenons all feel dramatically different on your head; I recommend you try several pair and send back what you don't want!