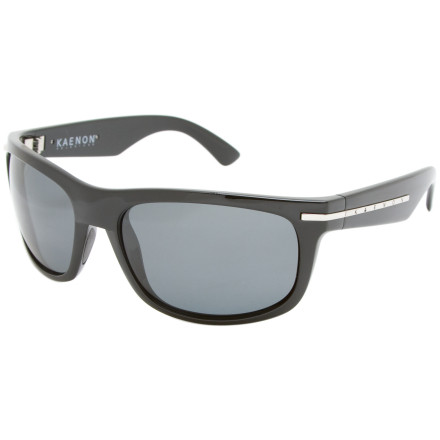 Detail Images
Description
Throw-back design with modern comfort and performance.
Wish you could grab your retro early-80s shades and stick some high-performance, glare-reducing polarized lenses in the frames for your cruise out on the lake? Kaenon has a better idea—the Burny Polarized Sunglasses. The Burny frames' style has undeniable old school inspiration, while the fit, durability, light weight, and smoothness of the frames is nothing like your flimsy old shades. Kaenon used their SR-91 polarized lenses in the Burnys, which means you get razor-sharp clarity and glare-blocking performance on the water, snow, and highway. Throw-back temple designs add unique side detail.
What are the measurements?
Measurements:



Frame Width - 141mm

Lens Width - 62mm

Lens Height - 42mm

Bridge Width - 17mm

Temple Length - 135mm
can they be made with prescriptiion...
can they be made with prescriptiion lenes
Hey Richard,



Our company does not provide that service but every Kaenon sunglass can be made with their SR-91 prescription lenses which are offered in Single Vision Prescription for those requiring vision correction up close or at a distance, and in Freestyle Progressive Prescription for those who require correction up close, far away and everywhere in between.



You will need to contact them at 1-866-KAENON-1 or info@kaenon.com to request more information.
The burnys are sick sunglasses, but the SR-91 lenses are in a league of their own. Never leave home without them!
Thought the frame was too big at first, then realized that i actually preferred it like that. Solid lenses that don't get smudged even if you're rubbing your greasy fingers all over them. Not to mention that they are pretty fashionable glasses. Wear em skiing then to the bar, lenses so clear you can wear them inside and look really cool
rock em like they are hot
These are the most comfortable shades I've ever worn. Expensive, yes. Worth it, yes. Would I do it again, yes. I have also dropped the glasses numerous times without a single scratch on the lens. picture perfect viewing out of these specs, I absolutely love them. * I have to add this...climbing last week I took these shades off, put them on my sling, and dropped them 150 feet...when I lowered off the route I could not believe my eyes. They were in perfect shape, not a scratch on either glass lens. Priceless.