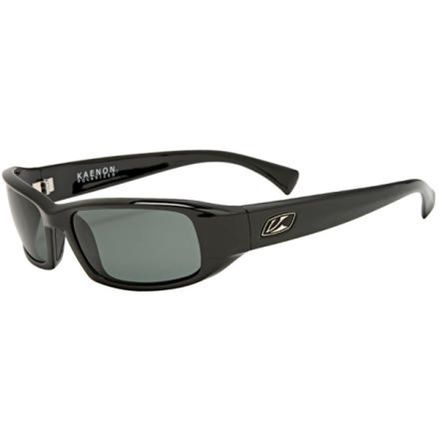 Detail Images

Videos
Description
Keanon combined kicked-backed style with jacked-up quality in the Beacon Polarized Sunglasses.
Don't let the laid-back looks of the Beacon Polarized Sunglasses fool you. They're made with the same high-grade materials and design as all Kaenon sunglasses. Beacon Sunglasses incorporate patented SR-91 polarized lenses that are both scratch resistant and ultralight. Stainless steel hinges and an injection-molded frame provide these Kaenon sunglasses with excellent durability. Recessed Variflex nose pads keep these boxy-shaped shades in place when you're doing more than chillin'.
Far better than Oakley Gascan....
Where else can you find unisex sunglasses that looks great and works even for Mountain Biking and Beach Volleyball, my preferred sports. The SR-91 lens is far superior than Oakley, Ray Ban or Maui Jim. They rarely ever fog up and they tolerate all-day sun-filled drives perfectly.

I use them almost every day and the temple hinges are still tight as brand-new. I have the rare, discontinued gold model and they just get nothing but compliments from men and women alike.
Kaenon Lens are the best around this is the third pair I have bought in two years. I have then in the copper and dark lens now. I like the copper during the winter when it is foggy in the morning. These glasses cut the fog and make it so easy to drive.

I fish a lot these glasses help me spot fish in the water without a problem. Great product.
Beacon = Bacon .... and we know Bacon rules
Yes, so these are probably the best sunglasses I've ever worn, period. Whether it's the fit or the lenses, i just haven't found a better pair out there. They are expensive, but you get what you pay for, and that's a high quality pair of peeper protectors. Get em.
Great lenses. Seem to be built very well. Good for people that have smaller faces like me. You get what you pay for.
In the UK we are shielded from many of the worlds top products but I make it my business to hunt down the top gear. I had never heard of Kaenon but was on a mission to snag some when I'd read all the recommendations. My wife uses these for Golf mainly - they are a little narrow for my wide face, not sure if they do wider frames - and they are hands down the finest quality optics she has had. Clear as a bell in fact. The build quality is excellent, if only they were a little less expensive then maybe I could afford some for myself :(
Kaenon lenses are some of the best out there. If you have ever worn glass you know what good optics should LOOK like, but if you are used to wearing polycarbonate (what Smith, Oakley, Maui and other use) then you have NO idea how good it can be!!! These lenses blow the competition away and you will never want to wear anything else!
I love my Kaenon glasses. The lenses are so crystal clear and with the polarized lenses I never have to squint any more. My eyes are very sensitive and I've always worn polarized lenses but there is something about these lenses that are different, they are just better than everything else (and I've worn all the best brands, Maui, Smith, Oakley) These frames fit my face perfectly as well. In a world of over sized sunglasses it is hard to find a nice small to medium face fit - these are perfect. Worth every cent!!!
Kaenon sunglasses definitely have high end optics. The view through is sharp and clear, and superior to the naked eye. Polarized lenses are pretty much a must for any activity on the water, and are nice to have all the time. I have reddish lenses on these, which are good for medium light to low light, and makes the scenery especially pretty! I can get away with the reddish lenses in full sun, but I don't recommend them for full sun on snow. The Beacon sunglasses are a nice, basic style. I find them slightly wide for my narrow face, but that is the case with almost all sunglasses I've tried.
the lenses in these keanon shades are crystal clear and drown out a lot of glare. they fit snugly and are maybe better fitting for a smaller face than mine.
The polarized lens are very sharp on all corners, fit is good. The only thing is that it doesn't come with a case.
great optics, good fit and looks
Kaenon's lenses are really some of the best plastic lenses out there, so their sunglasses tend to have good contrast and clarity. The fit is good and secure, the rubber pads are not slipping, and the frame quality is very high. These are not cheap shades, but you do get what you pay for.